Dana Incorporated (Formerly Dana Holding Corporation)
Company Profile
Business Overview
-The Company is a leading manufacturer of axle, driveshaft, transmission, sealing, and thermal management products.

-The Company has four operating segments:
Light Vehicle Driveline Technologies (Light Vehicle)
Commercial Vehicle Driveline Technologies (Commercial Vehicle)
Off-Highway Driveline Technologies (Off-Highway)
Power Technologies
-The Company primarily serves the light vehicle market, the medium/heavy vehicle market, and the off-highway vehicle market.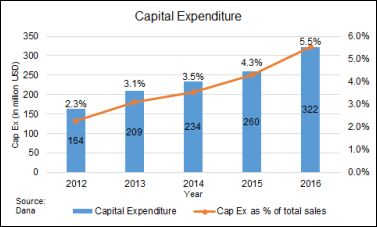 -As part of its growth strategy, the Company has steadily increased both its capital expenditure and the percentage of sales invested as capital expenditure in recent years, despite decreases in net sales since 2012.


Competitors
Shareholders
-Listed on New York Stock Exchange.
Products
Light Vehicles
Driveline technologies
-Axles
-Differentials and torque couplings
-Driveshafts and propeller shafts
-Drivetrain systems

Engine technologies
-Air ducts
-Cylinder head covers
-Cylinder head gaskets
-Engine oil coolers
-Charge air coolers
-Gaskets
-Thermal acoustic protective shielding (TAPS) heat shields
-Valve stem seals
-Exhaust gas heat recovery systems
-Oil pan modules
-Thermal bypass valves
-Active warm-up systems
-Power steering oil coolers

Transmission technologies
-Multi-Layer Steel (MLS) transmission separator plates
-Transmission sealing pan modules
-Active warm-up systems
-Gaskets
-VariGlide CVT featuring unique planetary variator configuration
-Thermal acoustic protective shielding (TAPS) heat shields
-Thermal bypass valves
-Transmission oil coolers

Electric and hybrid vehicle products
-Thermal products
Battery interelement cooling plates
Battery cold plates
Power electronics cooling plates
Battery cooling chillers
Engine control unit coolers
Sub-cooled loop radiators
-Fuel cells
Bipolar plates
Seals
Hydrogen reformers
Commercial vehicles
Driveline technologies
-Steer axles
-Drive axles
-Driveshafts
-Tire pressure management systems
-Wheel hub systems

Engine technologies
-Thermal acoustic protective shielding (TAPS) heat shields
-Gaskets
-Cylinder head gaskets
-Engine oil coolers
-Valve stem seals
-Active warm-up systems
-Thermal bypass valves
-Charge air coolers
-Cylinder head covers
-Oil pan modules
-Exhaust gas heat recovery systems
-Sealing modules

Transmission technologies
-Thermal acoustic protective shielding (TAPS) heat shields
-Gaskets
-Active warm-up systems
-Thermal bypass valves
-Exhaust gas heat recovery systems

Fluid power
-Axial piston pumps
-Gear pumps
-Valves
History
| | |
| --- | --- |
| Oct. 1916 | Incorporation in Virginia, as Spicer Manufacturing Corp., succeeding a New Jersey company of similar name incorporated in 1905. |
| Jul. 1946 | Present name, Dana Corp., adopted. |
| Nov. 1995 | Acquired the European axle group of the British manufacturing company, GKN plc. including three axle-group operations. |
| Feb. 1997 | Acquired the assets of the world wide piston ring and cylinder liner operations of SPX Corporation. |
| Jan. 1998 | Acquired the heavy axle and brake business of Eaton Corporation; General Automotive Specialty Company, Inc. |
| 1999 | Acquired Industrias Serva S.A., Dana Heavy Axle Mexico S.A. de C.V., Automotive Motion Technology Ltd., and Echlin Charger Mfg. Co. Pty. Ltd. |
| Jan. 2000 | Acquired the cardan-jointed propeller shaft business of GKN plc. |
| Sep. 2000 | Sold its Brazilian CV joint operation to GKN. |
| Nov. 2000 | Acquired a 30% interest in Getrag Cie, a manufacturer of transmissions, trans axles, axles and other automotive components, and a 49% interest in Getrag's North American operations. |
| 1Q. 2004 | Combined the ASG and the former Engine and Fluid Management Group (EFMG) into a single business unit which retained the ASG name. |
| Jan. 2007 | The Company and its subsidiary, Dana Canada Corporation completed the sale of their trailer axle manufacturing assets to Hendrickson USA, L.L.C., a subsidiary of The Boler Company, and its affiliates. |
| Mar. 2007 | Completed the sale of its engine hard parts business to Mahle GmbH. |
| Jul. 2007 | Completed the sale of its European fluid products hose and tubing operations to Orhan Holding, A.S.. |
| Sep. 2007 | Completed the sale of its North American coupled fluid products business to Coupled Products Acquisition LLC, a wholly owned subsidiary of Wanxiang (USA) Holdings Corporation. The sale substantially concludes the overall divestiture of its fluid products business. |
| Jan. 2008 | As a result of Dana Corporation's emergence from bankruptcy under Chapter 11 of the United States Bankruptcy Code on Jan. 31, 2008, the Company is the successor registrant to Dana Corporation pursuant to Rule 12g-3 under the Securities Exchange Act of 1934. |
| 2010 | Divested its global Structural Products business to Metalsa, S.A. de C.V., a subsidiary of Grupo Proeza of Mexico |
| Jan. 2015 | Sold its Venezuelan subsidiary C.A. Danaven to an independent and locally operated company Manufacturing and Logistics Solutions Ltd. |
| Aug. 2016 | Change the Company name from Dana Holding Corporation to Dana Incorporated, effective August 1, 2016. |
| Dec. 2016 | Acquired strategic assets of commercial vehicle steering axle systems and related forged components businesses of SIFCO. |
| Feb. 2017 | Acquired 80% ownership of Brevini Fluid Power S.p.A. and Brevini Power Transmission S.p.A., enhancing the Company's Off-Highway operating segment and bringing new technologies to be leveraged in other markets. |
Supplemental Information 1