Company Profile
Business Overview
-A core component supplier in the Toyota Group.
-Japan's largest auto parts manufacturer.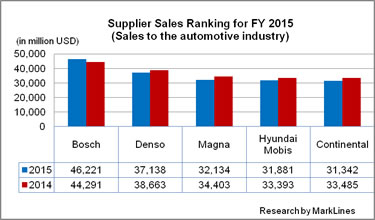 -The Company was the second largest supplier in the world in terms of sales.
>>>Sales Ranking of Top 2 Suppliers in FY 2015

-The Company's products are divided into automotive products and new-business products. The automotive systems and products are listed below.
Powertrain Related Products
Climate Control Products
Driving Control and Safety Products
Information and Communication Products
Body Electronics Products
Small Motors
Business Highlights
-Sales in the fiscal year that ended in March 2016 were JPY 4.5 trillion, with the Toyota Group accounting for over 45.3% of sales. The powertrain business accounted for 35.8% of sales.


-Objectives under FY2018 mid-term plan are: "Environment, security, and safety", "Mass market and new business sectors", and "Markets outside Japan". The Company will set up technical centers in seven regions around the world in order to strengthen its global R&D structure.

-The following is a list of recent, major R&D developments:

"Environment, security, and safety"
Environment
Enhanced efficiency of internal-combustion engine: Engine ECU (ABILCORE technology) fully burns up all fuel
Enhancement of actual fuel economy: greater power saving and higher efficiency of heating and cooling air-conditioning units
Security, and safety
Aiming to build an extremely safe mobile society: established ADAS (Advanced Driver Assistance System )promotion department for autonomous driving.
Preventative safety/driver assistance: device combining a millimeter wave radar and image sensor
Shareholders
| | |
| --- | --- |
| -Listed on the first section of the Tokyo Stock Exchange and the Nagoya Stock Exchange. | (As of Mar. 31, 2016) |
| | |
| --- | --- |
| Name or Company Name | Investment Ratio (%) |
| Toyota Motor Corp. | 22.25 |
| Toyota Industries Corporation | 7.85 |
| The Master Trust Bank of Japan, Ltd. (Trust Account) | 3.79 |
| Towa Real Estate Co., Ltd. | 3.77 |
| Japan Trusties Services Bank Ltd. (Trust Account) | 3.04 |
| Nippon Life Insurance Company | 2.45 |
| Aisin Seiki Co., Ltd. | 1.42 |
| Employees Stock holdings | 1.35 |
| Mitsui Sumitomo Insurance Co., Ltd. | 1.20 |
| State Street Bank and Trust Company | 1.10 |
| Total | 48.22 |
Products
Powertrain Related Products
Products for Electric and Hybrid Vehicles
-Inverter PCUs (Power control units)
-Motor generators
-DC-DC converters
-Battery monitoring units
-Battery current sensors
-System main relays (High voltage)
-Hybrid vehicle electronic control units

Gasoline Engine Management System
-Engine electronic control units
-Air flow meters
-Electronic throttle bodies
-Accelerator pedal modules
-Variable intake air control valves
-Manifold absolute pressure sensors
-Air filter elements
-Air induction systems
-Integrated air-fuel modules
-Variable cam timings
-Oil flow control valves
-Fuel injectors
-Fuel pumps
-Fuel pump modules
-Fuel filters
-Fuel tank pressure sensors
-Pressure regulators
-Fuel pulsation dampers
-Evaporative purge valves
-Canister close valves
-Evaporative leak check modules
-High pressure pumps
-High pressure injectors
-Fuel pressure sensors for gasoline direct injection
-Ignition coils for passenger cars
-Iridium spark plugs
-Cam position sensors (MRE type)
-Crank position sensors (MPU type)
-Knock sensors (Non resonant type)
-Oxygen sensors
-Air-Fuel ratio sensors
-Thin wall hexagonal cell substrates
-Combination valves

Diesel Engine Management System
-Engine electronic control units
-Intake heaters
-Intake air temperature sensors
-Electronic diesel throttle bodies
-Supply pumps
-Solenoid injectors
-Rails
-Common rail pressure sensors
-Ceramic glow plugs
-Exhaust gas recirculation (EGR) valves (DC motor type)
-EGR gas temperature sensors
-Exhaust gas temperature sensors
-Diesel particulate filter for diesel particulate-NOx reduction systems
-Exhaust gas pressure sensors

Powertrain Cooling System
-Reserve tanks
-Radiators
-Cooling fans
-EGR coolers
-Inter coolers
-Oil coolers
-Cooling fan controllers
-Coolant temperature sensors
-Oil filters

Transmission Control System
-Automatic Transmission (AT) PWM solenoids
-Automatic Transmission (AT) control valves
-Shift-by-wire actuators
-Speed sensors

Other powertrain related products
-Starters
-Alternators
-Battery packs


Climate Control Products
Air conditioner for passenger vehicles
-HVAC units
-Evaporators
-Heater cores
-Condensers
-Compressors
-Blower motors
-Servo motors
-Cabin air filters
-Air purifiers
-Rear cooling units
-In-car sensors
-Solar sensors
-Humidity sensors
-Evaporator temperature sensors
-Refrigerant pressure sensors
-Brushless motor controllers
-Climate control panel and electronic control units

Air conditioner for buses, construction vehicles


Driving Control and Safety Products
Driving assist system
Millimeter-wave radar sensors
Laser radar sensors
Vision sensors
Driving assist electronic control units
Sonar sensors
Seatbelt ECUs
Environment monitoring cameras
Driver status monitors

Lighting control system
-Adaptive front-lighting system controllers
-High intensity discharge lamp ballasts

Steering system
-Electric power steering integrated with ECU
-Electric power steering motors
-Electric power steering electronic control units
-Steering torque sensors

Airbag system
-Accelerometers for air bag system
-Satellite G sensors
-Airbag electronic control units
-Pedestrian collision detection sensors
-Passenger detection sensors

Brake control system
-Brake pressure sensors
-Wheel speed sensors
-Inertia sensor for ESC systems
-Accelerometers for suspension


Information and Communication Products
Human Machine Interface (HMI)
-Car navigation systems
-Integrated antennas
-Optical beacon antennas
-Instrument clusters
-Head-up display units
-Remote touch controllers

Data Communication System
-Data communication modules (DCM)
-Vehicle-to-vehicle and vehicle-to-infrastructure units

Security System
-Smart keys
-Remote security units
-Security cameras

Other Information and Communication Related Products
-ETC (electronic toll collection system) 2.0 on-board equipment
-ETC (electronic toll collection system) on-board equipment


Body Electronics Products
-Multiplex body electronic control units
-Tire pressure monitoring system (TPMS) electronic control units
-TPMS ECUs
-Solar and twilight sensors
-Horns
-Rain sensors
-Windshield washer systems
-Windshield wiper systems
-Power window regulator motors
-Remote keyless entry buzzers
-Power printed circuit board relays
-Low profile micro ISO relays
-Power Mini ISO relays
-IC Flashers (2 relay type)


Small Motors
-Wiper systems (front & rear)
-Power window motors
-Washer systems
-Blower motors
-Electronic throttle motors
History
Dec. 1949
Spun off from Toyota Motor Co., Ltd. and established as Nippondenso Co., Ltd. with capital of 1.5 million yen.
Dec. 1951
Listed on the Nagoya Stock Exchange.
Jan. 1953
Listed on the Tokyo and Osaka Stock Exchanges.
Nov. 1953
Signed a technical assistance contract with Robert Bosch GmbH (Germany) concerning electrical components.
Jul. 1959
Merged with Aichi Denso Co., Ltd.
May 1965
Constructed Ikeda Plant in Kariya City.
Jul. 1967
Constructed Anjo Plant in Anjo City.
Oct. 1968
Opened the IC Research Facility
Aug. 1970
Constructed Nishio Plant in Nishio City.
Nov. 1970
Established Nippon Soken Inc.(Currently subsidiary)
Mar. 1971
Established the first overseas subsidiary, Nippon Denso of Los Angeles, Inc., in the US. (Currently named Denso Sales California, Ltd.)
Jun. 1972
Constructed Nippon Denso Austraria (Current: Denso manufacturing Australia)
Aug. 1972
Constructed Nippon Denso Thailand (Current: Denso (Thailand) Co., Ltd.)
Feb. 1973
Constructed Nippon Denso Europe (Current: Denso International Europe B.V.)
Jun. 1974
Constructed Takatana Plant in Anjo City.
Apr. 1982
Constructed Daian Plant in Mie Prefecture.
Mar. 1984
Constructed Denso Taiyo Co., Ltd., through JV with Japan Sun Industries which is a social welfare organization.
Dec. 1985
Constructed Nippon Denso America (Current: Denso International America Inc.)
Feb. 1987
Constructed Toyohashi Plant in Toyohashi City.
May 1987
Constructed Kota Plant in Aichi Prefecture.
Feb. 1990
Constructed Agui Plant in Aichi Prefecture.
Nov. 1990
Constructed Denso Research Laboratories in Nisshin-City in Aichi Pref. Japan.
Jul. 1993
Constructed Kita Kyushu Plant in Kita Kyushu City.
Oct. 1996
Changed Company name to Denso Corporation
May 1998
Established Denso International Australia Pty., Ltd. (Currently a consolidated subsidiary) in Australia to supervise 3 subsidiaries there.
Dec. 1998
Established Denso International Asia Pte., Ltd. (Currently a consolidated subsidiary) in Singapore to supervise 7 subsidiaries in Southeast Asia.
Apr. 1999
Acquired the rotational devices division from Italy's Magneti Marelli (currently Denso Manufacturing Italia S.p.A. and a consolidated subsidiary).
July 2000
Opened the Tianjin Office in Tianjin, China as the liaison to Tianjin Toyota Motor Co., Ltd. (TTMC), Tianjin Automobile Industry and the local government of Tianjin.
Mar. 2001
Established Denso Abdul Latif Jameel Co., Ltd. (Currently a consolidated subsidiary) in Saudi Arabia.
Jul. 2001
Established Denso Manufacturing Czech (currently a consolidated subsidiary) in the Czech Republic.
Feb. 2003
Established Denso (China) Investment Co., Ltd.
Jul. 2005
Made a capital investment in Smiths Manufacturing (Pty) Limited, an affiliate accounted for under the equity method) of South Africa.
Feb. 2007
Established Denso International Asia Co., Ltd. (DIAT) (currently a consolidated subsidiary) in Thailand as regional headquarters for the Group's operations in Australia and Asia.
Mar. 2010
The Company was delisted from the First Section of the Osaka Securities Exchange.
Nov. 2010
Established Denso Sales and Middle East & North Africa FZE, which is a consolidated subsidiary.
May 2011
Established Denso Cambodia Co., Ltd. (currently a consolidated subsidiary).
2012
Robert Bosch sold its stake-holding in the Company, dissolving their capital-holdings partnership.
2013
Announced that it will acquire shares in Germany-based ADASENS Automotive GmbH, which develops image recognition technologies.
Established a joint venture Yantai Shougang TD Automotive Compressor Co., Ltd. with Toyoda Industries in Yantai, Shandong, China. It will manufacture compressors for car air-conditioners.
Established a joint venture named Pricol Components Limited with local supplier Pricol Limited in order to expand instrument cluster business in India.
Supplemental Information 1