Company Profile
Business Overview
-The Company is a global leader in the design, manufacturing, sale and servicing of diesel and alternative fuel engines and related components and technologies, such as filtration, aftertreatment, turbochargers, fuel systems, control systems, air handling systems, automated transmissions, electric power generation systems, batteries, hydrogen generation and fuel cell products.

-The Company is organized into five business segments: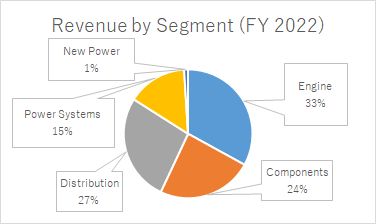 Engine: The segment manufactures diesel and natural gas engines for on-highway and off-highway vehicles including medium-duty and heavy-duty buses and trucks, passenger vehicles, agricultural equipment, mining vehicles, and marine vehicles.
Power Systems: The segment manufactures high-speed high-horsepower engines for applications including mining, rail, defense, and commercial marine. The segment also provides power generators for consumer, commercial, industrial, data centers, and health care applications.
Components: The segment is divided into six businesses: Filtration, which manufactures filters, coolant and chemical products; Turbo Technologies, which produces turbochargers and related products; Emission Solutions, which designs and manufactures exhaust after-treatment technologies and solutions; Axles and brakes, which designs and manufactures drivetrain systems including axles, drivelines, brakes and suspension systems; Electronics and fuel systems, which develops and remanufactures fuel systems as well as develops electronic control modules, sensors and harnesses; and Automated transmissions, which develops and supplies automated transmissions for heavy duty commercial vehicles.
Distribution: The segment provides sales, services and support for the full range of the Company's products.
New Power: The segment designs, manufactures, sells and supports electrified power systems ranging from fully electric to hybrid and also designs and manufactures battery modules, packs and systems for commercial, industrial and material handling applications. It also designs, manufactures and supports hydrogen production solutions.

-Of the Company's five business segments, the Engine segment, Components segment and New Power Segment supply products to the automotive industry.


Competitors
Engine Segment
Caterpillar (CAT)
CNH Industrial
Daimler
Dongfeng
FAW
Ford
Hino Power
Isuzu
Navistar
PACCAR
TRATON
Volvo Powertrain
Components Segment
New Power Segment
Ballard Power Systems
BYD
Daimler
Nel
PACCAR
Plug Power
Proterra
Traton
Volvo
Shareholders
-The Company is listed on the New York Stock Exchange.
Products
Engines
-Diesel engines for pickup trucks
-Natural gas engines for heavy-duty trucks
-Diesel engines for heavy-duty trucks
-Diesel engines for medium-duty trucks
-Natural gas engines for medium-duty trucks
-Diesel engines for light commercial vehicles
-Diesel engines for trucks and buses
-Natural gas engines for trucks and buses

Components
-Filtration products
Air filters
Fuel filters
Lubrication filters
Hydraulic filters
Transmission filters
Fuel water separators
Coolants and chemicals
Crankcase ventilation management systems
Lubrication products
-Fuel systems
High pressure injection systems
Common rail pumps
Extreme pressure injection systems
Electronically controlled unit injection systems
-Turbochargers
Fixed geometry turbochargers
Wastegate turbochargers
Holset VGT: Variable Geometry Turbochargers
Power turbines
Two-stage turbochargers
-Emission solutions
Selective catalytic reduction systems
Natural gas three-way catalyst
NOx absorber
Hydrocarbon dosing systems
Urea dosing systems
Urea tanks & lines
Electronic control units
Single Module high efficiency after-treatment systems
Oxidation catalysts
Particulate filters
Pressure sensors
Temperature sensors
NOx sensors
Oxygen sensors
-Electronic and fuel systems
Electronic control modules
After-treatment control modules
Chemical sensors
Level sensors
Speed/position sensors
Fluid property sensors
Dispersant sensors
Flow sensors
Filtration sensors
Pressure sensors
Temperature sensors
-Automated transmissions
Automated manual transmissions for on-road applications

New Power
-Battery systems
Battery packs
Battery modules
-Hydrogen fuel cells
Liquid-cooled advanced proton exchange membrane stacks
Supplemental Information 1