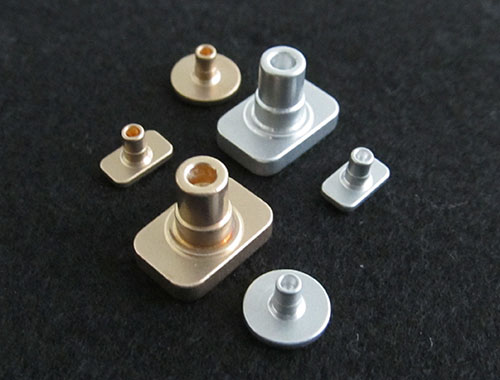 Rechargeable battery electrode terminals (anode and cathode)
Rivet-like terminals for use in positive and negative terminals of rechargeable batteries (nickel-hydrogen batteries, lithium-ion batteries, and the like) for consumer and in-vehicle use.
In addition, FINECS manufactures sealing pins for sealing electrolyte and gas in rechargeable batteries.
Hilco Industrial Acquisitions B.V.
FOR SALE: STAMPING TRANSFER & TANDEM PRESS LINES
(4) Transfer Presses:
• Mueller Weingarten 6200-Ton
• Schuller 3200-Ton
• (2) Schuller 2200-Ton


(13) Tandem Press Lines to be sold as Lines or (72) Single Presses
• Weingarten-Krupp 1000-Ton
• (2) Weingarten 600-Ton
• (2) Weingarten-Schuler 600-Ton
• Krupp 500-Ton
• Schuler 500-Ton
• (2) Raskin 500-Ton
• (3) Schuler 400-Ton
• Raskin 400-Ton

(4) Blanking Lines
• Wilhelmsburger-Raskin-NSM 25-Ton
• Weingarten-Raskin 25-Ton
• Weingarten-Schleicher-Raskin-ASM 25-Ton
• Wilhelmsburger-Weingarten

(2) Cut-To-Length Lines
• Muller-Weingarten 2100 x 2,0 mm Universal Straight and Angel Cut-To-Length Line
• Wilhelmsburger-Schuler 2000 x 2,5 mm

Wheel Plant
• Schuler 2000-Ton 7-Station Transfer (Die) Press, Model PSt-2000/7/600
• WHEEL- and RIM Line for 12"-14" wheels, cap. 5.000 wheels/shift
Polishing pad
Our polishing pads are wellknown and internationally accepted by the VW-group. The pads are much longer lasting compared to existing products and very efficient in polishing-time per spot.

All link