Company Profile
Business Overview
-The Company is a leading worldwide automotive supplier of driveline, chassis, and active and passive safety technologies.

-The Company develops and manufactures transmission systems and components, chassis systems and components, safety technology, electronics, and sensors primarily for the passenger car and commercial vehicle markets.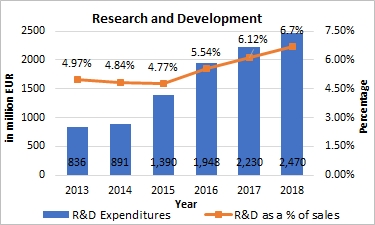 -While the Company has traditionally invested approximately 5% of its sales in research and development, it has increased its research and development ratio to over 6% since the fiscal year ended December 31, 2017. The Company expects to continue increasing expenditure in research and development in the future as well. The increased investment stems primarily from the Active & Passive Safety Technology Division and the E-Mobility Division, as the Company aims to be a key player in the trends of electromobility, autonomous driving and connected products and services.


-The Company operates in the following divisions and business units:
Divisions
Business Units
Car Powertrain Technology
Automatic Transmissions
Manual Transmissions/Dual Clutch Transmissions
Powertrain Modules
Car Chassis Technology
Chassis Systems
Chassis Components
Suspension Technology
Commercial Vehicle Technology
Truck & Van Driveline Technology
Axle & Transmission Systems for Buses & Coaches
CV Chassis Technology
CV Steering Systems
CV Powertrain Modules
Industrial Technology
Off-Highway Systems
Test Systems
Marine & Special Driveline Technology
Aviation Technology
Wind Power Technology
Industrial Drives
E-Mobility
Electronic Systems
Electric Traction Drive
Electronic Interfaces
Axle Drives
System House
ZF Aftermarket
Independent Aftermarket
Original Equipment Service / Specific Original Equipment
Manufacturing
Services
Friction Materials Group

Active & Passive Safety Technology*
-Electronics and ADAS
-Passive Safety Systems
-Active Safety Systems

Braking Systems
Steering Systems
Occupant Safety Systems
Body Control Systems*
* The Global Body Control Systems Business Unit was sold as of April 27, 2018
* The Active & Passive Safety Technology Division was split into three divisions: Electronics and ADAS (Advanced Driver Assistance Systems), Passive Safety Systems and Active Safety Systems
Shareholders
| | |
| --- | --- |
| Shareholders | Ownership Ratio (%) |
| Zeppelin Foundation | 93.8 |
| Dr. Jurgen and Irmgard Ulderup Foundation | 6.2 |
| Total | 100.0 |
Products
Car Powertrain Technology
Transmissions
-Manual and automatic transmissions
-Ecolite manual transmissions for pickups
-Dual clutch transmissions
-Automated manual transmissions
-DynaStart electric motors
-Electric drives
-Hybrid transmissions
-Converter hybrid transmissions
-Plug-in hybrid transmissions
-Transmission motor-pump units
-Hybrid modules

Driveline components
-Gearshift systems and electronic components
-Control systems
-Clutches and clutch systems
-Clutch discs with torsional dampers
-Torque converters
-Starting systems
-All-wheel drive systems
-Front and rear axle drives
-Bevel gearsets
-Differentials
-Dual mass flywheels
-Dual wet clutches
-Hybrid clutches
-Multi-disc clutches
-Hydrodynamically cooled clutches
-Clutch-by-wire systems
-XTend clutch covers with automatic wear compensation
-Vector Drive rear-axle drive system with active torque distribution
-PTO: Power Take Off and retarder systems
-Transfer cases
-Telematics systems
-Transmission housings
-Transmission inner components
-Light-alloy casting control components
-Plastic pedal modules
-Engine mounts

Axles
-Front and rear axle systems
-Driven solid beam axles
-Electric Twist Beam systems
-Corner modules

Car Chassis Technology
Chassis components
-Damping systems
-Tie rods
-Chassis subframes
-Powertrain suspension systems
-Knuckles
-Stabilizers
-Stabilizer links
-Stabilizer supports
-Chassis mounts
-Cabin suspensions
-Leveling systems
-Shock-absorption elements
-Wheel carriers and hubs
-Cross-axis joints
-Suspension ball joints
-4-point links
-V-links
-Control arms
-Torque rods
-Corner modules

Chassis systems
-Active Kinematics Control (AKC) systems
-Continuous Damping Control (CDC) systems
-Roll stabilization systems
-EasyTurn axle enabling steering angles of up to 75 degrees
-mSTARS modular axle concept
-Electromechanical roll control systems
-Predictive damping systems

Damping components
-Monotube dampers
-Pre-loaded valves
-Sensitive damping controls
-Suspension strut modules
-Twin-tube dampers
-eLEVEL height adjusting actuator
-Nivomat automatic leveling system

Commercial Vehicle Technology
Driveline systems
-EcoLife environmental 6-speed automatic transmissions for buses
-Ecolite manual transmissions
-Ecomid manual transmissions
-EcoShift 6-Speed manual transmissions for coaches
-Intarder transmission integrated braking systems
-AS Tronic transmissions
-Ecosplit off-road transmissions for commercial vehicles
-TraXon modular transmission concept
-Power take-off clutches
-Torque converters
-Torsional dampers
-Dual mass flywheels
-Clutch systems
-ConAct pneumatic clutch actuation systems
-Duodrive hydrostatic drive systems for low speed operation
-DynaDamp torsional dampers
-XTend clutch covers with automatic wear compensation
-Hybrid modules
-Twin disc clutches
-VG transfer cases
-Front and rear brake calipers
-Electronic stability control systems
-Drum in hat
-Motor pumps for transmissions
-Rear caliper integrated park brake
-Single and tandem boosters and master cylinders

Chassis systems and components
-Premium Comfort Valve (PCV) shock absorbing valves
-Axle dampers
-Continuous Damping Control (CDC) systems
-Front and rear axle systems
-Tag axle systems
-Independent front suspension systems
-4-point links
-Cabin dampers
-Cabin suspensions and active roll stabilization systems
-Cabin suspensions with anti-roll bar
-Planetary steering axles
-Suspension rear twin axles
-Tie rods
-V-links

Steering systems
-ActivMode power steering pumps
-EV series power steering pumps
-PS series power steering pumps
-Fully adjustable steering column
-ReAX electrically assisted hydraulic steering system
-TAS series power steering gears
-THP/PCF series power steering gears

E-Mobility
Electronic systems
-Electronic control units
-Gearshift systems
-Keyless entry systems
-Safety domain ECUs
-Airbag control units
-Sensors
-Crash sensors
-Carrier for switches and components
-Tire pressure monitoring systems

Electric traction drives
-Hybrid transmissions
-Electric motors
-Hybrid modules
-Low voltage hybrid systems
-Electric axle drives
-Electric twist beam axles
-Modular electric rear axles

Active & Passive Safety Technology
ZF TRW Automotive Holdings Products
History
1915
Luftschiffbau Zeppelin GmbH was established.
1921
Zahnradfabrik Friedrichshafen GmbH (privately held corporation) changed to Zahnradfabrik Friedrichshafen Aktiengesellschaft (stock corporation).
1950
Change of the Company's ownership. Majority of its shares (89.8%) transferred to Zeppelin Foundation.
1961
Developed a fully automatic car transmission
1992
Change of company name to ZF Friedrichshafen AG
1994
Established a joint venture, Shanghai Steering Co. Ltd. with Shanghai Automotive Industry Corp. (holds 51%).
1998
Established a joint venture, ZF batavia LCC with Ford in USA (holds 51%).
Jan. 1998
Formed a global production of steering systems joint venture, ZF Lenksysteme GmbH with Bosch.
Aug. 1998
ZF Linksysteme formed a joint venture with Jidosha Kiki Co (Japan) in Japan to produce steering systems.
Summer 1999
Lemforder acquired a majority in French rubber components supplier Turnover SA.
Jun. 1999
Established a 50:50 joint venture, ZF Meritor LLC with Meritor Automotive Inc (USA).
Jul. 1999
ZF batavia LCC agreed cooperate with Fiat Auto SpA for supply.
Nov. 1999
Acquired majority in FKA from Hermann Voss GmbH & Co. KG.
Mar. 2000
The Company, Iveco and Meritor agreed to cooperate with Ashok Leyland (India).
Established a joint venture, AIBC with AI Group (South Africa) and Brembo (Italia) SpA.
2001
Together with Chinese manufacturer Jincheng, the Company opened up the new joint venture ZF Steering Jincheng Co. in Nanjing China in order to manufacture passenger car and commercial vehicle steering pumps.
2001
Acquired Mannesmann Sachs AG
Aug. 2001
The Sachs Korea Suspension Co. Ltd., Changwon, Kyungyuam (SKS) was founded an important building block for ZF Sachs in Asia. ZF Sachs AG has 70% share of this company and the Korean shock absorber manufacturer Korea Automotive Systems Co. Ltd. holds the rest.
Nov. 2002
ZF Lemforder established a joint venture, ZF Chassis System Korea Co. Ltd. with Korean suppliers Hyundai Mobis and Seju. ZF Lemforder owns a majority share of 51% of the company with Hyundai Mobis assuming a 19% share and Seju holding the remaining 30%.
2002
A joint venture with the Algerian commercial vehicle manufacturer SNVI (Societe Nationale des Vehicules Industriels) was established under the name ZF Algerie S.a.r.l.
Mar. 2003
Took over 17% of the shares in the Iranian transmission manufacturer S.S. Charkheshgar Co., Tabriz
Oct. 2003
ZF Algerie S.a.r.l., Rouiba, a joint venture between the Company and the Algerian commercial vehicle manufacturer SNVI (Societe Nationale des Vehicules Industriels) was founded to produce commercial vehicle transmissions.
Mar. 2004
A joint venture, ZF Transmissions Shanghai Co. Ltd., was founded with the Shanghai Automotive Co. Ltd., a subsidiary of the Shanghai Automotive Industry Corporation (SAIC).
Oct. 2004
Established a new joint venture, ZF Algeriein Rouiba, Algeria, with the state-owned commercial vehicle manufacturer SNVI (Societe Nationale des Vehicules Industriels).
2005
Four new companies were founded in China for the production of axles and suspension components, commercial vehicle transmissions, rubber-metal components, as well as steering systems.
Jul. 2006
ZF Getriebe N.V. was acquired by Punch International NV.
Mar. 2007
ZF Lemforder opened a new plant in Adelaide.
2008
Acquired the Cherry Corporation, an electronics manufacturer developing and producing among others switch systems, sensors, and control units for the automotive industry.
2011
Acquired the Nuremberg plant from the German automotive supplier Honsel.
Acquired the plant of Bauknecht Hausgerate GmbH in Neunkirchen (Saarland), Germany.
Jan. 2014
Sold its South African subsidiary Auto Industrial Brake & Chassis Holding Johannesburg (AIBC) to Trinitas, an independent private equity fund.
Sep. 2014
Sold its Rubber & Plastics business unit to Chinese rubber and plastic products manufacturer Zhuzhou Times New Material Technology Co,. Ltd. (TMT).
Announced that it entered into a definitive agreement with U.S.-based TRW under which the Company will acquire TRW for approximately USD 12,400 million. The transaction is expected to close in the first half of 2015.
Jan. 2015
Sold all of its 50% stake in the steering systems joint venture ZF Lenksysteme to the joint venture partner Robert Bosch.
May 2015
Completed acquisition of TRW, a developer of active and passive safety systems, for approximately USD 12,400 million.
Jun. 2015
Acquired Halla DAS Lab Europe GmbH, a software development department focused on semi-autonomous driving located in Germany.
Jul. 2016
Divested Engineered Fasteners and Components business of ZF TRW to Illinois Tool Works Inc. for approximately USD 450 million.
Aug. 2016
Acquired 40% stake in Ibeo Automotive Systems GmbH, a market leader in lidar technology and environment recognition software with a focus on autonomous driving applications.
Sep. 2016
Acquired 40% stake in doubleSlash Net-Business GmbH, a software company focused on vehicle networking.
Mar. 2017
Acquired approximately 45% of shares in Astyx Communication & Sensors GmbH, a developer of ultrahigh-frequency radar sensors and modules.
May 2017
Signed investment and cooperation agreement with BeeSpeed Automatizari S.R.L., an engineering services company. BeeSpeed's Automotive Division will spin-off in 2018 with the legal transfer to the Company taking place in the beginning of 2019.
Supplemental Information 1