Bosch (Robert Bosch GmbH)
Company Profile
Business Overview
-The Company is one of the world's largest automotive suppliers, with approximately 470 subsidiaries and regional companies located across more than 60 countries.

-The Company is organized into four business sectors: Mobility Solutions, Industrial Technology, Consumer Goods, and Energy and Building Technology.

-The Company is currently in the process of restructuring its Mobility Solutions business sector, into the Bosch Mobility Solutions business sector. The reorganization is set to take effect beginning January 1, 2024. During the fiscal year ended December 31, 2022, the Mobility Solutions business sector is comprised of the following divisions:
Powertrain Solutions
Chassis Systems Control
Electrical Drives
Cross-Domain Computing Solutions
Automotive Electronics
Automotive Aftermarket
Automotive Steering
Bosch eBike Systems

Other businesses (Bosch Engineering, ETAS, ITK Engineering, Two-Wheeler and Powersports)
| | |
| --- | --- |
| Featured report | |
| Bosch ConnectedWorld 2022: Lifetime customer value through digitalization | (2022/11/21) |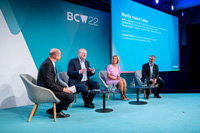 (Source: Bosch)
Shareholders
| | |
| --- | --- |
| -The Company is privately owned, primarily by Robert Bosch Stiftung GmbH, a charitable foundation. | (As of Dec. 31, 2022) |
Shareholders
Ownership Interest (%)
Robert Bosch

Stiftung

GmbH

93.99
Robert Bosch Industrietreuhand KG
0.01
ERBO II GmbH
5.36
Treasury Stock
0.64
Total
100.00
Products
Powertrain Solutions
Powertrain systems
-Direct injection systems
-Port fuel injection systems
-Flex fuel port injection systems
-Flexstart systems
-Bifuel CNG systems
-CNG systems
-Hybrid and electric drives

Fuel injection management
-Common rail systems
-Unit injector systems
-Injection nozzles
-Low-pressure systems
-High-pressure pumps
-High-pressure injectors
-Axial-piston and radial-piston distributor pumps
-Unit Pump Systems (UPS) for commercial vehicles
-Single-cylinder injection pumps for commercial vehicles
-In-line pumps for commercial vehicles

Electronic throttle control: ETC/EGAS
-Accelerator pedal modules
-Electronic throttle bodies
-ECU

Engine management for manifold injection

Electric and hybrid systems
-Motor-generators
-eAxles
-HEV ESP
-High-voltage DC/DC converters
-Powertrain domain controller/vehicle control units
-48V electrical power pack modules
-48V batteries
-Pedal-travel sensors
-Scalable electric drive modules
-Flexible charging cables

Fuel cell systems
-Fuel-cell control units
-Fuel-cell stacks
-Anode recirculation blowers
-Hydrogen gas injectors
-Hot-film air-mass meters

Fuel supply
-Electric fuel pumps
-In-tank fuel pump units
-Fuel injectors
-Fuel-supply modules

Modules and engine components
-Diagnosis modules for fuel tank leakage
-Cylinder head covers
-Oil separators
-Canister purge valve (TEV)
-Electric air compressors
-Plug-in connections
-Secondary air pumps
-Intake modules

Ignitions
-Single-spark ignition coils
-Ignition coil modules

Transmission technologies
-Power system actuation
-ECU actuators and modules
-ECUs for automated shift transmissions
-Continuously Variable Transmission (CVT) pushbelts
-Dedicated hybrid continuously variable transmission (DH-CVT)
-ECUs for CVT
-Pushbelts
-Variable-force transmission solenoids
-Direct electric shift controls
-Transmission speed sensors
-Linear-force solenoids
-Electric drivetrain transmissions

Turbochargers

Start/Stop systems
-Boost Recuperation System (BRS)

Sensors
-Engine management sensors
-Exhaust management sensors
-Transmission speed sensors

High voltage batteries

Electronic Diesel Control (EDC) for passenger cars and commercial vehicles

Glow systems
-Glow control units
-Glow plugs

Air management systems
-Intake air management systems
-Throttle valve controls
-Exhaust gas recirculation actuators
-Plastic control flaps for diesel engines
-Swirl actuators
-Boost pressure actuators
-Exhaust gas turbocharger actuators
-Hot-film air-mass meters (HFM)
-Air temperature sensors
-Boost pressure sensors
-Particle sensors
-NOx sensors
-Lambda sensors
-Electronic throttle valves
-Accelerator-pedal modules

Exhaust gas cleaning
-NOx catalytic converters
-Accumulator-type NOx catalytic converters
-Particulate filter systems
-Denoxtronic SCR systems
-Sensors for Diesel Particulate Filter (DPF)
-Dosing modules
-Exhaust gas treatment systems with double-inject technology

Chassis Systems Control
Braking systems
-Vacuum pumps
-Combined oil-vacuum pumps and fuel-vacuum pumps
-Brake boosters
-Brake discs
-iDisc brake disc with reduced brake dust emissions
-Integrated power brakes
-Electric brake boosters
-Tandem master cylinders
-Hydraulic boosters
-Variable oil pumps
-Mechanical brake assist EVA (Emergency Valve Assist)
-Cooperative regenerative braking systems
-iBooster electromechanical boosters

Active safety systems
-Antilock Braking System (ABS)
-Traction control systems
-Electric Stability Program (ESP)
-Vehicle Dynamics Management (VDM) systems
-Sensors
-Occupant protection systems

Automated and driver assistance systems
-Adaptive Cruise Control (ACC)
-Intelligent headlight control systems
-Road sign recognition systems
-Parking aid systems
-Side view assist systems
-Night Vision Plus - Active infrared night vision systems
-Driver drowsiness detection systems
-Predictive emergency braking systems
-Lane change assist systems
-Lane departure warning systems
-Lane keeping support systems
-Predictive pedestrian protection systems
-Construction zone assist systems
-Rear cross traffic alert systems
-Blind spot detection systems
-Mid-range and long-range radars
-Ultrasonic sensors
-Multi-purpose cameras
-Near-range cameras
-Stereo video camera systems
-myDriveAssist app
-Garage park assist systems
-Home zone park assist systems
-Remote park assist systems
-Traffic jam assist systems
-Highway assist systems
-Cloud-based wrong-way driver warning systems
-Intelligent headlight control systems
-Evasive steering support systems
-Left turn assist systems
-Emergency braking and maneuver systems
-Automated valet parking systems
-Multi-camera systems
-Rear view systems
-Interior monitoring systems
-Predictive road condition services
-Driver assistance system domain controllers

Passive safety systems
-Crash detection systems
-Airbag control units
-Pedestrian protection systems
-Secondary collision mitigation systems
-Advanced rollover sensors
-Side pole crash detection systems
-Two-channel acceleration sensors
-Peripheral pressure sensors
-Pressure tube sensors
-Peripheral sensor interfaces
-Airbag control sensors
-Peripheral acceleration sensors
-Pedestrian contact sensors

Electrical Drives
Window and roof actuators
-Window lift drives
-Sunroof drives

Seating and comfort actuators
-Seat actuators and drives
-Comfort actuators
-Steering column drives
-Tailgate drives
-Pressure- or flow-activated direct electric shift controls

Thermal management systems
-Climate control systems
Blower control units
Blower modules
Air conditioning systems
-Engine thermal management components
Blower modules
Engine cooling drives
Engine cooling pumps
Engine cooling valves
Electric coolant pumps
Air conditioning blower motors
Coolant switch valves
Wiper systems
-Front and rear wiper drives for various windshield and window sizes
-Wiper arms
-Wiper blades

Cross-Domain Computing Solutions
Car Hi-Fi Systems
-In-vehicle video
-Sound systems

Information and navigation systems
-Screen-based dynamic navigation systems
-Radio Hi-Fi navigation systems
-Smart navigation systems
-3D artMap navigation systems
-Eco.Logic horizon navigation and driver assistance systems
-Navigation apps
-Infotainment systems
-mySPIN - Smartphone integration systems
-Integrated connectivity clusters
-Voice control systems

Connectivity systems
-Connected Horizon route forecast systems
-Connectivity control units
-Central gateway module
-Immobilizers

Display systems
-Head-up Displays (HUD)
-Programmable instrument clusters
-neoSense tactile feedback displays
-DualView displays
-Anti-glare display screens
-3D displays
-Head units
-Human-machine interfaces (HMI)

Automotive Electronics
Electronics
-Multiplex systems
-Electric/Electronic architectures
-DC-DC converters
-Charge converters
-Body computer modules
-Immobilizers
-Inverters
-Power electronics

Sensors

Semiconductors
-ASICs/ASSPs
-Diodes
-IP modules
-MEMS

ECUs
-Body electronic control units
-Braking control systems
-Engine management systems
-Various control units

Automotive Steering
-Steering gears for passenger cars and commercial vehicles
-Pumps for passenger cars and commercial vehicles
-Electro Hydraulic Power Steering systems (EHPS)
-Electric Power Steering systems (EPS)
-Servolectric electric power steering systems
-Servotronic electronically controlled rack-and-pinion steering systems
-Active steering systems
-Manual adjust steering columns
-Electric adjust steering columns
-Steering angle sensors
-Steering torque sensors
-Rack and pinion power steering systems
-Intermediate shafts
-Universal joints
-Vane pumps
-Variable displacement pumps
-Tandem pumps for commercial vehicles
-Radial piston pumps for commercial vehicles

Connected Mobility Solutions
-Wireless key management systems
-Predictive Diagnostic software solutions
-Community-based connected parking solutions
-Connected charging solutions
-V2X connectivity control units
-Perfectly Keyless digital vehicle access system
-Road signature systems provided crowdsourced localization
History
1886
Opened "Workshop for Precision Mechanics and Electrical Engineering" in Stuttgart
1984
Established Nippon ABS Ltd. with Nippon Air Brake, Japan.
1990
Formed a joint venture company called ELBO Gas Appliances and Control Units Manufacturing and Trading Co. together with Elginkan Holding AS, Turkey.
1991
Acquired equity share in MotoMeter AG, in Leonberg, Germany which is engaged in the manufacture of display systems for automobiles.
Transferred production of car speakers from Herne, Germany to Malaysia.
Founded BT Magnet-Technologie GmbH, Herne, together with the Japanese company TDK Corp.
1992
Acquired a 49% interest in Diesel Technology Company, Grand Rapids.
Founded the S-B Power Tool Company joint venture in the USA.
Acquired majority ownership in Worcester Group plc. in Great Britain.
Acquired 9.6% of the outstanding shares of Japan-based Atsugi Unisia Group.
Acquired a 49% interest in Japan-based Zexel Corporation.
Commenced starter battery production in Hildesheim, Germany and in Guardamar, Spain as well as the development departments in Hildesheim and in Madrid, Spain.
Established Robert Bosch spol. s r.o., in which the Company holds a 76% interest, with Motor Jikov a.s. in Budweis, Czech Republic.
Established Bosch Diesel spol. s r.o., in which the Company holds a 76% interest, with Motorpal a.s. in Jihlava, Czech Republic.
1993
Established United Airbag Systems GmbH headquartered in Schwieberdingen near Stuttgart, with Morton International Inc. (United States). Each partner holds a 50% interest.
1994
Established Robert Bosch Power Tools Sdn Bhd in Malaysia.
Acquired 50% interest of Gesellschaft BG Automotive Motors Inc. from GE.
Established Korea Bosch Mechanics and Electronics Corp. Ltd. in which the Company holds a 51% interest, with the Doowon Group.
Established Automotive Systems Technology and Electronics Company in which the Company holds a 40% interest, with the Kia Group.
Established Wuxi Europe-Asia Diesel Fuel Injection Co. Ltd. in which the Company and Zexel Corp. each hold a 26% interest. The remaining shares are held by the Company's Chinese partner WeiFu Co. Ltd.
Established Robert Bosch Argentina Industrial S.A. in which the Company holds a 60% interest, with Brazilian subsidiary, Robert Bosch Ltda. and Argelite SAIC, of Argentine.
Established Copilot Verkehrsleit- und Verkehrsinformationsdienste GmbH & Co KG in Munich, with Daimler-Benz AG, Siemens AG and Volkswagen AG. The Company holds a 31.8% interest.
1995
Established five joint ventures in China.
Established the Guandong Shenzhou Gas Appliances Co. in which the Company holds a 60% interest, with Guandong Shenzhou Group Co.
Established joint venture, Hangzhou Bosch Power Tools Ltd., in China. The Company holds a 60% interest in the joint venture with the Hangzhou Steam Turbine & Power (Group) Co. and C. Melchers GmbH & Co.
1996
Acquired the brake operations of AlliedSignal Inc. in the U.S. and Europe
Took over S-B Power Tool Company, IL, United States from Emerson Electric Co.
Acquired e.l.m. Leblanc SA in France.
Consolidated Nippon ABS Ltd, Robert Bosch spol. s r. o., Ceske Budejovice, Robert Bosch Power Tools Sdn Bhd, Atco-Qualcast Ltd, Stowmarket, Van Doorne's Transmissie BV, Bomoro Bocklenberg & Motte GmbH, Hawera Probst GmbH, and PEG Profilo Elektrikli Gerecler Sanayii AS.
Formed Bosch Saratov GmbH with three Russian partners. The Company also held 51% of Bosch Rjazan GmbH, together with AAOT Elektronpribor, Rjazan, who held 49%. In addition, The Company increased its interest in Keramitsches kij Poselok AG, Engels to 51%.
Agreed to a 49% holding in a joint venture with Zexel Corporation in Tokyo, Japan.
1997
Founded Korea Advanced Diesel Equipment Co Ltd, Seoul, Korea, in which the Company owns 55% in shares, with joint venture partner Zexel.
1998
Opened a test center and test track in Boxberg (northern Wurttemberg)
Acquired Korea Automotive Motor Corporation and Guangdong Shenzhou Gas Appliances Co Ltd.
Established the wholly owned subsidiary Robert Bosch India Limited, in Bangalore, India.
Increased its holding in Diesel Technology, L.P. Michigan, United States, from 50% to 85%.
Founded Robert Bosch Electronics Manufacturing Ltd in Hungary and also acquired all remaining shares of a 50-50 joint venture with a Turkish partner who manufactures gas-fired heaters.
Jan. 1999
Established Bosch (China) Investment Ltd., Peking, China.
Founded a steering systems 50:50 joint venture (ZF Lenksysteme) with ZF Friedrichshafen AG, Friedrichshafen.
1999
Acquired a majority share in the Japanese Zexel Corporation (known since 2000 as Bosch Automotive Systems Corporation).
Founded Bosch Braking Systems Company in Japan.
2000
Sold public networks and private networks telecommunications divisions, and of mobile telephone operations
Took over Vermont American Corporation, Louisville, Kentucky, USA.
2001
Acquired Detection Systems Inc, Fairport, New York, USA.
Assumed industrial management of Mannesmann Rexroth AG and merger with the Automation Technology division to become Bosch Rexroth AG.
Began construction work for the development center in Abstatt.
2002
Acquired Mannesmann Rexroth AG completed
Acquired the subsidiary, Communication, Security, & Imaging from Philips B.V., Eindhoven (Bosch Security Systems B.V. since 2003)
Jul. 2002
Established a joint production company for CVT parts in Japan. The new company is CVTEC Co., Ltd., with 50% provided by Aisin AW, 40% by the Company, and 10% by Bosch Automotive Systems, the Company's subsidiary in Japan.
Jul. 2002
Combined its activities by merging both Bosch Braking Systems Corporation and Bosch Electronics Corporation into Bosch Automotive Systems Corporation, in Japan.
Sep. 2002
Established a joint venture company for integrated vehicle dynamics management systems with the Michelin Group. The new company is called Integrated Safety Systems ISS and is based in Paris.
2003
Acquired Buderus AG, Wetzlar.
2004
Opened its development center in Abstatt.
Acquired Sigpack, the Swiss packaging machinery manufacturer.
2005
Sold BN Breitbandnetze GmbH.
Acquired the Swedish company IVT Industrier AB, Tranas.
Acquired majority holding in the Italian Oil Control Group SpA, Milan.
Agreed to sale of Edelstahlwerke Buderus AG.
2007
Acquired the majority shareholding in Pacifica Group Ltd. (Melbourne, Australia)
Established a fifty-fifty joint venture with Denso to develop and manufacture diesel particulate filters in Wroclaw, Poland.
2008


Acquired Holger Christiansen A/S, Esbjerg, Denmark, a remanufacturer of starters and alternators.
Acquired the brake business of Morse Automotive Corporation in Chicago, USA.
The Company and MAHLE GmbH have founded a 50/50 joint venture, "Bosch Mahle Turbo Systems GmbH & Co. KG", headquartered in Stuttgart for the development, production, and sale of exhaust gas turbochargers.
The 50/50 joint venture "SB LiMotive Co. Ltd." with Samsung SDI, a company which develops, manufactures, and sells lithium-ion batteries for automotive applications, started its operations.
2009
The Company announced it will acquire the all shares in Australian based Pacifica Group Limited, which manufactured automotive brake components.
2011
Established a 50/50 joint venture EM-motive GmbH, which manufactures electric motor for EV, with Daimler AG.
2012
The Company sold the 50 percent share it held in Kefico Corp to its joint venture partner Hyundai Motor, dissolving the joint business.
The Company and Samsung SDI of Korea dissolved SB LiMotive, their joint-venture business.
The Company sold all shares (5%) it had in Denso Corporation, dissolving its capital tie with the Japanese supplier.
Established Bosch Car Multimedia Wuhu Co., Ltd. through a joint investment with Wuhu Ruichuang Investment and Atech of Australia.
Established a joint venture Bosch Automotive Components (Changchun) Co., Ltd. with FAW Sihuan Group. The new company manufactures starters and alternators.
2014
Formed a joint venture called Lithium Energy and Power GmbH & Co. KG with Mitsubishi Corporation and GS Yuasa to develop next-generation lithium-ion batteries.
Sep. 2014
Signed agreement with ZF Friedrichshafen AG to acquire remaining shares of ZF Lenksysteme GmbH, formerly a 50/50 joint venture between the two companies.
Jan. 2015
Completed acquisition of ZF Friedrichshafen AG's 50% stake in ZF Lenksysteme GmbH.
Sep. 2015
Acquired Seeo Inc., a U.S.-based company specialized in developing next-generation lithium-ion batteries.
Jun. 2017
Acquired Albertini Cesare S.p.A., a manufacturer of die-cast aluminum and cast housings for the automotive industry.
Sep. 2017
Sold entire Starter Motors and Generators division to Zhengzhou Coal Mining Machinery Group Co., Ltd. for an estimated EUR 545 million.
Feb. 2018
Acquired Splitting Fares Inc., a company which provides a ridesharing platform that enables organizations to offer their employees ridesharing services.
Mar. 2018
Completed sale of Bosch Mahle Turbo Systems joint venture to FountainVest Partners.
Jan. 2019
Announced takeover of EM-motive, an electric motor manufacturer that was previously a joint venture between the Company and Daimler.
Feb. 2019
Announced take over of LAWA Solutions, a company specializing in cloud-based software systems for the automotive industry.
Nov. 2019
Acquired 11.3% of shares of PowerCell Sweden AB, a company which manufactures fuel cell stacks and systems.
Jan. 2020
Increased stake in Ceres Power, a specialist in fuel cells, from 3.9% to 18% with a EUR 90 million investment.
Jun. 2020
Incorporated a wholly owned subsidiary, Robert Bosch India Manufacturing and Technology Private Limited, focused on the automotive business.
Sep. 2020
Acquired 26% stake in SUN Mobility, a joint venture between Maini Group and SUN Group which focuses on developing universal energy infrastructure and services to promote electric vehicle usage.
Jan. 2021
Created new Cross-Domain Computing Solutions division within the Mobility Solutions business sector, from the previous Car Multimedia division and specific parts of the Powertrain Solutions, Chassis Systems Control, and Automotive Electronics divisions.
Dec. 2021
Dissolved the Connected Mobility Solutions division within the Mobility Solutions business sector.
Jan. 2022
Completed sale of Bosch Automotive Steering division's steering and transmission pumps business to Fidelium Partners.
Supplemental Information 1
Note: A figure in brackets ( ) indicates a loss
*Figures labeled with an asterisk are pre-adjustment figures that have not been changed in accordance with new methods of accounting and valuation implemented in 2013.

Robert Bosch GmbH
>>>Business Report FY ended Dec. 31, 2007
>>>Business Report FY ended Dec. 31, 2008
>>>Business Report FY ended Dec. 31, 2009
>>>Business Report FY ended Dec. 31, 2010
>>>Business Report FY ended Dec. 31, 2011
>>>Business Report FY ended Dec. 31, 2012
>>>Business Report FY ended Dec. 31, 2013
>>>Business Report FY ended Dec. 31, 2014
>>>Business Report FY ended Dec. 31, 2015
>>>Business Report FY ended Dec. 31, 2016
>>>Business Report FY ended Dec. 31, 2017
>>>Business Report FY ended Dec. 31, 2018
>>>Business Report FY ended Dec. 31, 2019
>>>Business Report FY ended Dec. 31, 2020
>>>Business Report FY ended Dec. 31, 2021

>>>Archives of Past Exhibits

Bosch Corporation (Japan)
>>>Business Report FY ended Dec. 31, 2006
>>>Business Report FY ended Dec. 31, 2007
>>>Business Report FY ended Dec. 31, 2008
>>>Business Report FY ended Dec. 31, 2009
>>>Business Report up until FY ended Dec. 31, 2014

Robert Bosch LLC (U.S.)
>>>Business Report up until FY ended Dec. 31, 2010
>>>Business Report up until FY ended Dec. 31, 2014

Robert Bosch Korea Ltd.
>>>Business Report up until FY ended Dec. 2013
>>>Business Report FY ended Dec. 2014

Bosch Electrical Drives Co., Ltd. (Korea)
>>>Business Report up until FY ended Dec. 2014