MICHELIN
(Compagnie Generale des Establissements Michelin S.C.A.)
Company Profile
■URL
■Address
23, place des Carmes-Dechaux, 63040 Clermont-Ferrand Cedex 9, France
Business Overview
-The Company is one of the market leaders in manufacturing tires for all vehicles, primarily focusing on passenger cars, light trucks, and commercial vehicles.

-The Company is comprised of three business segments:
Passenger car and light truck tires and related distribution
Truck tires and related distribution
Specialty businesses - Consists of tires for agricultural, two-wheel, aircraft, and earthmoving equipment; as well as Michelin Travel Partner and Michelin Lifestyle businesses

-The Company's brand portfolio includes the following:
A global premium brand: Michelin
A primary brand dedicated to sports cars and SUVs: BFGoodrich
Regional brands: Uniroyal in North America, Kleber in Europe, Warrior in China
National brands: Kormoran, Riken, Siamtyre, Taurus, Tigar
Global Tire Market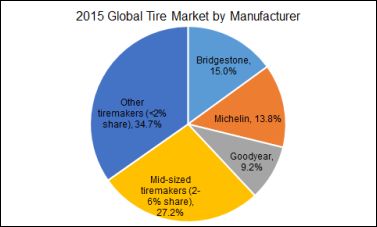 -The Company was the second largest tire manufacturer with a 13.8% market share in the 2015 global tire market.

-In 2015, the global tire market's worth totaled USD 160 billion. Light vehicle tires accounted for approximately 60% of sales while truck tires accounted for approximately 30% of sales. In terms of volume, approximately 1.5 billion car and light truck tires were sold in 2015, while approximately 215 million truck and bus tires were sold.





(in million units)
Passenger car and light truck tires
Truck tires
OE
Replacement
OE
Replacement
2016
2015
2016
2015
2016
2015
2016
2015
Europe
102.2
98.8
349.0
342.2
6.3
6.3
23.8
22.6
North America
87.4
86.5
284.7
280.5
5.3
6.5
24.0
24.0
Asia (excluding India)
211.5
197.6
269.8
259.2
22.6
21.4
84.6
87.1
South America
13.4
15.2
75.2
75.0
0.9
1.1
12.9
13.0
Africa/India/Middle East
31.1
28.6
105.7
102.7
5.3
5.1
30.2
31.0
Total
445.6
426.8
1,084.4
1,059.5
40.5
40.4
175.5
177.8
Source: Michelin estimates

-The Company expects that the tire markets will continue to grow in 2017, but will also be affected by an increase in raw material costs which will cause a negative impact of approximately EUR 900 million.

-Over the 2014-2020 period, the Company expects new tire demand to grow by an average of 2.5% a year in the passenger car and light truck segment and grow by an average of 1.5% a year in the truck segment. In the long term, tire demand is likely to expand by 1-2% a year in mature markets and by 5-10% a year in newer markets.
Shareholders
| | |
| --- | --- |
| -Listed on the NYSE Euronext Paris Stock Exchange. | (As of Dec. 31, 2016) |
| | |
| --- | --- |
| Shareholder | Investment Ratio (%) |
| Foreign institutional investors | 63.1 |
| French institutional investors | 22.7 |
| Individual shareholders | 12.1 |
| Employee Shareholder Plan | 2.1 |
| Total | 100.0 |
Products
Tires
-Fuel efficient tires
-Run flat tires
-Winter tires
-Summer tires
-All-season tires
-Sports performance tires
-Luxury performance tires
-Long life tires
-Tires with EverGrip self-regenerating tread technology
Supplemental Information 1