Robert Bosch GmbH Business Report FY ended 2014
Robert Bosch GmbH Business Report FY ended Dec. 2014
Business Highlights
| | |
| --- | --- |
| Financial Overview | (in million EUR) |
FY ended Dec. 31, 2014
FY ended Dec. 31, 2013
Rate of Change (%)
Factors
Overall
Sales
48,951
46,068
6.3
1)

EBIT

3,030
2,751
10.1
-
Mobility Solutions
Sales
33,318
30,588
8.9
2)

EBIT

2,402
2,359
1.8
3)
Factors

1)
Net Sales
-In the fiscal year ended December 31, 2014, the Company's net sales were EUR 48,951 million, an increase of 6.3% over the previous year. The strength of the euro caused a negative currency impact of approximately EUR 500 million. Excluding currency effects, the Company's sales grew by 7.4% over the previous year.
-Sales in the Asia Pacific region had the largest year-to-year growth, with a 17% increase to EUR 13 billion. The increase was primarily due to an increase in demand triggered by stricter emission regulations. Another reason for the increase was the Company controlling the operations of an engine management system business for gasoline vehicles in South Korea.
-Sales in North America increased by 8.6% to EUR 8.5 billion, while sales in South America declined by 13% to EUR 1.5 billion due to economic difficulties in Brazil. In Europe, sales increased by 2.1% to EUR 26 billion despite difficult economic conditions and tensions in Eastern Europe.
2)
Mobility Solutions Sales
-The Company's Mobility Solutions business sector had sales of EUR 33,318 million, an increase of 8.9% over the previous year. Demand for gasoline direct injection systems, transmission control systems, and continuously variable transmissions were high in 2014. Diesel injection systems and exhaust gas treatment systems also remained in high demand due to stricter emission standards. Infotainment systems, driver assistance systems experienced significant increases in demand. Components in the Starter Motors and Generators division and the Electrical Drives division also experienced success. The Company's spare parts business slightly decreased in 2014.
3)
Mobility Solutions

EBIT
-The

EBIT

for the Company's Mobility Solutions business sector increased by 1.8% to EUR 2,402 million. Though the

EBIT

increased, the

EBIT

margin was lower than the previous year primarily due to the net gain in the revaluation of assets following the consolidation of United Automotive Electronic Systems in 2013. This will continue to have a negative impact in the future due to increased depreciation and amortization.
Acquisitions

-The Company completed its acquisition of
ZF

Friedrichshafen

AG
's 50% share in the joint venture

ZF

Lenksysteme

GmbH

(

ZFLS

), based on an agreement signed in September 2014. Employing more than 13,000 associates in eight countries,

ZFLS

develops, produces, and sells steering systems for passenger cars and commercial vehicles. As a wholly owned subsidiary of the Company,

ZFLS

will be incorporated into the Company under the Mobility Solutions business sector as part of the Automotive Steering division. The former joint venture will be renamed Robert Bosch Automotive Steering

GmbH

. (From a press release on January 30, 2015)
Joint Venture

-The Company,
GS

Yuasa

International Ltd.
, and Mitsubishi Corporation have begun operations at their joint venture. Known as Lithium Energy and Power

GmbH

& Co. KG, the new company is headquartered in Stuttgart, Germany. It will develop next-generation lithium-ion battery technology and plans to make lithium-ion batteries twice as efficient as they currently are. The joint venture was set up in November 2013. The Company holds a 50 percent stake in the joint venture while GS

Yuasa

and Mitsubishi each hold 25 percent. (From a press release on February 12, 2014)
Contracts
-Notable contracts won in FY 2014
Company
Model
Parts Supplied
Audi

TT

Instrument cluster for "Virtual Cockpit" display
BMW
MINI Hatch
Combiner HUD
i8
Display-based instrument cluster
Daimler

Setra

TopClass

500
Eco.Logic Motion driver assistance system

FCA

Chrysler 200
Long-range radar sensor (LRR3), Electronic stability program (ESP)
Fiat 500e
Electric motor, Power electronics, Battery pack, Regenerative braking system

Google

Self-driving test car
Radar sensor, Electric motor, Power electronics, Electrical

powertrain

components, Steering system components

Iveco

Daily
Steering pump, Steering column
Jaguar/Land Rover
Jaguar F-TYPE Coupe

mySPIN

smartphone

integration system
Range Rover

Evoque

mySPIN

smartphone

integration system
-The Company announced that a European car manufacturer is currently putting the Company's

MRR

rear mid-range radar sensor system into series production for one of its high-volume mid-sized vehicles. This automaker has concealed two sensors in the rear bumper to make lane changes safer – one on the left, one on the right. These two

MRR

rear sensors monitor the area alongside and behind the car. When another vehicle approaches at speed from behind or is already present in the blind spot, a signal such as a warning light in the side mirror alerts the driver to the hazard. Should the driver still activate the turn signal with the intention of changing lanes, the lane-changing assistant issues an additional acoustic and/or

haptic

warning. (From a press release on November 10, 2014)
Outlook for FY ending Dec. 31, 2015

-The Company expects its sales to increase between 3% and 5% in the fiscal year ending December 31, 2015. The Company's Mobility Solutions business sector is expected to surpass the growth rate of the Company by a significant amount in 2015.
Awards
-Major awards won in 2014
Company
Award
Chrysler
Design for Six Sigma

Changan

Automobile
2013 Quality Improvement Award

Cummins

Top Supplier
Tesla
Excellent Development Partner
-Robert Bosch

LLC

was awarded a 2014 Automotive News PACE (Premier Automotive Suppliers' Contribution to Excellence) Award. The company earned this recognition in the Product category for its laser-drilling technology used for spray enhancements in gasoline direct injection. This technology was first launched on the 2012 Audi A3 and is currently used by nine customers on 14 projects globally. (From a press release on April 9, 2014)
Corporate Strategy
Regional planning
-By 2020, the Company hopes to double its sales in the Asia Pacific and Americas region compared to its 2013 figures. This would result in sales goals of approximately EUR 22.2 billion in the Asia Pacific region, and approximately EUR 19.0 billion in the Americas by 2020. One of the methods the Company looks to increase its sales is improving its local development capabilities, as mentioned by Dr.

Volkmar

Denner

, chairman of the Company's board of management, "Local developments for each market are especially important." As such, in 2014, the Company has opened research and development centers in both Vietnam and India. In North America, the Company opened a new development and software center in Guadalajara, Mexico in 2014 as well.
<Asia Pacific>
-The Company has invested approximately EUR 3.3 billion in the Asia Pacific region from 2010 to 2014. The investments have been focused primarily in India, China, Vietnam, with a slightly lesser focus on countries such as Thailand, Korea and Indonesia. In 2014, the Company invested EUR 620 million in the Asia Pacific region, approximately 24% of the Company's total capital expenditure.
<Americas>
-In recent years, the Company's capital expenditure in the Americas have mainly centered on Mexico. The Company expanded manufacturing sites in

Toluca

and Juarez and started production of ABS and ESP systems in Aguascalientes in 2014.
<Europe>
-The Company's future sales goals for Europe are less definite, as the Company merely looks to surpass the growth in the European market through 2020. Despite economic difficulties in Europe, the Company has still invested a significant amount of resources in the region. In 2014, the Company invested approximately EUR 1.7 billion, or 66% of the Company's total capital expenditure, in Europe. These investments went towards capacity expansions for semiconductors, sensors, gasoline direct injection systems, and diesel technology. The funding also went towards the relocation to the Company's new research center in

Renningen

, Germany.
<Africa>
-The Company's operations in Africa look to achieve sales of EUR 2 billion by 2020. In the fiscal year ended December 31, 2014, the Company had sales of EUR 350 million in Africa. To further its growth in the region, the Company established five new branch offices in Africa in 2014. This expansion gives the Company locations in nine African countries, with plans to open a location in Tunisia in 2015. Activities in Africa are focused on manufacturing original automotive equipment and spare parts in Brits, South Africa, and manufacturing packaging machinery in

Midrand

, South Africa.
Avenues of development in the automotive market
-The Company expects to see a shift in the automotive market towards connected, automated, and electric driving over the next few years.
<Electric steering systems and automated driving>
-The Company's acquisition of

ZF

Lenksysteme

serves as one example of how the Company is adjusting towards these trends.

ZF

Lenksysteme

is a technology leader in the development of electric steering, a system that influences other automotive components. For example, electric steering is necessary in various safety assistance systems. This acquisition thus provides the Company with opportunities in automated driving technologies. In addition,

ZF

Lenksysteme

's recent investments in North America and Asia provide support to the Company's regional goals.
<Electric vehicles and

electromobility

>
-Another example of the Company adjusting to future trends is its recent activities geared towards electric vehicles and

electromobility

. In 2014, the Company's joint venture with GS

Yuasa

International Ltd., and Mitsubishi Corporation, called Lithium Energy and Power

GmbH

& Co. KG, began operations. The joint venture looks to improve battery efficiency and develop the next generation of lithium-ion battery technology. The Company invests approximately EUR 400 million annually on

electromobility

development and has 1,800 employees working in this field.
<Connectivity>
-One of the Company's focuses in vehicle connectivity lies in navigation and infotainment systems. These systems, in turn, require displays to convey information to the driver. Visual systems that the Company has developed include a display-based instrument cluster and various head-up displays. The Company has also collaborated with various automakers such as GM, Nissan, and Chrysler to develop infotainment systems.
<Gasoline direct injection systems>
-The Company expects that half of all new vehicles with gasoline engines in Europe will have direct injection systems by 2016, climbing to 60% of all new vehicles by 2020. Tighter fuel economy demands in China and the U.S. will also lead to a shift from manifold injection to direct injection systems. In order to keep up with the expected increase in demand, the Company has gasoline direct injection manufacturing facilities in Germany, Turkey, the U.S., Mexico, China and Korea. The Company's efforts in supplying gasoline direct injection systems can be seen in its sales, when it is expected to supply nine million systems in 2015.
Adapting to the quicker pace of technology progression
-Due to the rapid progression of technology, opportunities for new business activities are constantly emerging. As such, the Company budgets approximately one percent of its sales each year for independent teams within the Company to develop new or related business areas. Examples of the work that these teams have done can be seen in the Car Multimedia division, where the teams have developed various software components and connected vehicle apps. In the Chassis Systems Control division, the Company has utilized globally networked teams to develop chassis and safety systems for Tesla and has won the "Excellent Development Partner" award in doing so.
| | |
| --- | --- |
| R&D Expenditure | (in million EUR) |
| | | | |
| --- | --- | --- | --- |
| | FY ended Dec. 31, 2014 | FY ended Dec. 31, 2013 | FY ended Dec. 31, 2012 |
| Overall | 4,959 | 4,543 | 4,442 |
| -Mobility Solutions | 4,066 | ~3,600 | N/A |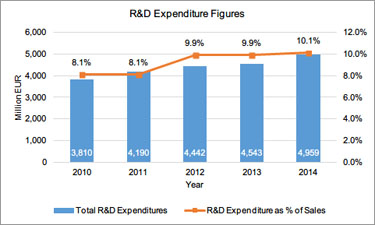 -One part of the Company's mission statement focuses on the Company playing an active role in influencing changes occurring in both technology and various markets. These changes represent opportunities for the Company to take advantage of. In order to seize these opportunities, the Company has continued to invest an increasing amount in research and development. This holds true especially in the Mobility Solutions business sector, where vehicle technologies are trending towards electrification, connectivity, and autonomous driving.
R&D Structure
-As of December 31, 2014, the Company has 45,700 employees working in research and development. The Company hired approximately 3,000 additional employees for research and development in 2014.
-The Company invests approximately EUR 400 million in the development of electric vehicle systems and has approximately 1,800 employees dedicated to this area.
R&D Facilities
-Approximately 800 employees are set to begin working at the Company's new research and advanced engineering center in

Renningen

, Germany, having been relocated from facilities around Stuttgart. These 800 employees represent part of 1,700 total employees that are expected to work in the

Renningen

facility when fully staffed. The relocation is expected to complete by summer 2015. A total of EUR 310 million has been invested in the

Renningen

facility since its groundbreaking in 2012. The research facility will be the hub of the Company's global research network. (From a press release on October 9, 2014)
-The Company's U.S. subsidiary,
Robert Bosch

LLC
, announced that it has broken ground on a

USD

40 million expansion of its technical center in Plymouth Township, Michigan, U.S. The 220,500-square-foot expansion, which is expected to be completed in November 2015, will nearly double the size of the existing technical center. The completed site will be more than 445,000 square feet and have capacity for 1,400 people. The Company expects to add up to 200 new jobs in Michigan through 2017. The expansion will further enable the growth of several key technologies, including automotive electronics, start/stop motors, electrical drives, and a variety of safety and driver assistance systems. (From a press release on August 25, 2014)
-Bosch Vietnam Co., Ltd., a subsidiary of the Company, announced that it has established an automotive research and development center in Ho Chi

Minh

City. The new center will initially focus on computer-aided design, simulations and testing of automotive technologies. (From a press release on July 16, 2014)
-The Company announced that it has opened its first center for software development and engineering services in North America in Guadalajara, Mexico. The Company initially plans to invest approximately

USD

5 million in the 1,800-square-meter IT location, and create more than 200 engineering jobs. The development center in Guadalajara will offer cross-sector programming and application services primarily to the automotive industry and other Company locations in the Americas. These services will include the development and validation of hardware and software for the electronic control units used in automobiles. (From a press release on April 25, 2014)
R&D Activities

OpEneR

research project for electric and hybrid vehicles
-In

Vigo

, Spain, the Company was a part of the European research project

OpEneR

, which presented collaboratively developed driving strategies and driver assistance systems that will significantly improve the efficiency and safety of both electric and hybrid vehicles in the future. One task was the development of "

eco

routing". This considers the specific needs of an electric vehicle when calculating the best route. Test drives demonstrated up to 30% in energy consumption savings in return for a 14% longer travel time. Another major task was to find the ideal interaction between the electrical

powertrain

and the regenerative braking system. For the best possible recuperation, engineers equipped the two Peugeot 3008 e-4WD demo cars with the Company's

iBooster

, an electromechanical brake booster, and an ESP brake control system specifically adapted for electric vehicles. In comparison to a typical sporty driver, the operation strategies resulted in energy consumption reduction between 27 to 36%, with a travel time increase between 8 to 21%. (From a press release on July 17, 2014)
SchmiRmal

research project for future vehicles
-The Company announced that, in the future, electrically conductive lubricants will protect electric motors from the surface damage that can result from electrical discharges in the bearings. These findings are the result of the "

SchmiRmaL

" joint research project, funded by the German Federal Ministry for Education and Research. The initiative was launched to prepare for future vehicles, which will require higher voltages than current models. Presently, 12 volts are required to provide sufficient power to all automotive electric systems such as lights, radios, and air conditioners. Within the next few years, the figure is expected to rise to 48 volts, as electric power is required for a growing number of functions.
Schaeffler

Technologies

GmbH

& Co. KG
is also taking part in the project. The Company's role in the project is to assess how new types of oil can improve the service life of bearings. (From a press release on June 11, 2014)
Advanced Driver Assist System (ADAS) development
-Dr.

Volkmar

Denner

, the chairman of the Company's board of management, expects that technologies for highly automated driving will be ready by 2020, with fully automated driving technologies arriving in the decade afterwards. As such, the Company looks to position itself to take advantage of the technology, expecting to generate EUR 1 billion in sales of driver assistance systems by 2016. To reach this goal, the Company has outlined five development priorities:
Sensor development for 360 degree environment recognition
Redundant system architectures
System reliability to protect against malfunction and

cyberattacks

High-precision map data
Legal regulations of driver assistance systems
(From a press release on March 18, 2014)
Technological Alliance
-Robert Bosch

LLC

announced that it has collaborated with Jaguar Land Rover to introduce the Company's

mySPIN

technology on select vehicles in 2015. Jaguar "F-TYPE Coupe" and Range Rover "

Evoque

" models will demonstrate this solution as

InControl

Apps for the first time during the New York International Auto Show. This

smartphone

integration solution creates a device-to-vehicle link that provides users with the opportunity to continue using preferred apps in a way they are accustomed to through the vehicle's in-dash display. (From a press release on April 15, 2014)
-The Company and

Hunan

Jianglu

&

Rongda

Vehicle Transmission Limited Company have developed a new compact continuously variable transmission (

CVT

). The

CVT

uses a newly developed, highly durable material, and offers excellent power-transmission efficiency to the

CVT

belt. A sample of the new

CVT

has already passed testing, and mass production of the new product is expected to begin within the next few years. (From a press release on April 2, 2014)
-Bosch Engineering

GmbH

, a subsidiary of the Company, is a systems development partner to

nanoFLOWCELL

AG for the development of the

QUANT

e-

Sportlimousine

electric sports sedan equipped with

nanoFLOWCELL

drive. The subsidiary's key task is to design the

powertrain

system for the prototype four-seat sports car, with the development work focused on system integration, energy management, and the control system for high-voltage and low-voltage components. Bosch Engineering is also responsible for developing the vehicle control unit for energy management, the

antilock

braking system, the instrument cluster, and the body computer for managing the central vehicle electrical system. (From a press release on February 21, 2014)
Product Development
Display-based instrument cluster

-The Company has developed a display-based instrument cluster for the BMW "i8" that features no moving parts. The cluster uses a high-contrast

TFT

display with a diagonal length of 8.8 inches. One of the advantages of the instrument cluster is its versatility in displaying information. The left side of the display shows the vehicle's speed, while the right side shows different information depending on the driving mode of the i8 such as a power meter, use of specific propulsion technology, or tachometer. (From a press release on September 30, 2014)
24V starter motor
-The Company has a new addition to its 24-volt starter motor portfolio: the HEF109-L "large" heavy-duty starter motor for commercial vehicles and off-highway applications. The powerful starter motor generates 18% more power than the "M" (medium) type starter motor it is based on, and delivers a maximum output of 9.2 kilowatts. This is enough to reliably start engines with displacements of up to 28 liters. The technology is designed to achieve a mileage of up to 800,000 kilometers in on-highway use or 14,000 operating hours in off-highway applications. (From a press release on August 21, 2014)
Mechanical vacuum pump
-The Company announced that it has developed the new

EVOII

mechanical vacuum pump. The new

EVOII

pump costs up to 75% less than comparable electric pumps, and has CO2 emissions of less than 0.4 grams per kilometer, figures similar to those of its electric competitors. Additionally, this new generation is 300 grams lighter than other mechanical vacuum pumps, and more than a kilogram lighter than electric ones. The main feature of the

EVOII

pump is the thermoplastic rotor: its stable blades can create the necessary vacuum, while adding very little weight. Depending on customer requirements, the

EVOII

pump can be driven by a crank- or camshaft, gear or chain. It can also be integrated with an oil or fuel pump. (From a press release on July 8, 2014)
Combiner HUD
-The Company has developed a combiner head-up display that the BMW Group has chosen to fit to a variety of its vehicles. This combiner system, initially available for the new "MINI Hatch", can be fully integrated into the instrument panel. The image generated by the HUD is combined with the scenery outside the vehicle such that the images appear to merge with one another at a distance of around two meters in front of the vehicle. The HUD projects the information onto a small special plastic screen placed before it instead of the windshield. The new HUD can be fitted to various vehicles without any major modifications. (From a press release on June 10, 2014)
NissanConnect

multimedia system with navigation
-As part of its partnership with Nissan, the Company offers the Japanese automaker the new

NissanConnect

system, a multimedia system with a navigation function. In addition to a 7-inch color touchscreen, it incorporates many convenience and entertainment functions in a single device. Examples include

Google

Local Search and Send-to-Car, a

Bluetooth

hands-free system, high-quality music enjoyment based on audio streaming or Digital Radio, and the latest in

smartphone

integration via

Bluetooth

or

USB

. (From a press release on April 22, 2014)
SMI7xy inertial sensors
-The Company has launched a new generation of inertial sensors. The SMI7xy sensor platform is designed specifically for use in active safety, passive safety, and driver assistance systems. These new sensors are robust and take up very little room, as they are supplied in a compact

BGA

housing that measures just 7 x 7 x 1.5 mm. The SMI7xy platform comprises four types of sensors in two categories: type SMI720 and type SMI740 sensors for basic applications, and type SMI700 and type SMI710 sensors for more demanding applications. Samples of the SMI7xy are already available. (From a press release on March 10, 2014)
SMA6xy acceleration sensors
-The Company's latest generation of acceleration sensors makes developing airbag systems easier. With versions for use in the airbag control unit and versions for peripheral use in the vehicle's front, sides, and rear, the SMA6xy sensor platform simplifies the release approval process by giving sensors a common housing design for any application. All the sensors in the new SMA6xy product family are ideally suited to Company

ASICs

for airbag systems. (From a press release on March 10, 2014)
Engine start/stop system with coasting function
-The Company has developed a new engine start/stop system with a coasting function that offers a zero-emission, noise-free, and low-resistance mode. This technology stops the engine when the vehicle is in motion while being able to maintain its speed simply by rolling. Adding the coasting function is expected to reduce fuel consumption by 10% and to cut CO2 emissions. This advanced start/stop system can be combined with any type of internal combustion engine. (From a press release on January 20, 2014)
Back-over avoidance system concept
-Bosch Australia, a subsidiary of the Company, has developed a back-over avoidance concept system which utilizes the sensors already used for a vehicle's driver assistance systems. When a car is in reverse and travelling at speeds less than 15 kph, the back-over avoidance system will be primed. If the mid-range radar sensors, mounted at the rear of the vehicle, indicate that the reversing vehicle will collide with something, the system will automatically activate the brakes. The system has a range of approximately ten meters.
Patents
-The Company filed 4,593 patent applications in 2014.
| | |
| --- | --- |
| Capital Expenditure | (in million EUR) |
| | | | |
| --- | --- | --- | --- |
| | FY ended Dec. 31, 2014 | FY ended Dec. 31, 2013 | FY ended Dec. 31, 2012 |
| Overall | 2,585 | 2,539 | 2,714 |
| -Mobility Solutions | 2,200 | 2,200 | N/A |
Investments outside Germany
Asia
<China>
-On November 25, 2014, Bosch

Mahle

Turbo Systems, a joint venture between the Company and
Mahle
, started operations at Bosch

Mahle

Turbo Systems (Shanghai) Co., Ltd., the joint venture's first plant in China. The new plant was built on approximately 5,000 square meters of land within

Mahle

's Shanghai facility. Approximately 100 employees from Bosch

Mahle

Turbo Systems Austria and Germany will be transferred to the Shanghai Plant. The plant is capable of producing 2 million turbochargers per year. These turbochargers will be used on gasoline engine vehicles sold in China. (From news releases issued by multiple sources on November 26, 2014)
-The Company's subsidiary, United Automotive Electronic Systems Co., Ltd., announced that it has completed its new production line to manufacture high-pressure oil pumps at its

Wuxi

Plant. The company started constructing the advanced line at the beginning of 2013 in order to reduce its production cycle time 18 seconds to 10 seconds. The new line is planned to begin mass production in March 2014. With this new operation, the company expects to increase its annual high-pressure oil pump capacity to 1.8 million units, which will be an 80% increase from the current level. (From news releases issued by multiple sources on March 3, 2014)
<Thailand>
-The Company has started producing

antilock

braking systems (

ABSs

) and electronic stability controls (

ESCs

) in Thailand. The products will be supplied to Japanese automakers which operate plants in Thailand. The

ABSs

and

ESCs

are produced at the Company's second plant in Thailand, which started operations at the end of 2013. In order to meet growing demands for systems that can improve driving stability, the Company increased the number of production items at the plant. (From an article in the

Nikkan

Jidosha

Shimbun

on April 5, 2014)
<India>
-The Company is further expanding its business in India. In 2014, the Company intends to invest approximately EUR 160 million in extending its locations in the country. The investments will focus on extending existing manufacturing sites and research and development facilities. The Company announced this at today's official opening of the new research center in Bangalore. The Research and Technology Center (

RTC

) Bangalore will focus on the development of connected technologies for the Internet of Things and Services (

IoTS

). Other focal points will be on methods and tools for the efficient design of software-intensive systems, and image processing. The Company believes that by as early as 2015, more than six billion 'things', including vehicles,

smartphones

, containers, and machines will be connected to the Internet, making the

IoTS

a reality. (From a press release on February 3, 2014)
Europe
<Turkey>
-The Company is further expanding its presence in Turkey. Between 2013 and 2015, the Company will invest approximately EUR 300 million in the extension of its existing location in Bursa. By the end of 2014, the Company plans to create around 500 jobs in Bursa. The Bursa facility will manufacture high-pressure injectors for diesel passenger cars primarily for European automakers. The new 6,000-square-meter hall will house production of the CRI2-20 diesel injector. Injectors manufactured in Bursa are already used to supply a quarter of all diesel cars produced in Europe. In addition, the Bursa facility manufactures products such as gasoline injection systems and components for drive and control technology. (From a press release on June 23, 2014)
<Romania>
-The Company opened its second automotive technology manufacturing plant in Romania. The new location in

Cluj

will produce electronic components and control units for the European automotive industry. These components are used in driver assistance, safety, and energy management systems. The Company has invested more than EUR 70 million in the new location, which provides approximately 38,000 square meters in floor space for industrial use. By the end of 2014, the Company will employ a total of 750 associates at the location. (From a press release on May 9, 2014)
<Russia>
-The Company has laid the foundation stone for its new plant in Samara, Russia which is expected to begin operations in 2015. The site covers a total surface area of 200,000 square meters. The buildings will offer approximately 22,000 square meters of floor space and will be used for manufacturing, administration, and logistics. By the end of 2016, the Company will have invested EUR 50 million in Samara. The Company expects to employ approximately 500 associates when operations begin. With the new plant, the Company aims to manufacture automotive technologies primarily for local customers. These will include anti-lock braking systems, starters and generators, common rail injectors for commercial vehicles, and windshield wiper systems. (From a press release on February 27, 2014)
Investments in Germany
-Bosch Emission Systems

GmbH

& Co. KG (

BESG

), a subsidiary of the Company, is now bringing new production facilities

online

in

Neunkirchen

, Germany, to meet the growing demand for exhaust gas treatment systems for trucks, diggers, and other mobile machinery. Having previously operated at their capacity limit for some time, the existing production halls have expanded from 3,500 square meters in space to 15,000 square meters.

BESG

in North America has also started equipping large passenger cars, such as

SUVs

, with complete exhaust gas systems. One of the drivers of this is growth in the diesel market in North America, with models such as the Jeep Cherokee or Dodge Ram 1500 serving as landmark projects. (From a press release on August 6, 2014)