Dana Incorporated (Formerly Dana Holding Corporation)
Company Profile
Business Overview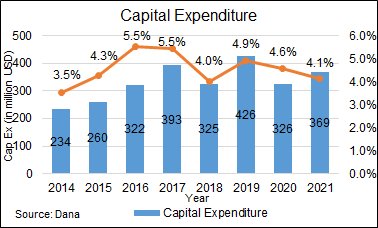 -The Company is a leading global manufacturer of drive and motion products, sealing solutions, thermal management technologies, and fluid power products for the light vehicle, commercial vehicle and off-highway vehicle markets.

-The Company has four operating segments:
Light Vehicle Drive Systems (Light Vehicle)
Commercial Vehicle Drive and Motion Systems (Commercial Vehicle)
Off-Highway Drive and Motion Systems (Off-Highway)
Power Technologies
-Starting in 2016, the Company had generally increased its capital expenditure in preparation for new programs awarded to the Company. The increased capital expenditure continued through 2017 and then decreased in 2018 as production for the new programs began. The COVID-19 pandemic drove capital expenditure as a percentage of sales downward for the fiscal year ended December 31, 2020 due to global automotive production shutdowns. In the fiscal year ended December 31, 2021, the Company's capital expenditures increased over the previous year due to the global economic recovery from the COVID-19 pandemic, though it decreased as a percentage of the Company's net sales. The Company expects that its capital expenditure in 2022 will be approximately 4.0% of sales, remaining level compared to the fiscal year ended December 31, 2021.


Competitors
Shareholders
-The Company is listed on the New York Stock Exchange.
Products
Light Vehicles
Driveline technologies
-Axles
-Drive shafts
-Propshafts with cardan joints
-Propshafts with flexible coupling joints
-Propshafts with constant velocity joints
-Two-speed powershifting transmissions
-Hybrid powershifting automated manual transmissions
-All-wheel-drive systems
-Disconnecting all-wheel-drive systems
-Electronic limited slip differentials
-Dual-clutch transaxles
-Manual rear transaxles
-Lightweight axle tubes
-Hollow shafts

Sealing technologies
-Ring and band valve seals
-Top valve seals
-Bonded valve seals
-Integral valve seals
-Multi-layer steel (MLS) transmission separator plates
-Multi-layer steel (MLS) transmission pump gaskets
-Cylinder head covers
-Oil pan modules
-Multi-layer steel (MLS) cylinder head gaskets
-Molded gaskets
-Electrical connector gaskets
-High-temperature gaskets
-Stamped gaskets
-Insulated and damped heat shields
-Sound absorbing heat shields
-Direct insulation heat shields
-Aluminum heat shields
-Heat shields with integrated gaskets
-Valve stem seals

Thermal technologies
-Stacked plate coolers
-Plate fin coolers
-Mounted oil coolers
-Filter-mounted engine oil coolers
-Engine-mounted engine oil coolers
-Remote-mounted engine oil coolers
-Liquid-cooled charge air coolers
-In-tank style radiators
-Active warm-up systems

E-mobility
-Thermal products
Battery interelement cooling plates
Battery cold plates
Power electronics cooling plates
Battery cooling chillers
Engine control unit coolers
Sub-cooled loop radiators
ADAS cooling plates
-Fuel cells
Bipolar plates
Integrated seals
Integrated coatings
Hydrogen reformers
End-cap components
-e-drive systems
e-Gearbox
e-Drive unit combining motor, inverter, gearbox and thermal management system
Rigid e-Axles
Four-speed electric drive transmissions
Motor-inverter systems
Inverters
Electric motors
Vehicle controllers
Commercial Vehicles
Driveline technologies
-Steer axles
-Drive axles
-Tandem axles
-Driveshafts
-Tire pressure management systems for linehaul, vocational or military applications
-Wheel hub systems

Engine technologies
-Thermal acoustic protective shielding (TAPS) heat shields
-Molded gaskets
-Electronic window gaskets
-High-temperature gaskets
-Stamped gaskets
-Multi-layer steel (MLS) cylinder-head gaskets
-Engine-mounted oil coolers
-Remote-mounted engine oil coolers
-Filter-mounted engine oil coolers
-In-tank engine oil coolers
-Ring and band valve seals
-Integral top valve seals
-Bonded valve seals
-Integral valve seals
-Active warm-up systems
-Thermal bypass valves
-Charge air coolers
-Cylinder head covers
-Oil pan modules
-Exhaust gas heat recovery systems
-Sealing modules
-Sound absorbing heat shields
-Direct insulation heat shields
-Aluminum heat shields
-Insulated and damped heat shields
-Heat shields with integrated gaskets

Transmission technologies
-Thermal acoustic protective shielding (TAPS) heat shields
-Sound absorbing heat shields
-Direct insulation heat shields
-Aluminum heat shields
-Insulated and damped heat shields
-Heat shields with integrated gaskets
-Molded gaskets
-Electronic window gaskets
-High-temperature gaskets
-Stamped gaskets
-Active warm-up systems
-Thermal bypass valves
-Exhaust gas heat recovery systems

Fluid power
-Axial piston pumps
-Gear pumps
-Valves
-Orbital motors
-Hydraulic powerpacks
-Hydraulic circuits
-Sensors
-Load cells
-Electronic modules

E-mobility
-High voltage inverters
-Motor-inverter systems
-Low voltage motors
-e-Axles
-Electro hydraulic assisted power steer systems
-Bi-directional charger inverters
-Vehicle controllers
History
| | |
| --- | --- |
| Oct. 1916 | Incorporation in Virginia, as Spicer Manufacturing Corp., succeeding a New Jersey company of similar name incorporated in 1905. |
| Jul. 1946 | Present name, Dana Corp., adopted. |
| Nov. 1995 | Acquired the European axle group of the British manufacturing company, GKN plc. including three axle-group operations. |
| Feb. 1997 | Acquired the assets of the world wide piston ring and cylinder liner operations of SPX Corporation. |
| Jan. 1998 | Acquired the heavy axle and brake business of Eaton Corporation; General Automotive Specialty Company, Inc. |
| 1999 | Acquired Industrias Serva S.A., Dana Heavy Axle Mexico S.A. de C.V., Automotive Motion Technology Ltd., and Echlin Charger Mfg. Co. Pty. Ltd. |
| Jan. 2000 | Acquired the cardan-jointed propeller shaft business of GKN plc. |
| Sep. 2000 | Sold its Brazilian CV joint operation to GKN. |
| Nov. 2000 | Acquired a 30% interest in Getrag Cie, a manufacturer of transmissions, trans axles, axles and other automotive components, and a 49% interest in Getrag's North American operations. |
| 1Q. 2004 | Combined the ASG and the former Engine and Fluid Management Group (EFMG) into a single business unit which retained the ASG name. |
| Jan. 2007 | The Company and its subsidiary, Dana Canada Corporation completed the sale of their trailer axle manufacturing assets to Hendrickson USA, L.L.C., a subsidiary of The Boler Company, and its affiliates. |
| Mar. 2007 | Completed the sale of its engine hard parts business to Mahle GmbH. |
| Jul. 2007 | Completed the sale of its European fluid products hose and tubing operations to Orhan Holding, A.S.. |
| Sep. 2007 | Completed the sale of its North American coupled fluid products business to Coupled Products Acquisition LLC, a wholly owned subsidiary of Wanxiang (USA) Holdings Corporation. The sale substantially concludes the overall divestiture of its fluid products business. |
| Jan. 2008 | As a result of Dana Corporation's emergence from bankruptcy under Chapter 11 of the United States Bankruptcy Code on Jan. 31, 2008, the Company is the successor registrant to Dana Corporation pursuant to Rule 12g-3 under the Securities Exchange Act of 1934. |
| 2010 | Divested its global Structural Products business to Metalsa, S.A. de C.V., a subsidiary of Grupo Proeza of Mexico |
| Jan. 2015 | Sold its Venezuelan subsidiary C.A. Danaven to an independent and locally operated company Manufacturing and Logistics Solutions Ltd. |
| Aug. 2016 | Change the Company name from Dana Holding Corporation to Dana Incorporated, effective August 1, 2016. |
| Dec. 2016 | Acquired strategic assets of commercial vehicle steering axle systems and related forged components businesses of SIFCO. |
| Feb. 2017 | Acquired 80% ownership of Brevini Fluid Power S.p.A. and Brevini Power Transmission S.p.A., enhancing the Company's Off-Highway operating segment and bringing new technologies to be leveraged in other markets. |
| Mar. 2017 | Completed acquisition of axle housing and driveline shaft manufacturing operations of U.S. Manufacturing Corporation for USD 100 million. |
| Mar. 2018 | Melrose Industries acquired 52.43% of the voting rights of GKN, thereby preventing the merger between GKN Driveline and the Company. |
| Jun. 2018 | Acquired 55% interest in TM4, an electric vehicle component supplier, through a joint venture partnership with Hydro-Quebec. |
| Jul. 2018 | Signed definitive agreement to acquire Oerlikon's Drive Systems Segment for CHF 600 million. The transaction is expected to be completed by the first quarter of 2019. |
| Jan. 2019 | Completed acquisition of SME Group, an Italian company which designs, engineers and manufactures low-voltage AC induction and synchronous reluctance motors, inverters and controls for off-highway vehicle applications. |
| Mar. 2019 | Completed acquisition of Drive Systems segment of the Oerlikon Group. |
| Aug. 2019 | Completed acquisition of Nordresa Motors, a Canadian company which specializes in the development and integration of electric powertrains for commercial vehicles. |
| Nov. 2020 | Signed definitive agreement to purchase portion of Modine Manufacturing Company's automotive segment thermal management business. |
| Mar. 2021 | Acquired Pi Innovo LLC, a company focused on embedded software solutions and electronic control units. |
Supplemental Information 1