Honeywell International Inc.
Company Profile
Business Overview
-The Company is a diversified technology and manufacturing company which focuses on solutions regarding energy, safety, security, productivity and urbanization. The Company provides aerospace products and services, automotive turbochargers, energy efficient solutions and advanced technologies for homes and buildings, specialty chemicals, electronic and advanced materials, and process technologies for chemicals.

-The Company is organized into four operating segments: Aerospace, Home and Building Technologies, Performance Materials and Technologies, and Safety and Productivity Solutions. Following the sale of its Friction Materials business to Federal Mogul for USD 155 million in 2014, the Company realigned its Transportation Systems business segment with its Aerospace business segment. For all periods presented, the Company has reported its financial performance based on the inclusion of Transportation Systems in the Aerospace segment.


Spin-off Activities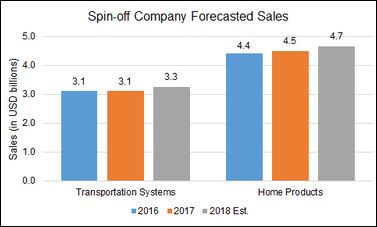 -The Company announced that it is planning to spin off its transportation systems business as well as its homes product portfolio and ADI global distribution business into two standalone, publicly traded companies. The planned separation transactions are expected to be complete by the end of 2018. The new transportation systems business will be a global leader in turbocharger technologies with expected annual revenue of approximately USD 3 billion. The new homes and global distribution business will be a leader in home HVAC controls and fire security products with expected annual revenue of approximately USD 4.5 billion. (From a press release on October 10, 2017)


Competition
-BorgWarner
-Bosch
-Continental
-Cummins
-IHI Corporation
Shareholders
-The Company is listed on the New York Stock Exchange and London Stock Exchange.
Products
Turbochargers
-Gasoline wastegate turbochargers for light vehicles
-Gasoline DualBoost turbochargers for light vehicles
-Diesel small wastegate turbochargers for light vehicles
-Diesel Variable Nozzle Turbocharger (VNT) for light vehicles
-Diesel TwoStage Parallel turbochargers for light vehicles
-Diesel TwoStage Serial turbochargers for light vehicles
-TwoStage Serial turbochargers for commercial vehicles
-VNT DutyDrive turbochargers for commercial vehicles
-TwoStage fuel cell compressor
-Electric compressor

Automotive software
-OnRAMP analytical program suite
-car2cloud cybersecurity solution
-Intrusion detection and protection software
-Security operations centers
-Integrated Vehicle Health Management (IVHM)

Brake components
-Disc brake pads
-Brake linings
-Riveted brake shoes

Other automotive components
-Ball bearings
-Rotary electric actuators
-Automotive refrigerants
-Charge air coolers
-Test and measurement sensors
-Embedded sensors, switches and controls
-Intercoolers cores
-Speed sensors
-Boost gauges
-Adjustable wastegate brackets
-Turbine inlet divided V-band adapters


History
| | |
| --- | --- |
| Dec. 1999 | Established by the merger between Honeywell Inc. and AlliedSignal Inc. |
| Oct. 2000 | Although the Company and United Technologies Corp. had already signed a dispose agreement, General Electric announced it would acquire the Company for $45 billion. |
| May 2001 | The U.S. Department of Justice approved the acquisition under the condition of divesting the Company's helicopter operations. The two companies approved the condition. |
| Jun. 2001 | The European Commission proposed the divestitures of the Company's Aerospace division. GE refused the proposal. |
| Jul. 2001 | The European Commission rejected the acquisition. |
| Oct. 2001 | GE and the Company announced that they have terminated their merger agreement on October 2, 2001. |
| Aug. 2002 | Acquired Invensys Sensor Systems. |
| Jan. 2003 | The Company and Federal-Mogul Corp. entered into a letter of intent pursuant to which Federal-Mogul would acquire the Company's automotive Bendix Friction Materials business. |
| Feb. 2003 | Acquired Sensotec Inc. |
| Aug. 2011 | Egret Acquisition Corp., the Company's wholly-owned subsidiary, acquired EMS Technologies, Inc. |
| Jul. 2014 | Sold Friction Materials business (Bendix Friction Materials) to Federal Mogul for USD 155 million. |
Supplemental Information 1