Company Profile
Business Overview
-A major firm of the Aisin Group. It is a parent company of Aisin AW, Aisin AI, Advics, Aisin Takaoka, Aisin Chemical, and other group companies.

-The Company's business consists of the automotive parts business, lifestyle- and energy-related business, and wellness-related products.
-Its auto parts business division manufactures following products:
>>>Major Business Segments and Products of the Aisin Group
Engine products
Drivetrain products
Brake systems and Chassis products
Body products
Information products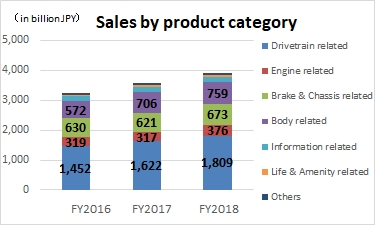 Restructuring
-The Aisin Group will integrate its development and production functions as follows in order to become more competitive in the global market.
Business Highlights
-Sales in FY ended March 2018 reached JPY 3,908.9 billion. Sales generated through business within the Toyota Group accounted for 58.0% of the total sales.

-As for the growth rate compared with the previous year sales in FY ended March 2018, GAC top the next PSA and Changan Automobile.
>>>Sales by Customer

-Sales in FY ended March 2018 expect JPY 3,980 billion and sales amount ratio to Toyota group will be 55.2%.


-The Company is strengthening the development of ITS products. It is expanding the scope of its product development into fuel cells, laser technologies, and other cutting edge technologies.
Shareholders
| | |
| --- | --- |
| -Listed on the first section of the Tokyo Stock Exchange and Nagoya Stock Exchange. | (As of Mar. 31, 2018) |
| | |
| --- | --- |
| Name or Company name | Investment Ratio (%) |
| Toyota Motor Corp. | 24.81 |
| Toyota Industries, Ltd. | 7.68 |
| Denso Corp. | 4.81 |
| Japan Trustee Services Bank (Trust Account) | 3.72 |
| The Master Trust Bank of Japan, Ltd. (Trust Account) | 3.46 |
| Towa Real Estate Co., Ltd. | 2.35 |
| Nippon Life Insurance Company | 2.10 |
| Sompo Japan Nipponkoa Insurance Inc. | 1.37 |
| Meiji Yasuda Life Insurance Company | 1.36 |
| National Mutual Insurance Federation of Agricultural Cooperatives | 1.27 |
| Total | 52.97 |
Products
Drivetrain
Automatic Transmission
-Aisin AW
High torque capacity RWD 8-speed automatic transmissions
High torque capacity RWD 6-speed automatic transmissions
Medium torque capacity RWD 6-speed automatic transmissions
Medium torque capacity FWD 6-speed automatic transmissions
High torque capacity FWD 6-speed automatic transmissions
-Aisin Seiki
RWD 6-speed automatic transmissions for light duty trucks & buses
RWD 5-speed automatic transmissions for medium duty trucks & buses
RWD 4-speed automatic transmissions with transfer for light duty trucks
Power-shift transmissions for forklift trucks
Manual Transmission
-Aisin AI
High torque capacity FWD 6-speed manual transmissions
Middle torque capacity FWD 6-speed manual transmissions
High torque capacity RWD 6-speed manual transmissions
Middle torque capacity RWD 6-speed manual transmissions
CVT and others
-Aisin AW
Medium torque capacity Continuously Variable Transmissions - CVT
Small Torque capacity CVTs
Medium torque capacity FR 2 Motor Hybrid Transmissions
FR Multi-stage Hybrid Transmissions
Small torque capacity FF Motor Hybrid Transmissions
-Aisin Seiki, Aisin AI
Automated manual transmissions
High torque capacity for RWD transfer cases
Hybrid Transmissions for commercial vehicle
-Aisin Seiki
Automated manual transmissions
Differential gears with 2WD-4WD shift-actuator for all terrain vehicles
Clutch covers
Clutch discs
Clutch master cylinders
Concentric slave cylinders
2WD-4WD motor shift actuators
Dampers for hybrid vehicles
Aluminum die casting oil pump covers
-Aisin Chemical
High-µs wet friction materials for automatic transmission
High heat-resistance wet friction materials for automatic transmission
Non-solvent dry friction materials for manual transmission
Brake and Chassis
Brakes
-ADVICS
Disc brake
Brake boosters & Brake master cylinders with brake assist
ABS modulators
Electric control brake systems
ESC modulators
Hydraulic boosters
Disc brake calipers
Brake pads
Disc brake rotors (Brake disc)
Brake assemblies
Electric parking brakes
Foot release type parking brake pedals
-Aisin Seiki
Speed sensors integrated with hub
Speed sensors
Chassis
-Aisin Seiki
Actuators for electric active stabilizer
Air suspension systems
Power tilt & telescopic steering column with ECU
Body
Door related products
-Aisin Seiki
Window regulators
Power slide door systems
Power back door systems
Power door locks
Slide door closers
Door hinges
Door checks
Outside door handles
Inside door handles
Door handles for smart key systems
-Shiroki
Roof, exterior, and structural components
-Aisin Seiki
Frame moldings; zinc die cast
Roof rails
Rear spoilers
Sunroofs
-Aisin Chemical
-Shiroki
Frame moldings; stainless steel
Seat components
-Aisin Seiki
Occupant weight sensing systems
Rear seat relaxation systems
Power retractable seats
Seat slide sensors for airbag control
Passenger detection sensors
Pneumatic seat
-Shiroki
Power seats
Seat recliners
Manual operated seats
Others
-Aisin Seiki
Crash box
Center pillar garnishes
Grille shutters
A-pillar reinforcement
Bumper reinforcement
-Aisin Chemical
High performance spray damping coat
Waterborne anti-corrosion paint
Engine related products
-Aisin Seiki
Engine front modules; timing chain case with water pump and oil pump
Water pumps
3-stage variable discharge oil pumps
Variable valve timings
Oil control valves
Intake manifolds
Variable intake manifolds with an integrated rotary valve, co-developed with MANN+HUMMEL
Pistons
Oil pans
Aluminium cylinder head covers
Magnesium cylinder head covers
Fuel rails
Electric oil pumps
Electric water pumps for cooling engine
Electric water pumps for cooling inverter
High heat resistant "Vanadium Cast Iron" exhaust manifolds
Stainless steel exhaust manifolds with independent air gapped inner pipe and catalyst
SUS exhaust manifolds
High performance exhaust modules
-Aisin Chemical
Information Related Products
Lexus microSD voice navigation systems for Japan
Toyota SD voice navigation systems for Japan
Toyota microSD voice navigation systems for the Middle East
Lexus microSD voice navigation systems for Europe
Daihatsu SD voice navigation systems for Japan
Audi/VW voice navigation systems for Japan
Shanghai GM (Delphi) SSD voice navigation systems for China
NAVlelite car navigation application system designed for Smartphones
-Aisin Seiki
Intelligent parking assist with ultrasonic sensors
GPS antenna
Driver monitor systems
Wide-view front monitors
Multi-terrain monitors
Image processing computers
History
| | |
| --- | --- |
| Jun. 1949 | Established Aichi Kogyo Co., Ltd. with capital of 15 million yen. |
| Jul. 1952 | Aichi Kogyo Co. was listed on the Nagoya Stock Exchange. |
| Jun. 1953 | Began manufacturing die-cast products. |
| Mar. 1960 | Shinkawa Kogyo Co., Ltd. spun off its Casting Division and established Takaoka Kogyo Co., Ltd.(current Aisin Takaoka) |
| Aug. 1961 | Started producing automotive transmissions at Aichi Kogyo Co., Ltd. |
| Oct. 1961 | Aichi Kogyo was listed on the first section of the Nagoya Stock Exchange. |
| Aug. 1965 | Aichi Kogyo acquired Shinkawa Kogyo (capital of 656 million yen) and changed the Company name to Aisin Seiki Co., Ltd. (capital of 2,856 million yen) The Company took over the operations of Shinkawa Plant (established in March 1945) and Shintoyo Plant (established in Aug.1961) from Shinkawa Kogyo accordingly. |
| May 1969 | Established Aisin-Warner Ltd. (now Aisin AW Co., Ltd.) based on a joint-venture with BorgWarner. |
| May 1970 | Was listed on the first section of both the Tokyo Stock Exchange and the Osaka Stock Exchange. |
| May 1970 | Opened Fujioka Proving Ground |
| Oct. 1970 | Established Aisin U.S.A., Inc. |
| Oct. 1971 | Established Aisin Europe S.A. |
| Nov. 1972 | Established Aisin (Australia) Pty., Ltd. |
| Mar. 1973 | Capital investment in Liberty Mexicana S.A. DE C.V. |
| Jan. 1974 | Established Aisin Do Brasil Com. E IND Ltda. |
| Aug. 1977 | Established Aisin Asia Pte. Ltd. |
| Sep. 1979 | Established Elite Sewing Machine Mfg. Co., Ltd. |
| Apr. 1985 | Established Aisin Maintenance Co., Ltd. |
| Apr. 1985 | Established Aisin Engineering Co., Ltd. |
| Jul. 1986 | Established Institut Minoru De Recherche Avancee S.A. (IMRA Europe S.A. at present) |
| Jul. 1988 | Established Aisin America, Inc. |
| Jul. 1988 | Established Aisin U.S.A. Mfg., Inc. |
| Nov. 1988 | Established Aisin Newhard Co., Ltd. |
| Feb.1990 | Established Aisin Human Systemes Co., Ltd. |
| May 1990 | Established IMRA America, Inc. |
| July 1991 | Established Aisin AI Co., Ltd. (Separation of Shiroyama Plant) |
| Dec. 1991 | Established Aisin Material R&D Co., Ltd. (IMRA Material R&D Co., Ltd. at present) |
| Mar. 1992 | Established Aisin AW Precision Co., Ltd. |
| Aug. 1992 | Established Aisin Tohoku Co., Ltd. |
| Oct. 1992 | Established Aisin Cosmos R&D Co., Ltd. |
| Oct. 1992 | Aisin U.S.A., Inc. and Aisin America Inc. were merged and Aisin World Corp. of America was established. |
| Dec. 1992 | Opened Toyokoro Proving Ground |
| Apr.1993 | Established Aisin Kyushu Co., Ltd. |
| Jun. 1995 | Established Aisin Hongda Automobile Parts Co., Ltd. |
| Aug. 1995 | Established PT. Aisin Inodonesia. |
| Apr. 1996 | Established Tangshan Aisin Gear Co., Ltd. |
| May 1996 | Established Aisin Electronics Inc. |
| Jul. 1996 | Established Aisin Mexicana S.A. De C.V. |
| Aug. 1996 | Established Brake System Comprehensive R&D Center |
| Oct. 1996 | Established Aisin Drivetrain, Inc. |
| Nov. 1996 | Established Aisin Automotive Casting, Inc. |
| Dec. 1996 | Established Siam Aisin Co., Ltd. |
| Jul. 1997 | Established Tianjin Aisin Automobile Parts Co., Ltd. |
| Jul. 1997 | Obtained QS9000 and ISO9001 certification |
| Jan.1998 | Established Aisin Europe Manufacturing (UK) Ltd. |
| Apr.1999 | Obtained ISO14001 certification for all plants |
| Jul. 1999 | Established Aisin NTTF Private Ltd. |
| Jan. 2001 | Established Aisin Holdings of America, Inc. and Aisin World Corp. of America. |
| Jan. 2001 | Established Aisin Personnel Service, Inc. |
| May 2001 | Established Aisin Tianjin Body Parts Co., Ltd. |
| Jun. 2001 | Zhejiang Aisin Elite Machinery and Electric Co., Ltd. |
| Jul. 2001 | Established ADVICS Co. Ltd. as a joint venture among Denso, Sumitomo Electrics Industries, Toyota Motor, and the Company. |
| Oct. 2001 | Established Aisin Brake & Chassis, Inc. |
| Oct. 2001 | Established Aisin Mfg. Illinois, LLC. |
| Dec. 2001 | Established Hangzhou Aisin INAX Machinery& Electric Co., Ltd. |
| Oct. 2002 | Established Aisin Canada Inc. |
| Nov. 2002 | Established Aisin Europe Manuacturing Czech s.r.o |
| Aug. 2003 | Established Aisin Light Metals, LLC. |
| Feb. 2004 | Established Aisin Automotive Casting Tennessee, Inc. |
| Apr. 2004 | Established Aisin Seiki Foshan Automotive Parts Co., Ltd. |
| Apr. 2004 | Established Aisin Electronics Illinois, LLC. |
| May 2004 | Established Mfg. Aguascalientes, S.A. De C.V. |
| Aug. 2004 | Established Otomotiv Parcalari Sanayi Ve Ticaret A. S. |
| Sep. 2004 | Established Fengai (Guangzhou) Automotive Seat Parts Co., Ltd |
| Dec. 2004 | Established Aisin Seiki Foshan Body Parts Co., Ltd. |
| Mar. 2005 | Established Tangshang Aisin Automotive Parts Co., Ltd. |
| Oct. 2005 | Established FT Techno of America, LLC |
| Nov. 2005 | Established Tianjin Feng Ai Automotive Seat Parts Co., Ltd. |
| Jan. 2006 | Established Aisin Chemical Indiana, LLC |
| Feb. 2006 | Established Aisin Hokkaido Co., Ltd. |
| Apr. 2006 | Established Kinuura plant |
| Oct. 2006 | Established Aisin Mfg. California, LLC |
| Feb. 2007 | Established Aisin Comcruise Co., Ltd. |
| Aug. 2007 | Established Aisin Kyushu Casting Co., Ltd. |
| Sep. 2007 | Established AS Brake Systems Inc. |
| Sep. 2007 | Opened Production Engineering Center |
| Dec. 2007 | Established Aisin Seiki (Tianjin) |
| Jul. 2008 | Established Aisin Technical Center of America, Inc |
| Sep. 2008 | Established Aisin Thai Automotive Casting Co., Ltd. |
| Apr. 2010 | Kariya Plant was transferred to ADVICS Co., Ltd. |
| Jun. 2012 | Acquired 33.4% of the stock shares in Hiji H-Tech Co., Ltd. that is engaged in the design, evaluation and testing of semi-conductor circuits. |
| May 2015 | Signed a contract to transfer the seat structure business with Toyota Boshoku and Shiroki. |
| Apr. 2016 | Turned Shiroki Corporation into a wholly owned subsidiary through a share exchange. |
| Feb. 2017 | Acquired Art Metal Manufacturing Co., Ltd. through a stock acquisition, which became a subsidiary. |
Supplemental Information 1