Company Profile
Business Overview
-The Company develops and manufactures systems and technologies to provide sustainable and connected mobility of people and goods. It provides brake systems, powertrain components and systems, chassis components and systems, interior displays, human-machine interfaces, infotainment solutions, vehicle electronics, tires and technical elastomers.

-In the fiscal year ended December 31, 2020, sales to automotive OEMs accounted for approximately 69% of the Company's total sales.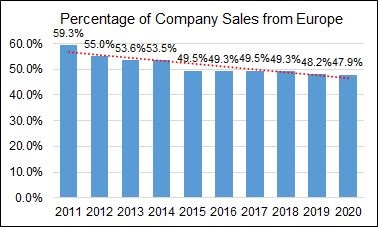 -One aspect to the Company's global strategy is to achieve increased balance of sales across all of its operating regions, thus allowing it to become less dependent on specific markets. This can be seen in the decreasing percentage of Company sales from Europe in recent years. This trend continued in the fiscal year ended December 31, 2020, despite the effects of the Covid-19 pandemic. The Company's percentage of sales for Europe has decreased from 59.3% in the fiscal year ended December 31, 2011, to 47.9% in the fiscal year ended December 31, 2020.






-The Company's structure during the fiscal year ended December 31, 2020 consists of three group sectors: Automotive Technologies, Rubber Technologies and Powertrain Technologies. These three sectors are further divided into five business areas and 21 business units as shown in the table below.
Groups
Divisions
Business Units
Automotive
Technologies
Autonomous Mobility and Safety
-Advanced Driver Assistance Systems
-Hydraulic Brake Systems
-Passive Safety and Sensorics
-Vehicle Dynamics
Vehicle Networking and Information
-Commercial Vehicles and Services
-Connected Car Networking
-Human Machine Interface
Rubber
Technologies
Tires
-Original Equipment
-Replacement, APAC
-Replacement, EMEA
-Replacement, The Americas
-Specialty Tires
ContiTech
-Advanced Dynamics Solutions
-Conveying Solutions
-Industrial Fluid Solutions
-Mobile Fluid Solutions
-Power Transmission Group
-Surface Solutions
Powertrain Technologies
Powertrain
-Electronic Controls
-Electrification Technology
-Sensing and Actuation

-In October 1, 2019, the Powertrain business area began operating under the name of Vitesco Technologies. The Company was originally planning to spin off Vitesco Technologies in 2020. However, due to the Covid-19 pandemic, the Company postponed the spin-off. Currently, the spin-off is expected to take place in the second half of 2021.

Vitesco Technologies announces market debut on Frankfurt Stock Exchange
-Vitesco Technologies announced its successful market debut with the start of trading of its shares on the Frankfurt Stock Exchange. The first share price was quoted at EUR 59.80. With the completion of the spin-off, Vitesco Technologies, the former Powertrain business area of Continental AG, has become independent. As a result of the spin-off, each shareholder of Continental AG received one share in Vitesco Technologies for every five Continental shares held. The largest single shareholder of Vitesco Technologies is the Schaeffler family, via its investment companies IHO Verwaltungs GmbH and IHO Beteiligungs GmbH, with a total stake of around 46 percent. (From a press release on September 16, 2021)
Shareholders
-As of December 31, 2020, the IHO Group holds 46.0% of the shares in Continental AG. This shareholding is attributable to two members of the Supervisory Board, Maria-Elisabeth Schaeffler-Thumann, and Georg F. W. Schaeffler. The remaining 54.0% of the shares are in free float.

-The Company's shares are listed on the Frankfurt, Hamburg, Hanover, and Stuttgart stock exchanges in Germany.
Products
Autonomous Mobility and Safety
Vehicle Dynamics
-Electronic air suspension systems
-Integrated air supply and control unit for 4Corner Air Suspension systems
-Chassis Domain Control Unit
-Regenerative brake systems
-Brake curve intervention systems
-Dynamic Torque Vectoring systems
-Driver steering recommendation systems

Brake Systems
-Disc brakes
-Drum brakes
-Simplex brakes
-Duo servo drum brakes
-Electronic Parking Brake (EPB) systems
-Brake actuation systems
-Mechanical and electronic brake assist systems
-Brake hoses
-Electronic brake systems
-Foundation brakes
-Brake calipers
-Caliper-integrated brake systems
-Electric parking brake ECUs

Integrated Safety Systems
-Pedestrian protection system which raises hood during impact
-Automatic emergency call systems
-Embankment safety control systems
-Active emergency belt control systems
-Post-crash braking systems

Passive Safety and Sensorics
-Crash Impact Sound Sensors (CISS)
-Crash sensors
-Chassis position and acceleration sensors
-Intelligent Battery Sensors (IBS)
-High-Voltage Current Sensor (CSM)
-Sensors for electric vehicles
-Pedal Angle Sensor (PAS)
-Accelerator Force Feedback Pedal (AFFP)
-V2X communication systems with M2XPro sensors
-Safety Platform for Efficient and Economical Design (SPEED) control units
-Steering angle sensors
-Torque sensors
-Active wheel speed sensors
-Engine/transmission speed and position sensors
-ECUs
-Brake pad wear indicator

Advanced Driver Assistance Systems and Automated Driving
-Hi-Res 3D Flash Lidar
-Short range radars
-Long range radars
-Mono cameras
-Stereo cameras
-Multi-function cameras with lidar
-Surround view cameras
-Rear view cameras
-Mirror view cameras
-Short range lidars
-Assisted & Automated Driving control units
-Safety domain control units
-Adaptive cruise control
-Blind spot detection
-Rear cross traffic alert
-Emergency brake assist
-Intelligent headlamp control (IHC) automated nighttime headlamp control system
-Lane departure warning
-Traffic sign recognition
-Surround view systems
-Traffic jam assist
-Parking companion
-Cruising chauffeur highway driving assistance system
-Remote parking system
-Remote garage parking system
-Active rollover protection
-Intersection movement assist systems
-Speed limit assist systems
-Trailer stability assist systems
-Trailer reverse assist systems
-Lane keeping assist
-Off-road cruise control

Washer Systems
-Hoses and connectors
-Nozzles
-Pumps
-Reservoir systems
-Camera cleaning systems
-Headlight cleaning systems

Vehicle Networking and Information
Body & Security
-Body control modules
-Door systems
-Power closure systems
-Seat comfort systems
-Access control systems
-Exterior LED light control units
-Tire information systems
-Antenna modules
-Gateways
-Door handle sensors
-Trunk access sensors
-Near field communication (NFC) external readers
-Heated and climate controlled seats
-Manual and memory seat adjustment systems
-Pneumatic seat systems
-Energy management systems
-Multifunctional smart device terminals
-Integrated antenna modules
-Intelligent Glass Control through variable transparency films
-Interior cameras

Connectivity
-Telematics
-Device connectivity
-Seamless mobile integration
-Smartphone integration systems
-Predictive connectivity systems
-Smart device integration systems
-Embedded telematics systems
-eHorizon connectivity and navigation systems
-AutoLinQ connected services platform
-Intelligent Antenna Modules
-Over-the-air updates
-Continental.cloud platform
-VoicR
-Intrusion detection systems

Commercial Vehicles and Aftermarket
-Tachographs and services

Visual Display Systems
-Instrument clusters
-Secondary displays
-Head-up displays
-Curved centerstack systems
-3D touch surface displays

Control Elements
-Climate control units
-Cockpit modules
-Haptic controls
-Morphing controls
-Roof modules
-Integrated centerstacks
-Body control modules
-Door control units
-Gateways
-Light control units
-Haptic interaction surfaces

Infotainment
-Multimedia systems and platforms
-Flat panel radios
-Radio platforms
-Cross Domain Hub
-Faceplates
-Connected head units
-Ac2ated sound system

Tires Division
-Passenger and light truck tires
Run-flat tires
Self-sealing tires
Tire noise-reducing technology
Winter tires
Summer tires
All-season tires
-Commercial vehicle tires
-Tire pressure monitoring systems

ContiTech Division
Air Spring Systems
-Air spring systems for buses, trucks and rail vehicles
-Air actuators for pneumatics and vibration isolation
-Compensators

Benecke-Kaliko Group
-Foil and coated fabrics for automotive interior trim
-Molded slush skins
-Expanded vinyl

Compounding Technology
-Rubber compounds
-Sealing systems
-Molded parts

Elastomer Coatings
-Gas holder diaphragms
-Collapsible tanks
-Concertina walls
-Fuel cells
-Elastomer sheetings

Mobile Fluid Systems
-Hoses
Air conditioning
Air conducting
Brake and clutch
Charge air
Exhaust systems
Fuel
Heating and cooling
Powertrain
Screw connector
Quick connector
Steering and chassis
Hydraulic lines
Power Transmission Group
-Multiple V-ribbed belts
-Timing belts
-Flat belts
-Belt drive systems
-Drive belts

Vibration Control
-Hydromounts
-Mounting systems
-Adaptive mounts
-Spring strut mounts
-Seat suspension
-Dynamic vibration absorber
-Torsional vibration absorber
-Bushings
-Active engine mounts

Surface materials for various applications
-Instrument panels
-Door panels
-Side panels
-Center consoles
-Pillars
-Storage areas
-Sun visors
-Seat covers
-Seat backs
-Floor coverings
-Heel mats
-Rear trays
-Cargo compartment covers
Powertrain Division; Vitesco Technologies
Engine Systems
-Diesel Piezo common rail injection systems
-Gasoline direct injection systems
-Diesel and gasoline high-pressure pumps
-Gasoline port fuel injection
-Engine Management System (EMS)
-Liquefied Petroleum Gas (LPG) and Compressed Natural Gas (CNG) injection systems
-Turbochargers
-Exhaust gas aftertreatment systems
-Fuel rails

Transmission
-Transmission control units

Hybrid Electric Vehicle
-Power electronics
-Electric motors
-Electric drive with integrated inverters
-Li-ion battery systems
-Connected energy management systems
-12V micro hybrid dual battery manager
-12V micro hybrid power net stabilization systems
-48V mild hybrid belt-driven starter generators with integrated inverter
-48V DC/DC converters
-Battery junction boxes
-Battery management systems
-Inverters
-Coolant flow control valves
-On-board chargers
-Wireless power transfer systems
-Smart Actuator Platform

Sensors and Actuators
-Sensors
Flex fuel sensors
Oil fluid level sensors
Urea concentration and fluid level sensors
In-cylinder pressure sensors
Knock sensors
Mass airflow sensors
Natural vacuum leakage detection
Position sensors
NOx sensors
Particulate matter sensors
Temperature sensors
Biodiesel fluid sensors
Pressure sensors
Transmission speed sensors
Integrated sensor clusters
Crankcase ventilation sensors
-Engine actuators
Air control valves
Idle air control valves
Electronic throttle controls
Electrical water pumps
Transmission oil pumps
Coolant pumps
Variable lift controls
Variable turbine geometry actuators
Electrical wastegate actuators
Brushless DC motor
-Emission actuators
Electrical compressor bypass valves
Electrical exhaust gas recirculation valves
Exhaust control valves
Purge solenoids and

valves

Latching refueling valves
Fuel & Exhaust Management
-Fuel level sensors
-Fuel pumps
-Active purge pumps
-Fuel delivery modules
-Catalytic converters
-Ring catalysts
-Sensor catalysts
-Electrically heating catalysts
-Compact catalyst systems
-Pump control electronics
-Pressure regulators
-Exhaust gas recirculation systems
-Exhaust gas recirculation filters
History
1871
Continental-Caoutchouc-und Gutta-Percha Compagnie was founded in Hanover as a joint stock company.
1892
The Company was the first German company to manufacture pneumatic tyres for bicycles.
1898
Production of automobile pneumatic tires without tread pattern started in Hanover-Vahrenwald.
1904
Presented the world's first automobile tire with a patterned tread.
1928/
1929
Amalgamation with major companies of the German rubber industry to form Continental Gummi-Werke AG. Takeover of plants in Hanover-Limmer and Korbach/Hesse.
1943
Patent application filed for tubeless tires.
1955
At the beginning of the year the Company was the first German company to start manufacturing tubeless tyres. The Company is also the first company to develop air springs for trucks and buses.
1960
Mass production of radial tires began.
1961
Completion of the plant in Dannenberg/Elbe. Initial production comprised plastic components for the automotive industry.
1964
Construction of a tyre plant in Sarreguemines/France.
1967
Opening of the Contidrom tyre testing facility on the edge of the Luneburg Heath.
1971
Europe's largest hose manufacturing facilities were set up at the Korbach plant. The entire hose production was transferred from Hanover to Korbach.
1972
Launched the studless ContiContact winter tyre.
1975
Large-scale production of raw-edge V-belts started.
1976
In Northeim, one of Europe's largest conveyor belt production lines came on stream.
1979
Takeover of the European tyre operations of Uniroyal Inc., USA. With the acquisition of four production plants in Belgium, Germany, France and Great Britain. The Company gained a wider base in Europe.
1983
Unveiling of the ContiTyre System for passenger cars. Thanks to its run flat capability, the system was used today on special personal security vehicles. The Company hydro mounts - special bearing elements used in engines for isolating vibration and noise - were mass-produced for the automotive industry.
1985
Acquired tyre business of Semperit, Austria and established Semerit Reifen AG. Obtained plants in Traiskirchen, Austria and Dublin, Ireland. (Ireland plant was closed in 1996)
1987
Acquired General Tire Inc. (Ohio, U.S.A.) Obtained manufacturing plants, two in U.S. and two in Mexico. (Two plants in Mexico were sold in 1993)
1988
Acquired Anoflex Group, major hose coupler manufacturer of France.
1990
Established a joint venture with Mabor of Portugal.
1991
Established a joint venture (currently GTY) with Toyo Rubber and Yokohama Rubber of Japan to produce tires for commercial vehicles.
General industrial products business was reorganized into 29 independent companies under the brand name "Contitech".
With its ContiEcoContact tyre, the Company was the first manufacturer to launch an environment-friendly passenger tyre featuring special fuel-saving and high-mileage benefits.
1997
Presents ISAD, the Integrated Starter Alternator Damper, which stood for a new technology capable of damping engine vibrations.
1998
Alfred Teves GmbH in Frankfurt, which includes plants, research centres and test tracks, was integrated into the Continental Automotive Systems division.
1998/99
Expanded its position in the global tire market through: technology transfer with Fate, Argentina; joint venture for the production of commercial tires with the Slovakian company Matador, acquisition of production facilities and outlets of Grupo Carso, Mexico; and the takeover of 60% of the South African manufacturer Gen Tyre, now operating under the name of Continental Tyre South Africa.
The first non-European assembly site for complete wheels was opened in Juiz de Fora, Brazil.
Further steps on the way towards internationalizing ContiTech's operations are the purchase of conveyor belt plants in Chile and Mexico, as well as boosting of manufacturing facilities in Brazil, Mexico and Hungary.
2000
A new plant for passenger tires starts production in Timisoara, Romania.
Continental Teves entered into an extensive partnership with the Japanese conglomerate Nisshinbo in the field of brake and chassis systems for the Japanese and Korean markets.
2001
Acquired Temic GmbH, Nuremberg.
Continental Teves Corporation, Japan, took over the majority holding in Shin-Ei and Shin Tec, manufactures of brake actuation components and disk brakes.
ContiTech acquired a 51% stake in a joint venture company, ContiTech Grand Ocean, in China.
2002
The Company and Bridgestone announced that they will be cooperating on run-flat tire systems with the goal of creating a worldwide standard for run-flat tire systems that will be installed on conventional rims.
The Company and Yokohama signed an agreement to work more closely in the tire business in the future. A 50:50 joint venture company was established to promote activities geared towards Japanese carmakers.
2003
Established a joint venture together with Malaysian conglomerate Sime Darby Berhad.
ContiTech sets up a joint venture for the production of air spring bellows in Korea.
2004
Expanded its production base in Romania by opening up a plant that makes assemblies for automotive electronics.
Acquired the wheel-sensor business of a Japanese company having manufacturing operations in China.
A new plant in Mexico, for the production of brake components, was opened.
2005
Acquired Phoenix AG.
2006
Production of brake calipers commences at the new plant in Zvolen, Slovakia, and of passenger, light truck and commercial vehicle tires in Camacari, Brazil.
ContiTech acquires a Danish manufacturer of power transmission belts.
Acquired the automotive electronics business of the company Motorola, Inc.
2007
Acquired a majority interest in the Slovak company Continental Matador Rubber s.r.o.
Acquired Siemens VDO Automotive AG and advances to among the top five suppliers in the automotive industry worldwide.
2008
In July, Schaeffler KG made a takeover offer to the Company. In August, the offer was accepted with certain conditions.
2011
Consolidated the Passenger & Light Truck Tires and Commercial Vehicle Tires divisions into one Tires division.
2012
Formed a joint venture with SK Innovation called SK Continental E-motion to develop, produce and distribute lithium-ion battery systems for cars and light commercial vehicles.

Acquired molded brake components business of

Freudenberg

Sealing Technologies.
2013
Acquired UK-based ASL Vision, a technological solutions provider, to improve the Company's advanced drive assistance systems business unit.


Formed a joint venture with

Nisshinbo Holdings

called Nisshinbo-Continental Precision Machining for the development of valve blocks.

Jan. 2014

Acquired Taizhou Fuju Rubber Belt Manufacture Co., Ltd., a manufacturer of drive belts for automotive aftermarket and general industry applications.

Feb. 2014
Acquired Veyance Technologies Inc., a manufacturer of conveyor belts, hoses, power transmission belts, and air springs, for approximately EUR 1.4 billion.
Apr. 2014
Acquired full ownership of former joint venture, Zytek Automotive, an engineering company which primarily develops conventional, electrical and hybrid drive systems.
Jul. 2014
Acquired 100% ownership of Emitec, a manufacturer of diesel particulate filters and metal substrates for exhaust gas catalysts, for GBP 46 million. Emitec was formerly a 50/50 joint venture between the Company and GKN.
Nov. 2014
ContiTech's Benecke-Kaliko Group acquired Mecaseat's Gorvi S.A., located in Spain, and Mecapol, located in Poland to expand its production of foils for car interiors.
Jan. 2015
Completed acquisition of Veyance Technologies Inc., a U.S. rubber company.
Apr. 2015
Formed joint venture with Belgium-based automotive service group D'leteren called OTA keys S.A., to provide virtual key services for car-sharing companies in Brussels.
Jun. 2015
Formed joint venture with Huayu Automotive Systems called Huayu Continental Brake Systems Co., Ltd. for the development of brake products.
Jul. 2015
Completed acquisition of Elektrobit Automotive Group, a software development company.
Mar. 2016
Acquired High-Resolution 3D Flash Lidar business from Advanced Scientific Concepts, Inc. (ASC)
Oct. 2016
Acquired Hornsuchuch Group, a major manufacturer and designer of functional and compact films, foam laminates, and artificial leather.
Acquired majority stake in Zonar Systems Inc., a specialist in fleet management solutions.
Jul. 2017
Acquired minority share in EasyMile SAS, an autonomous driving company based in France focused on developing driverless electric shuttles.
Acquired Quantum Inventions, a mobility intelligence provider based in Singapore focused on intelligent transportation systems.
Nov. 2017
Acquired Argus Cyber Security, a global leader in automotive cyber security headquartered in Tel Aviv, Israel.
Jan. 2018
Acquired a 5% indirect ownership of HERE, a mapping and location data and service provider, from Audi, BMW and Daimler.
Jul. 2018
Acquired VUK, a machine tool manufacturer from the Czech Republic, to enhance its development and production of tire assembly machinery.
Oct. 2018
Acquired Katherin Automotive, a specialist and manufacturer of vehicle antennas.
Nov. 2018
Reached agreement to acquire Cooper-Standard's anti-vibration systems business, which is scheduled to close in the first half of 2019.
Feb. 2019
Acquired Kathrein Automotive, the automotive division of Kathrein-Werke KG which focuses on developing and manufacturing antenna and satellite technologies.
Apr. 2019
Acquired anti-vibration systems business of Cooper Standard for USD 265.5 million.
Sep. 2019
Acquired minority stake in Cartica AI, a software developer focused on the field of artificial intelligence.
Jan. 2020
Completed divestiture of 50% stake of SAS joint venture to partner Faurecia for EUR 225 million. SAS manufactures complex interior modules.
Sep. 2020
Announced plans for dissolution of 50-50 automotive lighting joint venture formed with Osram.
Oct. 2020
Acquired minority stake in AEye, In., a developer of AI-driven lidar systems for autonomous and assisted driving.
Supplemental Information 1
Note: A figure in brackets ( ) indicates a loss
Continental AG
>>>Business Report FY ended Dec. 31, 2007
>>>Business Report FY ended Dec. 31, 2008
>>>Business Report FY ended Dec. 31, 2009
>>>Business Report FY ended Dec. 31, 2010
>>>Business Report FY ended Dec. 31, 2011
>>>Business Report FY ended Dec. 31, 2012
>>>Business Report FY ended Dec. 31, 2013
>>>Business Report FY ended Dec. 31, 2014
>>>Business Report FY ended Dec. 31, 2015
>>>Business Report FY ended Dec. 31, 2016
>>>Business Report FY ended Dec. 31, 2017
>>>Business Report FY ended Dec. 31, 2018
>>>Business Report FY ended Dec. 31, 2019

Continental Automotive Electronics LLC
>>>Business Report up until FY ended Sep. 2011