Company Profile
Business Overview
-The Company is a global integrated automotive and industrial supplier focused on components and systems in engine, transmission, and chassis applications.
-The Company is organized into two divisions, which are divided further into specific business units. As of January 1, 2016, the Company's Industrial division has been reorganized based on region as opposed to product type. Also it was decided to separate the Automotive Aftermarket from the Automotive division and set up as third stand-alone division as of January 01, 2018.
Automotive Division
Industrial Division
-Engine Systems
-Transmission Systems
-Chassis Systems
-Automotive Aftermarket
-Europe
-Americas
-Greater China
-Asia Pacific
-The Company Group, North America is represented by its three brands: INA, LuK, and FAG.
INA
FAG
LuK
-Roller bearings
-Linear guidance systems
-Engine components
-Plain bearings
-Precision components
-Sensor wheel bearings
-High-precision bearings
-Large-size bearings

-Clutches
-Systems for transmissions
-Torque converters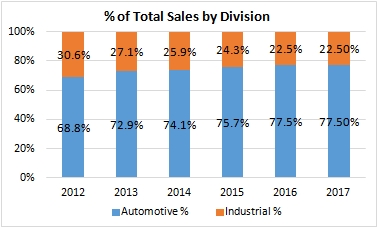 -Through the last five years, the Company's Automotive division has increased the percentage of revenue which it contributes to the Company's total sales. The Automotive division increased its revenue contribution from 68.8% in the fiscal year ended December 31, 2012, to 77.5% in the fiscal year ended December 31, 2017.
Shareholders
-The Company completed its IPO on October 8, 2015. Its shares were listed on the Frankfurt Stock Exchange starting October 9, 2015.
-All of the Company's voting rights are held by the Schaeffler family.
Products
Engine systems
-Standard valvetrains
Mechanical tappets
Hydraulic tappets
Finger followers
Rocker arms
Cam levers
-Variable valvetrains
UniAir - Fully variable electro-hydraulic valve control system
Cam shifting systems
Mechanical switchable tappets
Hydraulic switchable tappets
Switchable finger followers
Switchable pivot elements
Switchable roller tappets
Switchable valves
-Camshaft phasing systems
Camshaft phasing units for chain drives
Camshaft phasing units for belt drives
Solenoid valves
Electromechanical camshaft phasing unit
-Chain drives
Tooth, roller, and sleeve chains
Tensioner blades and chain guides
Chain tensioners
Camshaft-drive tensioners
-Belt drives
Primary drives
Toothed-belt tensioners
Toothed chains
Auxiliary drives
Mechanically and hydraulically dampened belt tensioners
Belt-driven starter generator drives
Tensioning systems
Tensioner and idler pulleys
Overrunning alternator pulleys
Thermal management modules
-Rolling bearings for engine shafts
Rolling bearing supports for balancer shafts
Rolling bearing supports for camshafts
Rolling bearing supports for crankshafts
Lightweight balancer shafts
Transmission systems:
-Bearing supports for transmissions and rear axle drives
Needle roller bearings
Ball bearings
Tapered roller bearings
Drawn cup roller bearings
Planetary gear sets
Angular contact ball bearings
Tandem angular contact ball bearings
-Lightweight differentials
-E-clutch
-Clutches, shift systems, synchronizers
Clutches
Clutch discs
Clutch release bearings and clutch release systems
Peak torque limiters
Clutch-servo assistance
Linings
Shift systems
Gearshift units and gearshift domes
Drawn cup needle roller bearings for linear and rotary motion
Shift detents
Gearshift sleeves
Intermediate rings for synchronizers
-Double-clutch and automated transmission solutions
Automated manual transmission solutions
Double-clutch transmission solutions
Hybridized double-clutch transmission solutions
-Automatic transmission solutions
Pulley sets for CVTs
Chains for CVTs
Torque converters
Torque converter lockup clutches
-Torsional vibration dampers
Dual mass flywheels
Balancer shaft dampers
Crankshaft dampers
Chassis systems and accessories
-Bearings for chassis applications
MacPherson strut bearings
Spring seat bearings
Universal joint bearings
Tripod rollers
-Steering column bearings and components
Steering column bearings
Clamping devices
Linear bearings and displacement bearings
Power steering pump bearings
-Wheel bearings
Wheel bearings
Wheel modules
Four-row angular contact ball bearings (twin tandem)
-Electromechanical actuators
Roll stabilizers
Ball screw drives
Electromechanical steering systems
Ride-height leveling systems
Track and camber adjustment systems
-Commercial vehicle applications
Kingpin bearings
Stabilizer bearings
Brake adjusters
Half-shells
Insert bearings
-Bearings for accessories and interiors
ABS pump bearings
Throttle-valve bearings
Turbocharger bearings
Starter motor bearings
Air-conditioning compressor bearings
Water pump bearings
Plain bearings
-Active roll control system
Hybrid and electrical drive systems
-Electrical wheel hub drives
-Electrical axle drives
-48V hybrid modules
History
1872
FAG was founded as a repair workshop for sewing machines.
1946
INA was founded in Herzogenaurach.
1963
INA entered in North America. INA founded a company in Cheraw, South Carolina.
1965
LuK was founded.
1974
Foundation of LuK do Brasil and LuK Mexiko.
1977
Foundation of LuK Inc. USA.
1983
FAG became a partnership limited by shares.
1985
The LuK dual-mass flywheel (DMF) sets new standards in drive train noise isolation.
1985
FAG was launched on the stock exchange.
1986
LuK took over AFT in Werdohl. (today called AFT Atlas Fahrzengtechnik)
1987
LuK took over Repco S.A. (today called LuK Africa)
LuK took over Laycock in England. (today called LuK UK)
1990
INA's R&D center in Herzogenaurach opened.
LuK took over TCM Ltd. in Hereford, England. (today called Hereford Ltd.)
1991
Joint-venture between LuK and Barmag. (the future BarLuK)
LuK took over the automotive hydraulics division of Vickers. (today called LuK Fahrzeug-Hydraulik)
1992
INA opened a new plant in Ansan. (Korea)
Foundation of LuK Getriebe-Systeme. (Transmission Systems).
1993
100% takeover of BarLuK. (today called LuK Automobiltechnik)
1994
A customer orientated Group structure was introduced and FAG became a holding company as follows: FAG Automobiltechnik AG/ FAG OEM und Handel AG/ FAG Aircraft/Super Precision Bearings GmbH, FAG Komponenten AF/ FAG Personaldienste uns Service GmbH.
1995
Foundation of LuK Korea.
1996
Foundation of Beijing (LuK) Liaison Office in China.
Joint venture between Rane and LuK. (Rane LuK Clutch Ltd.) in India.
Foundation of LuK Savaria in Hungary. (production start - end of 1997)
The Self Adjusting Clutch (SAC) reduces pedal force and increases a clutch's service life.
1997
FAG founded Automotive Bearings (Shanghai) Company, Ltd. (China)
1998
Kongsberg TechMatic in England and Norway was taken over by LuK.
1999
FAG founded a new production center, FAG Automotive Hungary Kft, Debrecen, in Hungary.
LuK founded AS Argentina.
Opening of LuK Leamington, UK.
Building of the LuK foundry in Brazil.
2000
Opening of the LuK factory in Kappelrodeck, Germany.
2001
LuK sold LuK Norge.
LuK took over Rane LuK India. Rane LuK becomes LuK India Private Ltd.
2002
INA acquired FAG Kugelfischer Georg Schafer AG, Schweinfurt. INA and FAG become the world's second largest rolling bearing manufacturer.
INA's new R&D center of expertise doubled development capacity in Herzogenaurach.
2003
INA, FAG and LuK formed the Schaeffler Group.
The Group opened a new automotive research center in Troy (United States).
LuK opened the sales and development building at the headquarters in Buhl.
2005
LuK took over APTEC and completed therefore the competence in the range of the friction facings. APTEC became LuK Friction.
Opening of LuK Korea.
2006
LuK sold their Business Unit of Pumps.
The FAG Kugelfischer AG & Co. oHG and the INA-Schaeffler KG were integrated in the Schaeffler Group.
2007
INA opened a plant in Pune/India.
The Group inaugurated the new R&D Center in Anting/China and the second plant in Taicang.
2008
Construction of new plants in Vietnam and Mexico.
Acquisition of Raybestos. (clutch lining manufacturer)
2009
Concluded to takeover of Continental AG, based in Hanover.
2011
FAG opened a plant in Savli/India.
Opened ball bearing plant in Nanjing/China.
"eMobility System Division" started up.
2012
As of January 1, Schaeffler Technologies GmbH & Co. KG has changed its name to Schaeffler Technologies AG & Co. KG.
2014
-Schaeffler AG, a wholly-owned subsidiary of Schaeffler Verwaltungs GmbH, was changed to a limited liability company ("Gesellschaft mit beschränkter Haftung") when that change was entered into the Commercial Register on October 23, 2014. It was also renamed Schaeffler Verwaltung Zwei GmbH as of that date.
-On October 24, 2014 (date entered in the Commercial Register), INA Beteiligungsgesellschaft mit beschränkter Haftung was changed to a stock corporation ("Aktiengesellschaft") and renamed Schaeffler AG.
Dec. 2016
Formed purchase contract with Semikron International GmbH for 51% of the shares of Compact Dynamics GmbH, a manufacturer of high-performance electric motors.
Feb. 2017
Announced that it has signed a cooperation agreement with the Factory Berlin startup campus for an innovation hub.
Feb. 2017
Announced that it now holds the majority of shares of electric motor specialist Compact Dynamics.
Mar. 2017
Announced that it cooperates with CITIC Pacific Special Steel (CPS) to strengthen their business relationship both economically and technologically.
Mar. 2017
The company UK automotive plant in Llanelli, South Wales announced that it has become the global location of choice for the production of turbocharger ball bearings. Start of production is planned for Week 21, 2017.
Mar. 2017
Announced that it cooperates with Diehl Metall in the field of synchro rings and synchronization systems for transmissions.
Jun. 2017
Announced that it is investing USD 36.5 million for the expansion of one of its two plants in Fort Mill, South Carolina. Jun,2017
Supplemental Information 1