Japanese suppliers in India: Meeting tighter emissions and fuel economy regulations
Supply continues to expand with increases in OEM production to promote the introduction of EVs
2018/11/06
Summary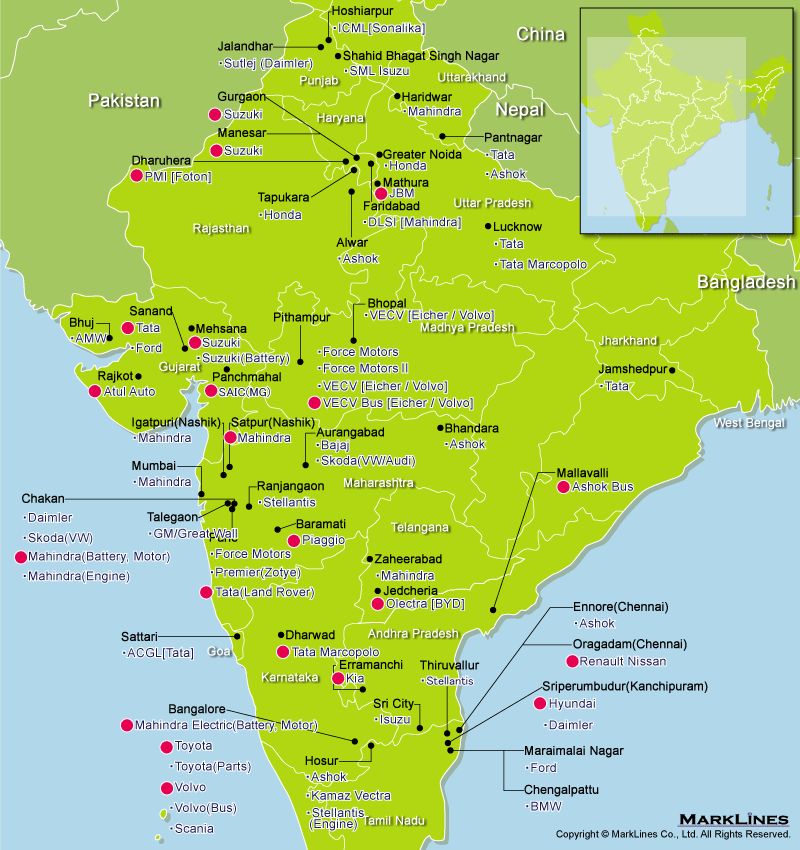 Automaker assembly plants in India (Click to open the base map)
Indian market overview: Production and sales continue to increase
India's 2017 vehicle production volume was 4.78 million units (up 6.5% over the previous year). New car sales volumes reached 4.02 million units (up 9.5 percent), surpassing Germany to become the world's fourth largest automotive market. Total production from January to September 2018 was also strong at 4.03 million units (up 12.7% over the same period last year) and new car sales at 3.38 million units (up 12.4%).
The Indian economy went through a rough period when the New Goods and Services Tax (GST) went into effect in 2017. However, in 2018 the economy has been stable and consumer purchasing power seems to be rising, what with the inflation rate as low as 1 to 4%.
Automakers strengthen production systems, and plan to develop electric vehicles
Suzuki, which has a 50% share of the passenger car market in India, launched its new plant in Gujarat in February 2017. The Gujarat Plant became fully operational (with a production capacity of 250,000 units) in two shifts from October of the same year, the No. 2 line (production capacity of 250,000 units) came on stream in January 2019, and Suzuki plans to operate a line No. 3 (production capacity of 250,000units) in the future. The company has set an annual sales target of 5 million units in India in 2030.
In addition, Volvo Cars started the production of SUVs in October 2017 at an existing plant near Bangalore. Kia plans to launch its first plant (with an annual production capacity of 300,000 units) in India in the second half of 2019. PSA announced that it will establish a joint venture with the CK Birla Group by 2020 and re-enter the Indian market.
Related to the Indian government's EV promotion policy, Mahindra & Mahindra plans to independently lead the development of EVs with an annual production capacity of 70,000 units by 2020. Tata Motors was awarded an order for 10,000 EVs from a government-related company. In November 2017, Suzuki and Toyota announced that they would partner in the EV and HV business in India. Hyundai and Nissan are also planning to introduce EV models.
Strengthening of the production, sales and development systems of Japanese suppliers
In response to plans of automakers to increase production volumes and issues such as the associated expansion of suppliers and competition in the supply chain, Japanese automotive component suppliers are also taking actions to expand their production capacity, enter into new areas of business, and establish sales and technology development sites. In addition, Japanese suppliers in India are also strengthening their supply systems to satisfy customer needs related to the government's implementation of more stringent emissions and fuel economy regulations, as well as forming partnerships with local OEMs for the development of EVs.
Below are the recent trends of Japanese suppliers in India. (The information is based on data collected over the 15 months prior to September 2018)
New entry (Products manufactured)
| | |
| --- | --- |
| Establishment of new companies and plants | Asahi Kasei (separators for lead storage batteries), Advanex (precision springs), Onkyo (car speakers), Kaga Electronics (electronic equipment), Tokyo Foundry (fuel injection pumps), Topre (press parts), Toray (highly-functional plastic compounds) |
Increased production capacity (Products manufactured, *: new products added)
| | |
| --- | --- |
| Expansion of facilities and buildings | Ashimori Industry (Installed dedicated line: *Shades), MS Group (Facility expansion: rubber for weather strip), Dainichiseika (Expansion of Line #1: dyes for plastic), Denso (New building construction: injectors, electronic control parts ), NGK Spark Plug (Building expansion: spark plugs, *oxygen sensor for motorcycles), Nippon Piston Ring (Production line renovation: valve seats), Japan Polypropylene (Production line expansion: polypropylene), Yokohama Rubber (New building construction: passenger car tires) |
| Construction of two or more plants | NOK (Plant #2: oil seals), Kyowa Metal Works (Plant #2: MT parts), Kiriu (Plant #2: brake parts), Toyoda Gosei (5th plant in India: airbags, steering wheel, etc.), Nagase & Co. (New plant: blow-molded products) |
| Establishment of new companies, and the launch of products for emerging countries | ASTI (2nd manufacturing site: electrical components), Futaba Sangyo (2nd manufacturing site: exhaust pipe / exhaust manifold etc.), Koito Manufacturing (Plan to construct production system: *low-cost LED headlamps) |
Strengthening of operations (item, *: new business, etc.)
| | |
| --- | --- |
| Subsidiaries and JVs | JTEKT (Merged two subsidiaries: steering), Nippon Steel & Sumitomo Metal (Consolidated a JV: forged crankshaft) |
| Collaboration with local suppliers | NTT Data (Partnered with India's leading map information company: *to maintain digital 3D maps), Renesas Electronics (Partnered with Mahindra & Mahindra: *development of EVs, etc.) |
| Sales and technology development sites | JSR (Established sales company: elastomer products), Daicel (Established sacompany: airbag inflators), Toyoda Gosei (Established technology and sales sites: safety systems such as airbags), Nikki (Strengthened sales system: CNG car related equipment), Piolax (Established design and development center: fasteners, clips, etc.) |
| Project orders | NEC (Advanced Traffic Management System in Pune City) |
Related reports:
MOVE 2018 - India's First Global Mobility Summit (Part 2) (Oct. 2018)
MOVE 2018 - India's First Global Mobility Summit (Part 1) (Sep. 2018)
Suzuki: Expands India business, maintains 50% share of passenger car market (Sep. 2018)
Review of Electric Vehicles and the EV Ecosystem in India (Aug. 2017)
<Japanese Supplier Reports>
Japanese Suppliers in Mexico: Focusing on Changes to NAFTA (Oct. 2018)
Japanese suppliers in the U.S. and Canada: Strengthening of operations (Sep. 2018)
Japanese parts suppliers in ASEAN: Responding to the increase in global market demand (Aug. 2018)
Japanese parts suppliers in Central and Eastern Europe: Expand business with European companies (Mar. 2018)
Japanese suppliers in Western Europe: Meeting new demands for electrification and autonomous driving (Dec. 2017)