Japanese Suppliers in Mexico: Focusing on Changes to NAFTA
With orders increasing, expansion of production capacity and entry into new markets continue
2018/10/12
New entry into Guanajuato: Asahi Kasei, MS Group, Kyoto Platec, JFE Steel, Toyoda Iron Works, Nissen Chemitec, and more

Enhancing production capacity in Guanajuato: KYB, Shinano Kenshi, Seiren, Fuji OOZX, Moriroku Technology and others

Aguascalientes: Kitagawa Tekko, Kotani, Nikkei MC Aluminum, Mabuchi Motor, Mitsui Chemical, and more

Queretaro State: Ishimitsu Kogyo, Kyoshin, Shimizu Industry, Topre

Morelos, Mexico City, Jalisco, and others: Sekisui Chemical, Teijin Frontier, Toray, Nippon Kayaku, ZEON Corporation, Nidec, Hakkai
Summary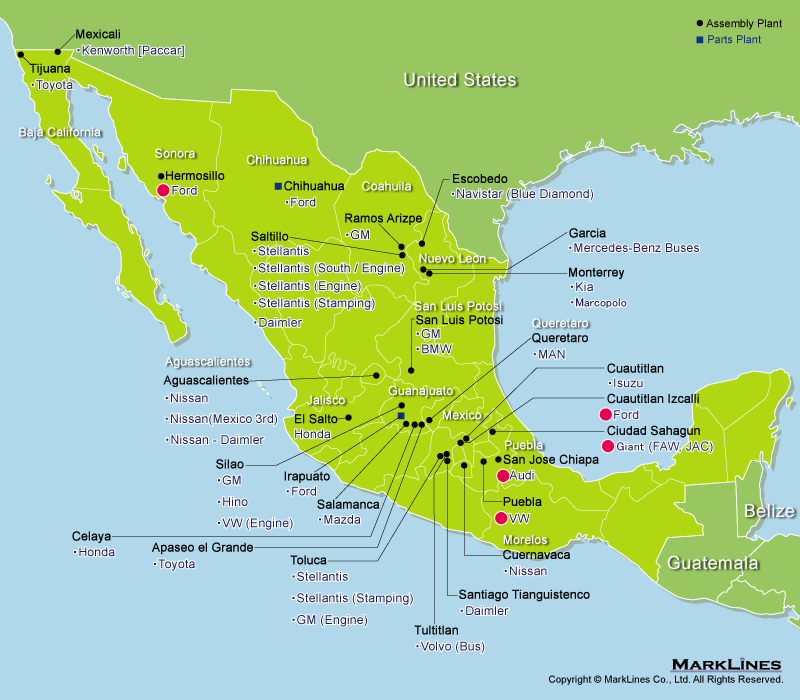 Map of automotive plants in Mexico (Click to see a map of facilities)
Motor vehicle production in Mexico in 2017 (excluding large buses and trucks) was 3.774 million units (8.9% higher than the previous year) and exports increased 12.1% over the same period to 3.103 million units. However, vehicle sales reached 1.53 million units in 2017, a decrease of 0.5% compared to 2016. 2018 January through September production was 2.954 million units (0.5% increase over the same period of the previous year), and exports were 2.571 million units (excluding Nissan vehicles for which data were not reported), showing an increase of 7.5%. Vehicle sales in Mexico for the 9-month period were 1.028 million units, a decrease of 7.1%.
OEMs are reported at this point to have no changes to their plans to increase production capacity in Mexico, except for Ford which has announced the cancellation of the construction a new passenger car plant in Mexico. At the end of November 2017, production began at COMPAS, the Nissan and Daimler joint venture plant; however, the development and production of a second Infiniti model were frozen. With BMW's first Mexican plant on-line from the first quarter of 2019 and Toyota' new plant planned for operation in the first half of 2020, total production capacity is expected to increase by about 600,000 units. Furthermore, VW plans to double its engine production by 2020 and Ford is preparing for the production of a new model EV at one of its plants in Mexico.
Under these conditions, the NAFTA renegotiations under the Trump administration aimed at moving part of the automobile production from Mexico to the United States were underway, and the investment environment remains unclear. (The United States reached agreements on revisions with Mexico on August 17, 2018 and with Canada on September 30, 2018.)
The Japanese suppliers are paying close attention to the future investment environment but nevertheless are continuing to invest in increased production capacity, entering new markets, and adding new products as orders increase. There are also many facility enhancements and entry into new markets by materials suppliers and Tier2 suppliers.

The recent trends of the Japanese parts suppliers in Mexico are shown below (for the one year period through June 2018):
Establishment of new plants in Mexico; production items shown in ( )
| | |
| --- | --- |
| New plants | Asahi Kasei (compound resin)、Atsumi Kogyo (axle hubs), Ishimitsu Industry (metal parts), MS Group (rubber molding dies for weatherstrip), Ogawa Kogyo (cold forged parts), Kyoto Platec (plastic dies, resin molds), Kotani (precision forged products), JFE Steel (hot dip galvanized steel sheet), Toyoda Iron Works (frame parts), Nissen Chemitec (interior plastic materials), Zeon Corporation (PVC instrument panel materials) |
Expansion of production capacity in Mexico; production items shown in ( ), * denotes new product
| | |
| --- | --- |
| Consolidation of production from the US to Mexico | U-Shin(door handles, key sets, etc.) |
| Equipment investment | KYB (No. 3 Line: shock absorbers), Sekisui Chemical (No. 3 Line: interlayer for laminated glass),Seiren Viscotec (No. 2 Line: synthetic leather for seats), Topre (production line expansion: hot-stamped parts), Toray (new equipment: * high physical properties regular tow carbon fibers), Nippon Kayaku (equipment expansion: inflators), Hakkai (equipment expansion: small resin parts), Fuji OOZX (facilities reinforcement: engine valve), Mitsui Chemical (No. 1 line expansion: polypropylene compounds), Yorozu (equipment expansion: press parts) |
| Plant expansion | Kitagawa/Nippon Steel Trading (plant expansion: small cast parts), Shinano Kenshi (plant expansion: automotive precision motors), Shimizu Industrial (plant extension: engine parts), Mabuchi Motor (plant expansion: medium-sized electric motors, *small electric motors), Moriroku Technology (building expansion: interior trim ventilation outlets) |
| New base, establishment of new plants | Ashimori (No. 2 Plant: safety components), Toray (new plant: *yarn and base fabric for airbags), Nikkei MC Aluminum (No. 2 Plant: secondary aluminum alloys), Nidec (new plant planned: electric motors for EVs), Fuji Kiko (new plant: shifters) |
| Investment in local suppliers, production consignment | Kyoshin (investment in Mexican parts supplier: small automotive components), Teijin Frontier (production consignment to Mexican supplier: * automotive seat fabric |

Related reports:
U.S. trade policy and tariffs under the Trump administration(Sep. 2018)
Mexico: OEMs advance plans to increase production, consider diversifying export destinations (Oct. 2017)
<Japanese Supplier Reports>
Japanese suppliers in the U.S. and Canada: Strengthening of operations (Sep. 2018)
Japanese parts suppliers in ASEAN: Responding to the increase in global market demand (Aug. 2018)
Japanese parts suppliers in Central and Eastern Europe: Expand business with European companies (Mar. 2018)
Japanese suppliers in Western Europe: Meeting new demands for electrification and autonomous driving (Dec. 2017)
Japanese parts suppliers in Mexico and Brazil: Companies continue to increase capacity (Sep. 2017)
This report is for paid members only. Remaining 5 chapters remaining.
Free membership registration allows you to read the rest of the article for a limited time.