Company Profile
■URL
■Address
One Village Center Drive, Van Buren Township, Michigan 48111, USA
Business Overview
-Originally a wholly owned subsidiary of the Ford Motor Company, the Company is a global supplier of cockpit electronics and vehicle connectivity solutions.

-The Company's operations consists of an Electronics segment, which focuses on products and systems in the vehicle's cockpit, such as audio systems, information displays, instrument clusters, infotainment systems, telematics solutions, and head up displays. Prior to 2017, the Company had a reportable segment labeled Others, which consisted of climate operations primarily in South Africa and South America. The Company substantially divested these operations in the fourth quarter of 2016.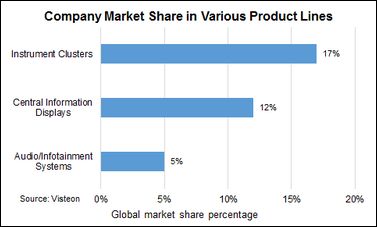 -The Company is the global market leader in digital information clusters, winning USD 2.8 billion in new business in 2018. The Company is also the market leader in cockpit domain controller solutions.




| | |
| --- | --- |
| Global Market Revenue of Electronic Product Segments | (in billion USD) |
| | | | | |
| --- | --- | --- | --- | --- |
| Product Segment | 2018 Global Market Revenue | 2023 Global Market Revenue (est.) | 2018 Market Share | Estimated CAGR |
| Instrument Clusters | 8.0 | 12.6 | 17% | 9.5% |
| Central Information Displays | 4.4 | 9.3 | 12% | 16.0% |
| Audio/Infotainment Systems | 19.6 | 24.2 | 5% | 4.3% |
Source: Visteon 2019 "Deutsche Bank Global Auto Industry Presentation"


Competitors
-Alpine
-Aptiv
-Bosch
-Continental
-Denso
-Harman (Samsung)
-Hyundai Mobis
-Innolux
-LG
-Magneti Marelli
-Nippon Seiki
-Panasonic
-Pioneer
Shareholders
-The Company is listed on the NASDAQ Stock Exchange. On December 26, 2017, the Company was voluntarily delisted from the New York Stock Exchange. The listing of its common stock was transferred to the NASDAQ Stock Exchange on December 27, 2017.
Products
Electronics
Instrument clusters
-Analog instrument clusters
-Customizable digital instrument clusters
-Digital clusters with 3D graphics
-DICore instrument cluster platforms
-Instrument clusters with thin-film-transistor (TFT) display
-LightScape high-resolution reconfigurable hybrid and digital instrument clusters
-Instrument clusters with integrated features
LCD
Cover lens
Touch screen
Back lighting
Head-up displays
-Combiner head-up displays
-Windshield head-up displays
-Augmented reality head-up displays

Information displays
-Dual view displays
-Dual organic light-emitting diode (OLED) displays
-Capacitive touch tablet information displays
-Curved lens displays
-Displays with haptic feedback
-Displays with proximity and force sensing capabilities
-Knob-over-glass information display

Infotainment
-Open-architecture infotainment systems
-Systems with over-the-air software upgrade capabilities
-Android or HTML5-based infotainment platforms
-OpenAir premium infotainment system
-Phoenix infotainment platform with integrated cybersecurity and over-the-air updates

Connected Audio
-Audio head units
-Amplifiers
-Analog and digital radios
-OpenAir premium connected audio systems

Connectivity and telematics
-Telematics control unit
-Wireless gateway platforms
-eCall emergency call modules
-V2X modules
-C-V2X modules
-Domain controllers
-Voice assistant systems
-SmartCore cockpit single-module multi-domain controllers
-DriveCore Autonomous Driving Platform consisting of hardware, in-vehicle systems and software


History
1997
Launched as Ford's components division.
Jan. 2000
Incorporated in Delaware.
June 2000
Became a separate company from Ford Motor Company.
2002
Opened European Corporate Office and Innovation Center in Kerpen, Germany.
2002
Exited restraint electronics business.
2003
Exited seating business.
2005
Opened China Technical Center in Shanghai.
Sept. 2005
Transferred 23 of its North American facilities and certain other related assets and liabilities to Automotive Components Holdings, LLC ("ACH"). Subsequently, on October 1, 2005, the Company sold ACH to Ford.
2008
Opened Russia office.
Jul. 2008
Visteon UK Ltd. sold the Visteon Swansea Ltd. to Linamar UK Holdings Inc. The Swansea operation manufactures driveline products.
Aug. 2008
Announced the sale of its Halewood, United Kingdom, facility to International Automotive Components Group Europe (IAC Europe).
Mar. 2009
Announced that one of its subsidiaries in the United Kingdom, Visteon UK LTD, has been placed under the control of court-appointed administrators.
May 2009
Announced that the Company and certain of its US subsidiaries voluntarily filed petitions for relief under Chapter 11 of the US Bankruptcy Code.
Mar. 2010
Sold its radar system business to Autoliv.
Oct. 2010
Emerged from Chapter 11.
Aug. 2012
Sold its automotive lighting business to Varroc Group.
Jan. 2013
Divested its Climate control business to Halla Climate Control.
Oct. 2013
Raised its equity stake in its Russian joint venture, Visteon Avtopribor Electronics, from 49 percent to 68.77 percent.
Nov. 2013
Acquired majority interests in Yanfeng Visteon Automotive Electronics Co., Ltd.
Dec. 2013
Sold all of its interest in Yanfeng Visteon Automotive Trim Systems Co., Ltd. to its Chinese joint venture partner Huayu Automotive.
Jan. 2014
Announced to purchase the automotive electronics business of Johnson Controls Inc. The acquisition is expected to be completed in the second quarter of 2014.
Apr. 2014
Divested its 50% ownership stake in Korean automotive interiors joint venture, Duckyang Industry Co., Ltd., for USD 24.1 million.
Jun. 2014
Halla Visteon Climate Control Corp. announced an agreement to acquire a majority ownership stake of 51% in Jie Xi Si (Nanjing) Automotive Climate Control Co., Ltd. for USD 6.4 million.
Acquired 50% ownership of Changchun Faway Johnson Controls Automotive Electronics from Johnson Controls Asia Holdings Co., Ltd.
Jul. 2014
Acquired Johnson Controls' Automotive Electronics business for USD 265 million.
Aug. 2014
Halla Visteon Climate Control completed acquisition of the automotive thermal and emissions product line of Cooper-Standard Automotive Inc. in a USD 46 million cash transaction.
Nov. 2014
Completed first phase of the divestiture of the Company's interiors business to Reydel Automotive Holdings B.V., involving operations in Europe, Asia and South America.
Dec. 2014
Completed divestiture of interiors business in India to Reydel Automotive Holdings B.V. as part of a series of transactions to divest the Company's interiors business.
Announced that it has entered into an agreement to sell its approximately 70 percent ownership interest in Halla Visteon Climate Control Corp. (HVCC) to an affiliate of Hahn & Company – a South Korea-based private equity company – and Hankook Tire Co., Ltd. for approximately USD 3.6 billion. The transaction is expected to be completed in the first half of 2015.
Jun. 2015
Withdrew from the Climate business with the divestiture of Halla Visteon Climate Control Corp.
Dec. 2015
Completed divestiture of automotive interiors plant in Berlin, Germany to APCH Automotive Plastic Components Holding GmbH.
Jul. 2016
Acquired AllGo Embedded Systems Pvt. Ltd., an India-based supplier of embedded multimedia and smartphone connectivity software solutions for automotive applications.
Supplemental Information 1