Faurecia SE (FORVIA faurecia)
Company Profile
Business Overview
-The Company is a French automotive supplier divided into four business groups:
Seating: Develops and manufactures complete vehicle seats, seating frames, and seat adjustment mechanisms
Interiors: Develops and manufactures instrument panels, complete cockpits, door panels and modules
Clean Mobility: Develops and manufactures exhaust solutions, fuel cell vehicle solutions, and aftertreatment solutions for commercial vehicles
Clarion Electronics: Develops and manufactures display technologies, driver assistance systems and cockpit electronics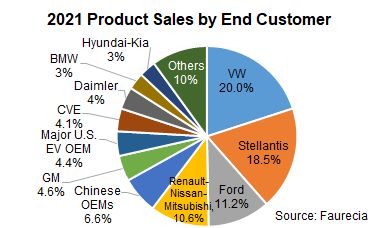 -The Company's four primary customers comprised 60.2% of its net sales in the fiscal year ended December 31, 2021, compared to 63.6% in 2020. While the merger between FCA and PSA to create Stellantis increased the share of sales from the Company's four main customers, overall, the share of sales coming from the Company's largest customers has steadily decreased in recent years, highlighting the Company's efforts in diversifying its customer base.

-On October 31, 2021, the Company sold its Acoustic Soft Trim business to the Adler group from its Interiors segment. On January 30, 2020, the Company completed the acquisition of SAS and integrated it within its Interiors segment. Previously, SAS was held at 50% and consolidated by the equity method. On March 28, 2019, the Company completed the acquisition of Clarion, making Clarion a wholly owned subsidiary of the Company. The Company combined Clarion with previous acquisitions of Parrot Automotive and Coagent Electronics to form the Clarion Electronics Business Group.

-On January 31, 2022, the Company completed the acquisition of Hella after receiving all regulatory approvals. The Company acquired a total of 79.5% of the shares in Hella with 60% of the Hella shares acquired from the pool of family shareholders. The Company acquired 19.5% as part of the settlement of the public takeover offer ended on November 11, 2021. With the successful completion of the acquisition, the two companies introduced the new company Forvia, which represents the two combined entities. Both companies will keep their legal names under the Forvia name, with products being marketed and distributed under their current brands.


Market share
-According to its 2021 Capital Markets Day Presentation, the Company's has the following market positions:
The Company is market leader in seating frames and mechanisms and within the top 3 in complete seats. Overall, the Company's Seating segment has 12% market share.
The Company is market leader in instrument panels and door panels, and in the top 3 in center consoles. The Company is market co-leader in interior modules with the acquisition of SAS. Overall, the Company's Interiors segment has a 14% market share.
The Company has a 30% market share in sensor fusion parking systems and a 15% market share in surround view systems.
Shareholders
-The Company is listed on Euronext Paris S.A.
Products
Seating
-Complete seats
-Frames
-Seating mechanisms and mechatronics
-Foam padding
-Trim covers
-Seating accessories
-Electronic and pneumatic systems
-On-board seating electronics
-Massage systems
-Recliners
-Seating tracks
-Rotating seats
-Seat-integrated physiological sensors
-Smart seating actuators
-Advanced Versatile Structure seat with integrated safety features including airbags and seatbelts

Clean Mobility
-Complete exhaust systems
-Manifolds
-Tail pipes
-Catalytic converters
-Urea SCRs
-NOx traps
-Diesel particulate filters
-Exhaust heat recovery systems
-Exhaust heat recovery manifolds
-Ammonia storage and delivery systems
-Mufflers
-Adaptive valves
-Battery top covers
-Full battery housing solutions
-Heated dosers
-ASDS de-NOx systems
-Low-pressure exhaust gas recirculation systems for gasoline system
-Compact exhaust heat recovery systems
-Electrically heated catalysts
-Hydrogen storage systems
-Hydrogen stack systems

Interiors
-Cockpits
-Instrument panels
-Cross-car beams
-Center consoles
-Decorative trim and components
-Door panels
-Door modules
-Package trays
-Trunk trims
-Acoustic insulation
-Glove boxes
-Voice control systems
-Integrated radiant panels
-Morphing Instrument Panel which shifts based on vehicle driving mode

Clarion Electronics
Faurecia-Clarion Electronics products link
-Speakers
-Active noise control systems
-Exciters for automotive interior sound surfaces to create a speakerless solution
-Digital sound tuning systems
-Sound and smart headrests with integrated speakers and microphones
-Near infrared cameras
-Radar sensors
-Biometric sensors
-Sensor data fusion systems
-Artificial intelligence technologies
-Cockpit domain controllers utilizing system-on-a-chip architecture
-In-vehicle infotainment systems
-Rear seat infotainment systems
-Quadview multi-view graphical interface
-Infotainment systems compatible with virtual personal assistants
-HMI systems
-Universal remote tuners
-Android-based app library
-Rear and surround view systems
-E-mirrors
-Camera and lidar cleaning systems
-Automated parking assist systems
-Autonomous pickup solutions
-Large display systems up to 1.5 meters in length
-Flexible display appearances including flat and curved structures
-Color matching display technologies
-Advanced backlighting display technologies
-Touch-sensitive displays
-Force sensing displays
-Displays with active and passive haptic feedback technologies
-Software platform for displays to optimize user experience based on perception and physiology
-Optical bonding technologies
History
Dec. 1997
Ecia, a 68% subsidiary of PSA Peugeot Citroen established in 1929, acquired Bertrand Faure, the largest European seat manufacturer established in 1914.
Jun. 1999
The merger of Ecia and Bertrand Faure was approved at the Extraordinary General Meetings of shareholders of both companies. Renamed as Faurecia.
Oct. 2000
Acquired Sommer Allibert. The deal was financed by the PSA Peugeot Citroen Group, which increased its shareholding in the Company to 71.5%.
2007
Purchased certain assets of Cadence Innovation in France for EUR 0.4 million.
Acquired a 50% interest in Romania-based Euro Auto-Plastic Systems srl in the Vehicle Interiors business for EUR 9.4 million.
Acquired the 50% interest held by the Duroplast Group in Faurecia Duroplast Mexico for EUR 18.3 million, raising its stake in the company to 100%.
Set up three new companies in China in 2007 - Faurecia (Shanghai) Automotive Systems Co. Ltd., Faurecia Wuhan Automotive Seating Co. Ltd. and Faurecia Qingdao Exhaust Systems Co. Ltd.
Set up one new company in South Korea, Faurecia Trim Korea Ltd.
2008
Established Faurecia Equipements Automobiles Maroc, in Kenitra, Morocco.
Established Faurecia (Wuhu) Exhaust Systems in China
Established Faurecia Exhaust System Rayong in Thailand
May 2009
Opened the Global Seat Mechanisms Center in Caligny, France.
2010
Acquired EMCON Technologies LLC, a leading exhaust system supplier in Troy, MI, U.S.A.
2012
Acquired Plastal France (Plastal S.A.S.), the automotive business of Sora Composites, and Saline, currently operated by Ford Motor Company's Automotive Components Holdings, LLC (ACH).
Jul. 2016
The Company divested its Automotive Exteriors business (bumpers and front-end modules) to Plastic Omnium.
Feb. 2017
Invested in TactoTek, a Finnish startup which provides injection molded structural electronic solutions.
May 2017
Invested in STELIA Aerospace Composites to design, industrialize and commercialize high-pressure hydrogen tanks made from carbon fiber for fuel cell vehicles.
Nov. 2017
Finalized acquisition of a majority stake in Jiangxi Coagent Electronics, which will develop in-vehicle infotainment solutions.
Dec. 2017
Invested in Alsentis, a company specializing in capacitive sensor technology and HMI development.
Oct. 2018
Completed acquisition of 100% of Parrot Automotive, changing the name of the entity to Parrot Faurecia Automotive.
Mar. 2019
Completed acquisition of Clarion Co., Ltd., a automotive electronics company providing systems such as navigation, audio, ADAS, driver monitoring and cockpit domain controllers.
Apr. 2019
Integrated Clarion Co., Ltd., with previously acquired Parrot Automotive and Coagent Electronics into the newly formed Clarion Electronics Business Group.
Apr. 2019
Acquired majority stake in Swedish company Creo Dynamics, a company which focuses on acoustics and active noise control solutions.
May 2019
Invested in Israeli company GuardKnox, a cybersecurity solution provider.
Jan. 2020
Completed acquisition of remaining 50% of SAS, a joint venture with Continental focused on development and production of interior modules.
Jul. 2020
Acquired IRYStec Software, a company which has developed a software platform to optimize vehicle displays.
Jun. 2021
Acquired designLED, a company focused on flexible backlighting technologies.
Aug. 2021
Signed agreement with Hella for the business combination of the two companies.
Jan. 2022
Completed acquisition of Hella and formed Forvia, a company representing the combined entities.
Supplemental Information 1