Company Profile
Business Overview
-The Company is the world's largest automotive safety systems supplier which develops, manufactures and markets both passive and active safety systems. Its products include airbags, inflator technologies, seatbelts, steering wheels, safety electronics, radar, night vision, ECUs, and camera systems.

-The Company was created from a merger in 1997 between the Swedish company Autoliv AB and the American company Morton ASP.

-The Company aims to integrate active and passive safety systems in preparation for autonomous vehicles.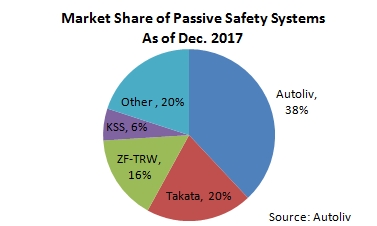 -As of December 31, 2017, the Company leads the global automotive safety market for passive safety systems with a market share of approximately 38%. The Company has a global market share of approximately 40% in seatbelts, 40% in airbags, and more than 30% in steering wheels. The Company also has a market share in active safety systems between 15% and 20%.

-As of January 1, 2015, the Company reorganized its operating structure into two operating segments: Passive Safety and Electronics. The Passive Safety segment includes the Company's airbag and seatbelt products and components. The Electronics segment focuses on passive safety and active safety electronics and systems.






Competitors
Shareholders
| | |
| --- | --- |
| -The Company is listed on the New York Stock Exchange and Stockholm Stock Exchange. | (As of Dec. 31, 2017) |
| | | |
| --- | --- | --- |
| Major Shareholders | Number of Shares | Shareholding (%) |
| Alecta Pension Insurance Mutual | 8,262,500 | 9.4 |
| AMF Pensionforsakring AB | 5,529,279 | 6.3 |
| JPM Chase & Co. | 3,925,627 | 4.5 |
| Forsta AP-Fonden | 3,051,751 | 3.5 |
| Swedbank Robur Fonder AB | 3,043,978 | 3.5 |
| Management & Directors as a group | 320,368 | 0.4 |
| Total (Above 6 shareholders) | 24,133,503 | 27.7 |
| Outstanding shares | 86,972,854 | 100.0 |
Products
Passive Safety Systems
Airbag systems
-Driver airbags
-Passenger airbags
-Knee airbags
-Anti-sliding airbags
-Side-curtain airbags
-Side airbags
-Rear passenger airbags
-Front center airbags
-Thorax bags
-Head-thorax bags
-Door mounted inflatable curtains
-Pelvis and thorax bags
-Far-side airbags
-Bag-in-belt airbags

Child restraints
-Integrated child booster cushions

Inflators
-Pyrotechnic airbag inflators
-Stored gas airbag inflators
-Electrical initiators
-Micro gas generators

Steering wheels
-Fixed-hub steering wheels with optimized airbags
-Steering wheels with electrical motor for vibration
-Steering wheels with heated rim

Seatbelt systems
-Belt grabbers
-Belts-in-seat
-Buckles
-Height adjusters
-Load limiters
-Pretensioners
-Retractors
-Smart belts
-Trunk belts
-Supplemental belts

Pedestrian protection
-Pyrotechnic active hood-lifters
-PPA: Pedestrian Protection Airbag

AWS: Anti-whiplash systems

Additional safety features
-Battery disconnect safety switches
-Pyro safety switches
-Automatic bolt release systems
-Integrated child booster seats

Textiles

Electronics
Passive safety electronics
-ECUs
-Satellite sensors
-Electronic safety domain controllers
-Crash sensors

Brake controllers
-Integrated inertial measurement unit to combine brake and restraint control systems
-Steering wheel angle sensors
-Yaw rate sensors
-Roll rate sensors
-Lateral and longitudinal acceleration sensors
-Wheel speed sensors

Radar systems
-Short and medium range radar systems
-Long range radar systems
-Ultra wide band radars
-Narrow band radars
-Multi mode radars

Vision systems
-Mono-vision camera systems
-Stereo-vision camera systems
-Dynamic spotlight night vision system to identify and highlight pedestrians and animals
-Night vision infrared sensor

Active seatbelts

RoadScape GNSS modules

LiDAR systems

Driver monitoring systems

Restraint control systems
History
1956
Autoliv AB started its seat belt operations.
Oct. 1996
The Company, Autoliv Inc. was started as a merger of Europe's leading automotive safety company, Autoliv AV of Sweden, and Morton ASP (Automotive Safety Products), the leading airbag manufacturer in North America and Asia.
1997
Acquired one of its main suppliers, Marling Industries Plc and its subsidiary Van Oerle Alberton, the world leading producer of seat belt webbing.
1998
Acquired Nokia's 50% interest in Autoliv-Nokia and Nokia's automotive related business.
Acquired Sagem's 50% interest in Sagem-Autoliv, the other joint venture for electronics.
Acquired most of the assets of Sensor Technologies, a Japanese airbag and airbag sensor manufacturer.
Production of steering wheels began in the United States.
Oct. 1999
Purchased a 49.5% interest in the Estonian company Norma AS, the dominant seat belt supplier to the Russian car industry, and received an option to increase its Norma holding to 51%.
1999
New plants were completed in Argentina, Canada, Poland, Turkey and Tunisia.
Construction of a new technical center was completed in Japan.
Jan. 2000
Acquired from Izumi 99% of Japan's second largest steering wheel business.
Apr. 2000
Acquired the North American seat belt operations of NSK with a 40% interest in NSK's Asian seat belt operations.
May. 2000
Acquired OEA, the Company's main supplier of initiators for airbag inflators.
Oct. 2000
Announced that it has completed the sale of its U.S. leadwire business to Tyco Electronics Corporation, a unit of Tyco International Ltd.
Nov. 2000
Established a new venture, Autoliv Mando Corporation, with Mando Corporation, a leading Korean auto parts supplier. The Company holds 65% of the shares.
April 2002
Has acquired the Restraint Electronics Business of Visteon Corporation, a leading full-service supplier to the automotive manufacturers.
Sep. 2002
A new company will be formed as a joint venture between the Company (59%) and Maw Hung Industrial Corporation (41%) in the city of Changchun, China.
Apr. 2003
Has acquired the remaining 17% of the shares in Livbag, Europe's leading producer of inflators and initiators for airbag systems.
Jun 2004
Formed a new joint venture company with Maw Hung Industrial Corp.
Dec 2004
Completed an agreement to purchase the outstanding 40% stake in its Chinese airbag company, Autoliv (Shanghai) Vehicle Safety Systems.
Jul.2006
Acquired another 20% of the shares in Nanjing Honggouang-Autoliv Safety Systems Co., Ltd. (NHA)
Jan. 2007
Agreed to buy the remaining 35% of the shares in Autoliv-Mando in South Korea.
Oct. 2007
Agreed to buy 41% of the shares in its 59% held Chinese company Autoliv (Changchun) Maw Hung Vehicle Safety Systems.
Oct. 2007
Agreed to buy the remaining 50.01% of the shares in its Indian joint venture Autoliv IFB Private Limited.
Jul. 2008
Agreed to acquire the automotive radar sensors business of Tyco Electronics Ltd. for 42 million USD.
Nov.2009
Announced to acquire North American passive safety systems assets from Delphi.
Dec.2009
Announced to acquire assets of Delphi's European airbag and steering wheel operations.
Jan.2010
Agreed to buy the outstanding 40% of shares in its Japanese joint venture Autoliv Nichiyu Co., Ltd.
Jan.2010
Announced to acquire Delphi's Occupant Protection Systems (OPS) operations in Korea and China. Existing customers include Hyundai-Kia, Chery and Tata
Mar.2010
Announced that it has acquired Visteon's radar system business.
Apr. 2010
Acquired Delphi's Pyrotechnic Safety Switch (PSS) assets in Europe.
2011
Acquired license related to long-range radar from AXTYS.
2011
Acquired license related to Vehicle vision system from Hella.
Nov. 2011
Announced to acquire the airbag cushion cut & sewn assets from Milliken, a U.S.-based textile and chemical company.
Jun. 2012
Sold its subsidiary "Autoliv Mekan AB" to "Verktygs Allians i Hassleholm AB", a Sweden-based privately held company.
Aug. 2015
Acquired the Automotive Solutions business of M/A-COM Technology Solutions Holdings, Inc.
Apr. 2016
Finalized joint venture with Nissin Kogyo to form Autoliv-Nissin Brake Systems, a brake control systems manufacturer.
Sep. 2016
Signed final agreement with Volvo Cars to form Zenuity, a joint venture designed to develop ADAS and autonomous driving systems.
Apr. 2017
Began operations at Zenuity, a 50/50 joint venture between the Company and Volvo which develops software solutions for ADAS and autonomous driving systems.
Supplemental Information 1
>>>Business report FY ended Dec. 31, 2006
>>>Business report FY ended Dec. 31, 2007
>>>Business report FY ended Dec. 31, 2008
>>>Business report FY ended Dec. 31, 2009
>>>Business report FY ended Dec. 31, 2010
>>>Business report FY ended Dec. 31, 2011
>>>Business report FY ended Dec. 31, 2012
>>>Business report FY ended Dec. 31, 2013
>>>Business report FY ended Dec. 31, 2014
>>>Business report FY ended Dec. 31, 2015
>>>Business report FY ended Dec. 31, 2016


Archives of Past Exhibits

Note: A figure in brackets ( ) indicates a loss