ZF Friedrichshafen AG Business Report FY ended 2014
ZF Friedrichshafen AG Business Report FY ended Dec. 2014
Business Highlights
| | |
| --- | --- |
| Financial Overview | (in million EUR) |
FY ended Dec. 31, 2014
FY ended Dec. 31, 2013
Rate of change (%)
Factors
Overall
Sales
18,415
16,837
9.4
-The Company achieved record sales. Major growth came from the businesses with automatic passenger car transmissions and axle systems where high growth rates were achieved, especially in North America and China.
Operating profit
897
756
18.7
-
Business Overview
<Sales by major divisions>

Car Powertrain Technology
-For the fiscal year ended December 31, 2014, sales in the Car Powertrain Technology division increased by 18% to EUR 6,742 million. The main drivers for the sales increase were high sales in the upper mid-size and luxury vehicles segments, especially in the markets of Asia and the U.S. In addition, the ramp-up of the new automatic transmission plant in Gray Court, South Carolina (U.S.), had a positive impact.


Car Chassis Technology
-For the fiscal year ended
December 31, 2014,
sales in the Car Chassis Technology division increased by 7% to EUR 5,885 million. This increase was attributable to, among other things, volume production starts in Europe, the U.S. and China.


Commercial Vehicle Technology
-For the fiscal year ended
December 31, 2014,
sales in the Commercial Vehicle division decreased by 7% to EUR 3,036 million. The continued market weakness in Brazil and sales declines in Russia as a result of the Ukraine crisis as well as negative exchange rate effects in South America were decisive for the decrease in sales.
TRW Acquisition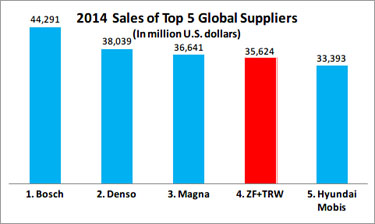 Outline
-In September 2014, the Company announced that it entered into a definitive agreement with U.S.-based TRW under which the Company will acquire TRW for approximately USD 12,400 million. The transaction is expected to close in the first half of 2015.



Combined sales


-According to the 2014 sales figures compiled by MarkLines Co., Ltd., the Company ranked eighth among automotive components suppliers, with TRW at 11th. With the combined sales of
USD 39,922 million, the Company overtakes Japan's
Denso
with estimated sales of USD 35,738 million for the year ending March 2015, right behind Germany's
Continental
with sales of USD 41,942 million.
Robert Bosch
maintains its position as the top supplier with estimated sales of USD 59,438 million.
Note: local currencies are converted into U.S. dollars using exchange rates of EUR 1 = USD 1.2155 as of December 30, 2014, and USD 1 = JPY 119.48 as of March 25, 2015.
Strategic objectives
-The Company aims to combine
TRW
's sensing and software expertise, including cameras, radar and controllers, with its chassis systems and transmissions. The deal is expected to make the Company a key player in the fields of Advanced Driver Assistance Systems, or ADAS, and autonomous driving. The Company holds its own hardware technologies for chassis controls that will be useful for autonomous driving, but system suppliers are expected to take on a leadership role in ADAS and autonomous driving. For example, the suppliers of collision-avoidance systems would determine the types and specifications of axles and shock absorbers that the Company provides as a Tier 2 supplier. The Company thus decided to take advantage of
TRW
's key technologies such as electric steering, brake controls, assist systems and sensors, the Company's CEO Stefan Sommer explained in an interview.
Integration process
-Integration is to occur in four phases that will stretch out over a period of three to five years in total.
Phase
Process
Phase 1
Preparing for "Day 1" after the acquisition has been concluded.
Phase 2
The Company integrates

TRW

as a fifth division, keeping it as a a legal entity.
Phase 3
Project-based cooperation is planned.
Phase 4
Structural integration is supposed to take place. Top priority is given to Sales, Aftersales, and Purchasing.
Divestitures
<ZF Lenksysteme>
-In January 2015, the Company sold all of its 50% stake in the steering systems joint venture ZF Lenksysteme (ZFLS) to the joint venture partner
Robert Bosch
. The former ZFLS is now called Robert Bosch Automotive Steering GmbH. The former ZFLS, based in Schwabisch Gmund, Germany, employs more than 13,000 associates in eight countries. It develops, produces, and sells steering systems for passenger cars and commercial vehicles worldwide. In 2013, it registered sales of approximately EUR 4.1 billion. With a total of 20 locations, the former ZFLS is active in the key automotive markets. Alongside locations in Europe, the U.S., and China, it also produces in India, Brazil, and Malaysia.
<Rubber & Plastics business unit>
-In September 2014, the Company sold its Rubber & Plastics business unit to Chinese rubber and plastic products manufacturer Zhuzhou Times New Material Technology (TMT). The former Rubber & Plastics business unit generated estimated sales of EUR 700 million with approximately 3,300 employees in 2013.
<South African subsidiary>
-In January 2014, the Company sold its South African subsidiary Auto Industrial Brake & Chassis Holding Johannesburg (AIBC) to Trinitas, an independent private equity fund. AIBC produces brake discs and other automotive components. Headquartered in Johannesburg, AIBC employees approximately 900 workers and generates estimated sales of EUR 71 million.
Joint Venture
-The Company and Beijing Automotive Industry Corporation (BAIC Group) have founded a joint venture for developing and assembling passenger car chassis systems. The joint venture, in which the Company holds a 51% share, will be located in the Beijing Economic and Technological Development Area (BDA). Starting in 2015, engineers and plant planners will kick off development work and prepare the installation of production equipment; the launch of chassis module assembly is scheduled for the next year. Then about 200 employees will assemble front and rear chassis modules with a starting capacity of 200,000 units for just-in-sequence delivery. The customers will be the various car brands of the BAIC Group. The two partners are investing more than EUR 10 million in the new plant, which will cover an area of 16,000 square meters. The Company currently supplies complete front and rear chassis modules for the current Mercedes-Benz C-Class, E-Class, and GLK models produced in China. (From a press release on October 9, 2014)
Ceased Production of 6-speed AT

-The Company announced that the last 6-speed automatic transmission (6HP) for passenger cars rolled off the assembly line at its location in Saarbrucken, Germany. More than seven million units of the 6HP had been produced at the location in Saarbrucken over the last 13 years. During the entire production time, 16 different automotive manufacturers used this transmission and equally installed it in their luxury limousines, SUVs, mid-size convertibles, and sports cars. The second generation of the 8-speed automatic transmission by ZF (8HP) is now setting new standards in efficiency and shifting performance. The transmission plant in Shanghai will continue to produce the 6HP for the Chinese markets. (From a press release on March 31, 2014)
Contracts

-Major contracts received in 2014
OEM

Model

Products

Shanghai GM

K211 (development code)

ZF Shanghai Steering Systems (Wuhan) supplies column-type electric power steering system (EPSc).
BMW

"520d"

8-speed automatic transmission 8H
Honda
"Civic Tourer"
Electronically controlled adaptive damping system CDC 1XL
Chrysler
"Jeep Cherokee"
9-speed automatic transmission 9HP
"200"
9-speed automatic transmission 9HP
Land Rover
"Range Rover Evoque"
9-speed automatic transmission 9HP
Iveco
"Daily"
8-speed automatic transmission 8HP, 6-speed manual transmission Ecolite, including the corresponding clutch system, dampers. steering pumps (supplied by the former ZF Lenksysteme) and steering columns (supplied by the former ZF Lenksysteme).
Awards
Divisions

Awards

Car Powertrain Technology

"PACE Awards" from Automotive News
Car Chassis Technology
"Technology 5-Star Award" and "Supplier of the Year Award 2013" from Hyundai Kia Motor Company (HKMC)
"Supplier Excellence Award" from General Motors for the plants in Europe and U.S.
"Volvo Cars Quality Excellence Award"
"Customer Recommendation" from Hyundai Mobis
"Ford Q1 Award" and "GM Supplier Quality Excellence Award" for the Rayong (Thailand) plant
"Best Plant 2014" from PSA Peugeot Citroen for the Eitorf (Germany) plant
R&D
| | |
| --- | --- |
| R&D Expenditure | (in million EUR) |
| | | | |
| --- | --- | --- | --- |
| | FY ended Dec. 31, 2014 | FY ended Dec. 31, 2013 | FY ended Dec. 31, 2012 |
| Total | 891 | 836 | 770 |
R&D Structure
-As of December 31, 2014, approximately 6,539 employees work for the Company's Research and Development worldwide. Of these, about 1,000 engineers and technicians work at the Company's Corporate Research and Development departments in Friedrichshafen (Germany), and an additional 350 in Pilsen (Czech Republic), Shanghai (China), and Tokyo (Japan).
-Major R&D centers
Friedrichshafen, Germany : The corporate research & development center in Freidrichshafen coordinates the activities of ZF Engineering Pilsen and ZF Japan Engineering.
Dielingen, Germany
Passau, Germany
Schweinfurt, Germany
Pilsen, Czech Republic
Shanghai, China
Tokyo, Japan
Detroit, MI, U.S.
<Japan>
-The Company plans to establish a new development center in Japan. The facility will serve as the Group's first Japanese facility that focuses on product designing and development. The Company will acquire a site for the facility near Tokyo by the end of this year. Operations are expected to start as early as 2015. Approximately 50 engineers from various automotive fields, including transmissions, chassis, and control systems, will be allocated to the new office, which will allow the Company to easily collaborate with Japanese automakers. The Company supplies mainly shock absorbers and chassis systems to Japanese automakers. Its sales to Japanese OEMs reached EUR 400 million (approximately JPY 54.8 billion) in 2013. By enhancing its development activities in the country, the Company aims to win more orders from Japanese automakers that are increasing sales volume worldwide. (From an article in the Nikkan Jidosha Shimbun on October 22, 2014)
<Czech Republic>
-The Company announced that it will expand ZF Engineering Pilsen in the Czech Republic, which offers development and testing services for the Group and its divisions. A seven-story office block with a total floor space of 3,500 square meters is constructed on the
Pilsen
plant site. Construction costs amount to EUR 4 million. The new building will create room for about 200 additional workstations. The building is scheduled to be completed by the end of 2014. The first 70 development employees will then move into their new offices. (From a press release on March 25, 2014)
<Germany>
-The Company is bolstering Corporate Research and Development at its headquarters: The Company intends to set up a new testing center for transmissions in the Research & Development Center (R&D Center) on Graf-von-Soden-Platz in 2015 and 2016. The testing center will be built in the western part of the R&D Center. The new building will be home to test benches and workshops. The Group also aims to merge development departments which are currently spread out across several leased office facilities in Friedrichshafen, in the R&D Center. (From a press release on February 24, 2014)
<China and Asia-Pacific>
-The Company announced that it is considerably expanding its headquarters for China and Asia-Pacific in Shanghai. The space for offices, laboratories, and test benches will almost be quadrupled from 11,000 to 54,000 square meters. Currently, approximately 400 employees work at the location at China's east coast; with the new area, the Company makes room for 900 employees. The building will be completed at the end of 2015. In the next five years, the Company will invest approximately EUR 50 million in this project. At the new building, the Company will be able to test products of car driveline and chassis technology as well as commercial vehicle or construction machinery transmissions. A test facility for the new 9-speed automatic transmission will also be installed in the new building; as of 2017, this new transmission will be produced in China as well. (From a press release on July 23, 2014)
Product Development

New hybrid system based on 9-speed AT (9HP)
-The Company developed a new hybrid system that is based on its 9-speed automatic transmission (9HP), for use in front-wheel and all-wheel drive vehicles equipped with transverse engines. The hybrid system retains the size of conventional 9-speed automatic transmissions by utilizing an electric motor instead of a torque converter. The Company currently supplies the hybrid version of its 8-speed automatic transmission for vehicles with longitudinal engines. With the 9HP-based hybrid system, the Company is poised to meet demand in the automotive industry, which is moving towards electric mobility, and aims to win more orders for its value-added automatic transmissions. (From an article in the Nikkan Jidosha Shimbun on December 4, 2014)
Investment Activities
| | |
| --- | --- |
| Capital Expenditure | (in million EUR) |
| | | |
| --- | --- | --- |
| | FY ended Dec. 31, 2014 | FY ended Dec. 31, 2013 |
| Car Powertrain Technology | 576 | 541 |
| Car Chassis Technology | 156 | 158 |
| Commercial Vehicle Technology | 96 | 113 |
| Industrial Technology | 61 | 50 |
| Electronic Systems | 41 | 32 |
| ZF Services | 10 | 14 |
| Corporate R&D, Corporate Headquarters, and Service Companies | 65 | 46 |
| Consolidated ZF Group | 1,005 | 954 |
Investment Outside Germany

<India>
-The Company ramps up its commitment in India with the construction of a new plant in Pune. The location which is already under construction will unite the Car Powertrain and Commercial Vehicle Technology business units as well as ZF Services in India under a single roof. Additionally, it will be home to the headquarters of the engineering and administration of ZF India Pvt. Ltd. A few weeks ago, the construction of the new building, on a plot size of 85,000 square meters (21 acres), started in the Chakan industrial park, roughly 20 kilometers north of Pune. After completion, scheduled for the turn of the year 2014/2015, approximately 350 employees will work at the location. The Company invests nearly EUR 20 million (INR 1,500 million) in the new facility. (From a press release on March 21, 2014)
<U.S.>
-The Company began a study for the construction of two new plants in the U.S. to produce 9-speed automatic transmissions for passenger cars with a transverse engine. With an investment of approximately USD 600 million, the Company already opened a new transmission facility in South Carolina in July 2013. The plant is capable of manufacturing 400,000 units of 9-speed automatic transmissions per year and is scheduled to increase its production capacity by another 400,000 units by 2015. By setting up additional facilities, the Company aims to establish an annual production capacity of 2 million units in the U.S. (From an article in the Nikkan Jidosha Shimbun on March 3, 2014)
<Russia>
-ZF Kama, a joint venture between the Company and Kamaz announced the opening of a new production facility for the Ecomid and Ecosplit commercial vehicle transmissions in Naberezhnye Chelny in the Republic of Tatarstan, Russia. The relocation to the new building expands ZF Kama's plant grounds from previously 4,000 to around 20,000 square meters, approximately by five times. In 2016, up to 50,000 Ecosplit and Ecomid transmissions will come off the line in Naberezhnye Chelny per year, compared to previously 20,000 units. Until 2016, the Company and Kamaz will have invested a total of about EUR 90 million in the location. Founded in 2005, the joint venture, in which the Company has a 51 % share and Kamaz 49%, currently produces manual ZF transmissions belonging to the Ecosplit (16-speed version) and Ecomid (nine-speed) product families – more than 95% for Kamaz. (From a press release on January 23, 2014)
<China>
-ZF Shanghai Steering Systems (Wuhan) Co., Ltd. is constructing a plant adjacent to General Motors' vehicle assembly facility at the Jingang New District, Jiangxia Economic & Technological Development Zone, Wuhan. The subsidiary was established in November 2013 with a capital of CNY 50 million. It is investing CNY 350 million in the first phase of the construction project, which includes production lines for components such as electric steering columns, hydraulic steering systems, mechanical steering columns, and mechanical steering systems. (From news releases issued by multiple sources on January 13, 2014)