thyssenkrupp AG (Formerly ThyssenKrupp AG)
Company Profile
Business Overview
-The Company was founded through the merger between Thyssen AG and Friedrich Krupp AG Hoesch-Krupp in 1999.

-The Company is a diversified industrial group with three primary focus areas. Its capital goods businesses develop and manufacture components and service solutions for the automotive, machinery, and energy markets. The Company's plant engineering portfolio provides engineering, construction and maintenance of industrial facilities. Finally, the Company's material businesses offers customized material solutions, materials manufacturing and materials processing.

-The Company is divided into five business areas: Components Technology, Elevator Technology, Industrial Solutions, Materials Services and Steel Europe.

-In September 2017, the Company completed the sale of its CSA steel mill in Brazil to Ternium, a Latin American steelmaker. The sale marks the completion of the divestiture of the Company's Steel Americas unit, which began in 2014 with the sale of a processing plant to a consortium consisting of ArcelorMittal and Nippon Steel.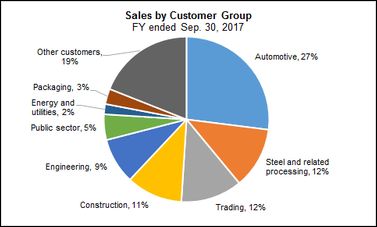 -The automotive industry is the Company's largest customer group, accounting for 27% of the Company's total sales, or EUR 11.6 billion, in the fiscal year ended September 2017.

-The Company's business areas which are involved in the automotive industry are as follows:
Components Technology: Manufactures components for a vehicle's powertrain and chassis such as cylinder head modules, axle modules, and electric power-assisted steering systems.
Steel Europe: Provides various types and grades of steel
Industrial Solutions: Provides production systems and infrastructure
Materials Services: Materials distribution
Competitors
Shareholders
| | |
| --- | --- |
| -The Company is listed on the Frankfurt and Dusseldorf Stock Exchange. | (As of Sep. 30, 2017) |
| | |
| --- | --- |
| Name or Company Name | Investment Ratio (%) |
| Alfried Krupp von Bohlen und Halbach Foundation | 21.00 |
| Cevian Capital | 15.08 |
| International institutional investors | 53.92 |
| Private investors | 10.00 |
| Total | 100.00 |
Products
Components Technology
Camshafts
-Integrated camshafts
-Variable shiftable valve lift controls
-Concentric camshafts
-Camshafts with integrated bearing blocks
-Block module with integrated camshafts
-Integrated oil separation system
-Integrated rotor shafts

Crankshafts
-Forged crankshafts
-Finished crankshafts
-Connecting rods
-Pistons
-Gear shafts
-Gear wheel blanks
-Wheel hubs
-Spindles

Dampers
-Monotube gas-pressure shock absorbers
-Twintube gas-pressure shock absorbers
-DampMatic passive amplitude-selective damping systems
-Adaptive damping systems
-DampTronic electronically adjustable variable damping systems
-DampTronic two-stage electrically adjustable dampers
-DampTronic Sky variable dampers with two setting valves
-Steel spring modules
-Air suspension modules

Steering systems
-Fixed steering columns
-Mechanically adjustable columns
-Electrically adjustable columns
-Steering spindles and shafts
-Hydraulic power steering systems
-Rack-assist electric power steering systems
-Dual-pinion electric power steering systems
-TriPin electric power steering systems for light utility vehicles
-Mechanical steering gears
-Low-torque column electric power steering systems
-High-torque column electric power steering systems
-Universal joints
-Inner races
-Housings
-Bevel gears
-Forks
-Shafts
-Racks
-Gears
-Planetary gears

Springs and stabilizers
-Linear coil springs
-Barrel springs
-Side load springs
-ThermoTecSpring
-Solid stabilizer bars
-Tubular stabilizer bars
-Split stabilizer bars
-Rubber-to-metal stabilizer bearings
-VarioShape lightweight stabilizer bar

Axle assemblies
-Corner modules
-Center modules
-Front axles
-Rear axles
-Axle adjustments
-Powertrain assemblies

Steel Europe
-Deep-drawing steels
-High-strength interstitial free (IF) steels
-Higher-strength deep-drawing steels
-Dual-phase steels
-Ferrite-bainite-phase steels
-Martensitic-phase steels
-Microalloyed steels
-Bake-hardening steels
-Work hardening steels
-Complex-phase steels
-Retained austinite steels
-Manganese-boron steels
-scalur - hot strip steels with improved tolerances
-perform - high-strength thermo-mechanically rolled steel for cold forming
Supplemental Information 1