thyssenkrupp AG (Formerly ThyssenKrupp AG) Business Report FY ended Sep. 2016
thyssenkrupp AG (Formerly ThyssenKrupp AG) Business Report FY ended Sep. 2016
| | |
| --- | --- |
| Financial Overview | (in million EUR) |
FY ended Sep. 30, 2016
FY ended Sep. 30, 2015
Rate of
change (%)
Factors
Overall
Sales
39,263
42,778
(8.2)
1)
EBIT
1,189
1,050
13.2
-
Components Technology
Sales
6,807
6,753
0.8
2)
EBIT
251
294
(14.6)
-
Steel Europe
Sales
7,633
8,697
(12.2)
3)
EBIT
316
514
(38.5)
-

Factors
1) Net Sales
-The Company's net sales for the fiscal year ended September 30, 2016 decreased by 8.2% to EUR 39,263 million. While sales increased in the Company's Components Technology and Elevator Technology business areas, these gains were offset by sales decreases elsewhere, due to a weaker market environment for chemical plants and mining equipment along with negative price effects on the materials markets.

2) Components Technology
-In the fiscal year ended September 30, 2016, the Company's Components Technology business area had net sales of EUR 6,807, an increase of 0.8% over the previous year. The slight increase in sales was evidenced by mixed results throughout the Company's operations. Markets for car components in western Europe, China, and the U.S. showed substantial growth while demand in Brazil and Russia decreased sharply. In addition, sales in heavy truck markets, specifically in Brazil and the U.S., were also weak.

3) Steel Europe
-Net sales for the Company's Steel Europe business area in the fiscal year ended September 30, 2016 decreased 12.2% to EUR 7,633. The decrease in sales was primarily due to lower average selling prices combined with lower sales volumes.


Restructuring
Relocation of damper business
-The Company announced that its damper business is moving to a new site in Bochum, in the state of North Rhine-Westphalia, Germany. In March, approximately 200 thyssenkrupp Bilstein employees will be relocating from the Company's head office in Ennepetal to a new office building on Herner Strasse in the north of Bochum. The additional site in North Rhine-Westphalia has become necessary due to new orders from automotive customers, with no further space available at the Ennepetal site. The move to Bochum will involve most of the administrative staff of the Company's original equipment division, which is responsible for supplying damper systems to international car manufacturers. The technical departments together with logistics, quality, project management and sales will be moving to Bochum. All administrative functions of the damper manufacturer's aftermarket division (around 270 people) will remain in Ennepetal along with production. (From a press release on February 15, 2016)


Acquisitions

-In July 2016, thyssenkrupp Materials Processing Europe GmbH, a part of the Company's Materials Processing business area, acquired its former investee company Thyssen Ros Casares S.A. in El Puig, Spain. Thyssen Ros Casares is now trading under the name thyssenkrupp Materials Processing. The site is located north of Valencia and covers a total area of 39,000 square meters. Plant operations include processing of slit strip and blanks. Since spring, the Europe-wide service center network has already been boosted by the addition of a new location in Gyor, Hungary, and the stainless steel service center in Willich, Germany. (From a press release on July 27, 2016)


Contracts
-The Company has won major steering orders from German and international car makers in late 2015. The orders cover the development and production supply of electronic power-assisted steering systems for some of the OEMs' biggest model platforms. In total, up to 3 million steering systems are to be supplied a year under the orders, representing total sales of around EUR 4.5 billion. Production supplies to customers including German, European, Asian and American automotive manufacturers will start from 2016. In the past three years, the Company has invested around EUR 1 billion in its components business. Around 70% of this has gone into the global expansion of its automotive components business in growth regions such as China, the NAFTA region and Europe. (From a press release on December 3, 2015)

-During the fiscal year ended September 30, 2016, the Company's Components Technology business area has benefited from a large number of new orders from international OEMS for the production of electric power-assisted steering systems. These orders have enabled to company to establish a position in the premium automotive segment while also growing its share in the high-volume mid-size and compact car segments, as well as in regions including China and North America.


Outlook
-The Company expects to achieve an EBIT of EUR 1.7 billion in the fiscal year ending September 30, 2017. In the long-term, the Company aims to have a minimum EBIT of EUR 2 billion.
| | |
| --- | --- |
| R&D Expenditure | (in million EUR) |
| | | | |
| --- | --- | --- | --- |
| | FY ended Sep. 30, 2016 | FY ended Sep. 30, 2015 | FY ended Sep. 30, 2014* |
| Total | 778 | 735 | 709 |
*FY ended Sep. 2014 figures have been adjusted due to the adoption of IFRS 11.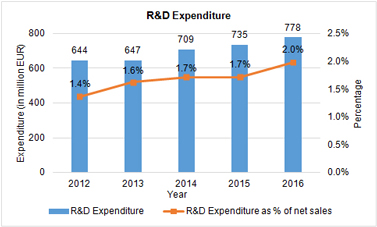 -One of the keys to the Company's long-term growth strategy is its investment in research and development. Despite uneven sales and earnings since the fiscal year ended September 30, 2012, the Company has increased its R&D expenditure every year.


R&D Structure
-As of September 30, 2016, the Company has more than 3,500 employees involved in research and development across 100 locations.


R&D Activities
-The Company often engages with OEMs on new vehicle concepts, focusing primarily on electric power-assisted steering (EPS) systems and active and passive dampers. Furthermore, the Company is also researching steer-by-wire solutions based on its EPS systems.

-The Company is engaged in an e-mobility project to develop new, lower-cost batteries with high storage capacities. The goal of the project is to double the current energy density of approximately 250 Wh per liter of battery volume at a cost of approximately EUR 200 per kWh. The design of the battery is based on a large-area sandwich structure. Other participants in the project include the Fraunhofer Institute for Ceramic Technologies and Systems and IAV. The project is funded by the state of Saxony and the European Regional Development Fund.


Technological Alliance

Cross-license forming technologies with JFE Steel
-thyssenkrupp Steel Europe AG (tkSE), a subsidiary of the Company, and JFE Steel Corporation announced that they have signed an agreement to cross-license advanced forming technologies for automobile steel sheets, including high tensile steel. The two steelmakers will mutually license each other's technologies, including JFE's CP-F closed-profile forming technology and tkSE's T3 (thyssenkrupp Tailored Tubes) profiling technology, to automakers and auto parts suppliers worldwide. Currently, most automotive structural components are manufactured by spot welding the flanges of two press-formed steel plates. The new technologies make it possible to form a structural component by using a single sheet without flanges. By eliminating flanges, which account for more than 10% of a components' weight, this method can reduce vehicle weight while maintaining body elasticity and collision safety. JFE and tkSE signed a comprehensive cooperation agreement for joint research and development of auto steel sheets and related technologies in 2002. (From a press release on August 23, 2016)


Patents
-The Company has approximately 18,000 patents as of September 30, 2016.
| | |
| --- | --- |
| Capital Expenditures | (in million EUR) |
| | | | |
| --- | --- | --- | --- |
| | FY ended Sep. 30, 2016 | FY ended Sep. 30, 2015 | FY ended Sep. 30, 2014* |
| Overall | 1,387 | 1,235 | 1,260 |
| -Components Technology | 488 | 392 | 356 |
| -Steel Europe | 400 | 458 | 516 |
*FY ended Sep. 2014 figures have been adjusted due to the adoption of IFRS 11.

-The Company's investments in the Components Technology business area focused primarily on expanding production capacities for a variety of systems. Production capacity was enhanced for electric steering systems in China and Mexico. The Company invested in a new plant in Mexico for active and passive damper systems. For powertrains, the Company expanded production capacities of cylinder head modules in China, Europe and Mexico. In addition, a combined plant for electric steering systems and cylinder head modules was started in Hungary.

-The primary investment in the Company's Steel Europe business area revolved around the construction of a new ladle furnace in Duisburg, Germany for high-quality grade high-strength steel. Other investments included modernization work on various lines.


Investments in Germany
-The Company's Steel Europe business area has awarded contracts for the construction of a ladle furnace in Duisburg, Germany. The new furnace will allow the steelmaker to expand its product portfolio to include high-alloy grades. Demand for high-alloy grade steels is rising, especially in the automotive industry. Approximately EUR 40 million will be invested in the project at BOF melt shop 2 in Duisburg-Beeckerwerth. Start of construction is planned for fall 2017. (From a press release on April 21, 2016)
Investments outside Germany

-The Company plans to build a new plant for active and passive damper systems at the new auto components park started in 2015 in San Miguel de Allende, Guanajuato. At the beginning of 2016, the Company began the construction of a production plant for cylinder head covers with integrated camshafts at the site. The Company is investing a total of approximately EUR 150 million in the new industrial park. The plant is expected to supply OEMs in North America beginning some time in 2017 and 2018. The 200,000-square-meter components site will create up to 750 new jobs. (From a press release on June 29, 2016)

-The Company announced that it is building a new steering systems plant in Puebla, Mexico, at a cost of around EUR 70 million. Development of the 135,000-square-meter site is about to begin shortly, with completion scheduled for early 2017. The new plant will produce around 1.4 million electric power-assisted steering systems per year and will supply the systems to German and American OEMs starting in 2018. The new plant will create about 400 new jobs in the coming years. The Company is planning to invest approximately EUR 500 million in its North American components business by 2020, of which roughly half is earmarked for profitable growth in Mexico. In addition, work on the construction of an engine components plant in San Miguel de Allende in the Mexican state of Guanajuato will also start later in 2016. (From a press release on January 12, 2016)


-The Company will build a new automotive components plant in Hungary. The Company will invest approximately EUR 100 million in a new production site for engine components and steering systems. Construction of the plant in Jaszfenyszaru will start in spring 2016. The plant will begin production of electronic power-assisted steering systems and cylinder head covers with integrated camshafts in 2018. The Company will create around 500 new jobs at the site in the coming years. The expansion of production capacities in Hungary is necessary because the Company's Components Technology business area has recently acquired major orders from international OEMs. (From a press release on February 23, 2016)