Company Profile
Business Overview
-A supplier of axles, undercarriages, drivelines, brakes and braking systems for the commercial vehicle, transportation and industrial sectors.

-In March 2011, the Company has officially changed its name to Meritor, Inc. from ArvinMeritor. With the divestitures of its light vehicle businesses completed, the Company is now focused on commercial vehicle and industrial markets.

-As of November 2012, the Company revised its business into two segments: Commercial Truck & Industrial; and Aftermarket & Trailer.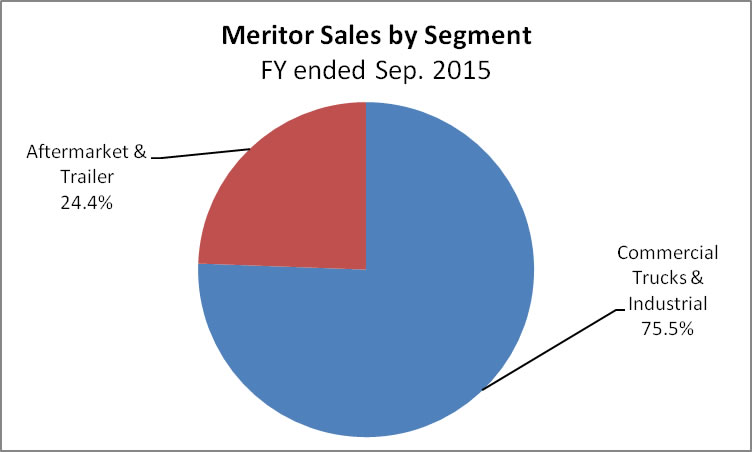 Business Highlight
-Over 75% of the Company's sales are derived from its Commercial Truck and Industrial segment. As such, the Company's growth or decline is largely dependent on the production of commercial vehicles in the North American, South American, European, and Asia-Pacific markets.






Competitors
Shareholders
-Listed on New York Stock Exchange.
Products
Axles
-Front drive axles
-Front non-drive axles
-Rear single axles
-Rear tandem axles
-Rear tridem axles
-Hub reduction axles

Brakes and Safety systems
-Drum brakes
-Disc brakes
-Wheel ends
-Slack adjusters
-Tire inflation system for trailers

-Braking systems by Meritor WABCO*
Advanced braking
Stability control
Collision safety systems
Air systems
Drivelines
-Drivelines
-Clutches
-Transfer cases

Suspensions
-Meritor WABCO* leveling valves
-Suspension system for trailers

*Joint Venture between the Company and WABCO
History
2000
Established by the merger of Meritor Automotive Inc. and Arvin Industries Inc.
2002
Acquired the remaining 51% interest its German joint venture Zeuna Starker GmbH & Co. KG, a premier exhaust and emissions solutions company.
2004
Roll Coater was sold to Willis Stein & Partners.
2004
Dedicated the new USD 40 million Detroit Technology Center, its new technology center for Light Vehicle Systems (LVS) operations in North America, located in Detroit, Michigan, USA.
2007
Acquired Mascot Truck Parts Ltd., a major remanufacturer of transmissions, drive axle carriers, steering gears and drivelines, based in Mississauga, Ontario, Canada.
2007
The Emissions technologies (ET) business was sold for USD 310 million to One Equity Partners (OEP), an equity firm based in New York.
2008
Started production at new facility in Salonta, Romania.
2008
Opened new tech center in Shanghai, China.
2008
Acquired Trucktechnic, a major remanufacturer in Liege, Belgium.
2008
Opened new facility in Monterrey, Mexico.
2009
Completed the sale of its Gabriel Ride Control Products North America (Gabriel Ride Control) business to Ride Control, Llc, a wholly owned subsidiary of OpenGate Capital, a private equity firm.
June 2009
Sold its 51 percent interest in Gabriel de Venezuela to its joint venture partner.
Sep. 2009
Completed the sale of its Wheels business to Iochpe-Maxion S.A., a Brazilian producer of wheels and frames for commercial vehicles, railway freight cars and castings.
Opened a new technical center in Bangalore, India.
Oct. 2009
Entered into a binding letter of intent to sell its 57 percent interest in Meritor Suspension Systems Company (MSSC), a joint venture, to its joint venture partner, a subsidiary of Mitsubishi Steel Mfg. Co., Ltd.
2011
Completed the divestiture of its light vehicle business in January 2011 and officially changes the name of the Company back to Meritor.
Divested its Body System business to Inteva Products, LLC.
Jan. 2012
Completed the sale of the assets of axle operation in France, to Renault Trucks SAS.
Supplemental Information 1