Nexteer Automotive Group Ltd.
Company Profile
Business Overview
-The Company is a global leader in developing and manufacturing advanced steering and driveline systems as well as advanced driver assistance systems and autonomous vehicle technologies. The Company was previously a business division under GM focusing on steering operations before splitting off as a part of Delphi Corporation.

-In 2010, the Company was acquired by Pacific Century Motors, based in China.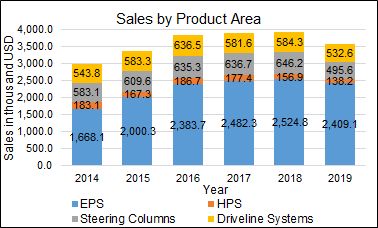 -In recent years, the Company's primary focus has been on electric power steering (EPS) systems, due to its benefits of improved fuel economy and reduced emissions. In addition, EPS systems can act as an enabler for both advanced driver assistance and autonomous technologies. As such, part of the Company's growth strategy is to focus on the development and sale of EPS systems. In the fiscal year ended December 31, 2019, despite the decrease in the Company's total sales, the percentage of the Company's total sales comprised of EPS systems increased to 67.4%. The Company's EPS sales have steadily comprised more of its total business over the past five years.


Competitors
Shareholders
-The Company is a subsidiary of Pacific Century Motors based in China and is listed on the Hong Kong Stock Exchange.
Products
Steering systems
-Electric Power Steering (EPS)
Column assist EPS
Brush motor column-assist EPS
Intermediate shafts
Dual pinion-assist EPS
Single pinion-assist EPS
Rack assist EPS
EPS rack and pinion gears
High availability EPS
Modular power packs
-Hydraulic Power Steering (HPS)
Magnetic Torque Overlay variable effort steering systems
Rack and pinion steering gears
Recirculating ball steering gears
Power steering pumps
Power steering reservoirs
CB pumps with direct intake
High flow reservoirs
Power steering hose sets
Droop flow control devices for power steering pumps
SmartFlow hydraulic pump technology for improved efficiency
-Steering columns
Non-adjustable steering columns
Power rake and telescope columns
Power tilt and telescope columns
Manual rake and telescope columns
Active energy-absorbing steering columns
Power one-touch adjustable steering columns
Touch control electronic transmission shifters
Actuators
Column electronic assemblies
Lock housings
Shrouds
Shift mechanisms
Transmission shifters
Telescoping intermediate shafts
Cardan joint intermediate shafts
Constant-velocity joint intermediate shafts
-Torque overlay software programming solutions

Driveline systems
-Front wheel drive halfshafts
-Front wheel drive joints
Fixed-center joints
"TriGlide" plunging tripot joints
Enhanced "TriGlide" plunging tripot joints
"CrossGlide" low-mass, low-volume joint
Low-profile tripot joints
Heavy-duty low-profile tripot joints
Needleless tripot joints
Enhanced tripot joints
Heavy-duty standard tripot joints
Cross-groove joints
Double-offset joints
Rzeppa joints
High angle undercut free joints
Sealing systems
-Intermediate drive halfshafts
-Rear wheel drive halfshafts
-High-value low-mass rear halfshafts for reduced durability needs
-Propeller shaft joints
-Solid axles
-Welded tubular axles
-Monobloc tubular axles

ADAS and automated driving systems
-Steering on Demand electromechanical steer-by-wire system featuring no mechanical links
-QuietWheel steering system where steering wheel disengages from road wheel
History
| | |
| --- | --- |
| 1906 | Founded company as Jackson, Church & Wilcox Co. |
| 1909 | Acquired by Buick, which was owned by General Motors. |
| 1917 | Became a business division under General Motors focused on steering systems research, design, and manufacturing. |
| 1998 | Integrated as steering operations business division into the newly created Delphi Corporation under General Motors. |
| 1999 | Delphi Corporation was spun-off by General Motors as an independent corporation. |
| 2005 | Filed for Chapter 11 bankruptcy protection as part of Delphi Corporation. |
| 2009 | Sold to General Motors from Delphi Automotive and renamed Nexteer Automotive. |
| 2010 | Sold to Pacific Century Motors in China from General Motors. |
| 2013 | Completed IPO on Hong Kong Stock Exchange. |
| Oct. 2017 | Dongfeng Motor Parts And Components Group Co., Ltd. and Nexteer Automotive China officially established their joint business, Dongfeng Nexteer Steering Systems (Wuhan) Co., Ltd. |
Supplemental Information 1