Company Profile
Business Overview
-The Company is the largest automotive components manufacturer in Korea. It is a core supplier of Hyundai Motor Co., Ltd.

-The Company conducts its business in two operating segments.
Segments
Major products
Proportion of the Company's total sales (FY ending December 2022)
Automotive modules and major automotive parts
Chassis modules
Cockpit modules
Front end modules (FEM)
80.3%

Aftermarket products


Aftermarket repair parts
19.7%

-In the module and parts manufacturing business, the company supplies chassis modules, cockpit modules, and front end modules (FEM) to Hyundai and Kia on a just-in-sequence (JIS) basis. The company also supplies brakes, steering systems, airbags, lamps, etc. to global OEMs in addition to Hyundai/Kia.

-In addition to its domestic Korean facilities, the Company operates production facilities in China, India, the Czech Republic, Slovakia, Turkey, Mexico, U.S., Russia and Brazil.

-On November 14, 2022, the company announced the formal establishment of two module and part manufacturing subsidiaries. The module production subsidiary is Motras, while the other new subsidiary manufacturing parts such as chassis parts, electrification components, airbags, lamps, and other automotive components is called Unitus.
Shareholders
(As of Dec. 31, 2022)
| | |
| --- | --- |
| Main Shareholders | Ownership Ratio (%) |
| Kia Motors Corporation | 17.42 |
| Chung, Mong Goo | 7.19 |
| Hyundai Steel Co., Ltd. | 5.84 |
| National Pension Service of Korea | 9.04 |
| Others | 60.51 |
| Total | 100.00 |
Products
Autonomous Driving
Driving
-Forward-looking radar
-Corner radar
Parking
-Surround view system
-Remote smart park assist
-Reverse park assist
-Rear-view camera
-Park assist
In-Cabin Sensing
-DSM (Driver Status Monitoring)
-ICM (In-Cabin Monitoring)
-ROA (Rear Occupant Alert)
Integrated body control
-Smart key
-Authentication control unit
-Communication control unit

IVI Systems (In-vehicle Infotainment system)
Infotainment Head Unit
-Integrated Cockpit Controller
-Display Audio
Center stack display
-Regular display module
-Dual display module
Cluster
‐Full digital Cluster
-Digital Cluster
HUD
-AR HUD
-Regular HUD
Sound
-Premium brand sound systems
-Automotive-specific sound technologies

Electrification system
Power conversion system
-ICCU (Integrated Charging Control Unit)
-OBC (On-Board Charger)
-PCU (Power Control Unit)
Drive system (Hybrid Starter Generator)
-EDU 3-in-1 System
-Traction Motor
-HSG
-In-Wheel Motor
Battery system
-48V BSA (LDC integrated)
-BSA (Battery System Assembly)
-BMS (Battery Management System)
48V Mild Hybrid
-Converter-BMS integrated board
-Battery module assembly incorporating a cooling fan
-PRA (Power Relay Assembly) (Lightweight and thin PRA)
Fuel cell system
-Fuel Cell Stack
-PFC (Powertrain fuel cell) Module
-Fuel Cell Powerpack
iMEB2 (Intergrated Mobis Electronic Brake)
VEB
MEB
EPB(Electric Parking Brake)
‐Motor on Caliper
Steering
EPS (Electric Power Steering)
-R-EPS (Rack Electric Power Steering)
-DP-EPS (Dual-pinion Electric Power Steering)
-C-EPS (Column Electric Power Steering)
Advanced System
-RWS (Rear Wheel Steering)
-SBW (Steer By Wire)

Lamps
Headlamps
-Slim modules
-ADB(Adaptive Driving Beam) modules
-High Resolution modules
Rear lamps
-3D Lit Image Rear Lamp
-H-LED Rear Lamp
-Fiber Optic Rear Lamp
Small/grille lamps
-Separate DRL / turn signal lamps
-Half-mirror hidden DRL
-Illuminated grille Lamp
Lamp components
-LDM (LED Driver Module)
-ECU (Electronic Control Unit)

Safety
Airbag modules
-Front airbag (DAB/PAB/KAB)
-Side airbag (CAB/SAB)
-Center side airbag (CSAB)
-Panorama roof airbag (RAB)
Airbag control units
-ACU8

Suspension
Air Suspension

Chassis Modules
-Front-wheel chassis module
-Front-wheel strut complete
Spring

Shock absorber

Insulator

Strut bearing
-Front-wheel cross member
-Front-wheel
-Steering gear complete
-Front-wheel step bar assembly
-Drive shaft
-Front-wheel axle & brake assembly
Knuckle

Hub bearing

Caliper

Disc, brake hose
-Rear-wheel chassis module
‐Rear-wheel shock absorber complete
Spring

Shock absorber

Insulator
-Rear-wheel cross member
-Rear-wheel
Upper arm
Lower arm
Assist arm
Trailing arm
-Differential gear
-Rear-wheel step bar assembly
-Drive shaft
-Rear-wheel axle & brake assembly
Carrier
Hub bearing
Caliper
Disc
Brake hose

Cockpit Modules

FEM/Bumpers
History
| | |
| --- | --- |
| Jul. 1977 | The Company established Hyundai Precision Industries Co., Ltd. |
| Sep. 1989 | The Company went public (listed in Korea Stock Exchange) |
| Mar. 1990 | The Company formed an alliance with Mitsubishi Motor Corporation, entering into the four-wheel-drive vehicle market. |
| Sep. 1991 | The Company and Hyundai Motor Corporation jointly set up a production facility to manufacture transmissions for the Galloper. |
| Dec. 1995 | The Company established a manufacturing facility to produce the Hyundai Santamo. |
| May 1999 | The Company announced plan to enter into car module parts business |
| Jun. 1999 | The Company obtained QS9000 certification for car wheels. |
| Jul. 1999 | The Company transferred its four-wheel-drive-vehicle division to Hyundai Motor Corporation. |
| Oct. 1999 | Technical cooperation with Bosch, Breed for air bag and ABSs |
| Oct. 1999 | The Company started manufacturing car module parts |
| Feb. 2000 | Hyundai Motor transferred its automotive replacement parts division to the Company. |
| Oct. 2000 | The Company adopted a new corporate name, Hyundai Mobis Co., Ltd. |
| Nov. 2000 | The Company acquired Kasco's cockpit module production facility in Cheonan. |
| Dec. 2000 | Kia Motors Corporation transferred its automotive aftermarket business to the Company. |
| Mar. 2001 | The Company and TIP of the U.S.A. signed a technological partnership agreement dealing with in-floor panel technology. |
| Apr. 2001 | The Company and ZF, headquartered in Germany, concluded a technical agreement in the area of chassis modules. |
| Aug. 2001 | The Company formed a technological tie-up with Alpine on electronic information components |
| Oct. 2001 | The Company formed a technological tie-up with Textron on driver seat modules |
| Nov. 2001 | The Company formed a technological tie-up with Bosch on electronic braking devices |
| May 2002 | The Company worked in collaboration with Siemens to co-develop automotive electrical modules |
| Jul. 2002 | The Company acquired the chassis module plant of Mando Corporation |
| Oct. 2002 | The Company obtained International Quality Certification ISO/TS 16949:2002 for airbag module systems |
| Dec. 2002 | The Company completed Jiangsu Mobis module factory in China |
| Mar. 2003 | The Company established Beijing Mobis Transmission Co., Ltd. (BMTC) in China |
| Apr. 2003 | The Company opened the Shanghai R&D Center |
| Oct. 2003 | The Company completed the construction of Beijing Mobis Module Factory |
| Dec. 2003 | The Company completed ABS production plant in Cheonan, Korea |
| Jan. 2004 | The Company completed Seosan plant in Korea |
| Apr. 2004 | The Company completed the construction of the transmission factory in Beijing, China |
| Jul. 2004 | The Company completed its Asan plant, Korea |
| Aug. 2004 | The Company entered an agreement with DaimlerChrysler on supplying rolling chassis modules |
| May 2005 | Completed the construction of a module factory in Alabama, USA |
| Jul. 2005 | The Company established Wuxi Mobis Automotive Autoparts Co. Ltd. in Wuxi, China. |
| Dec. 2005 | The Company established winter road test driving courses in Sweden. |
| Aug. 2006 | The Company established a module production facility in Ohio, U.S.A. |
| Dec. 2006 | The Company set up a module production facility in India. |
| Dec. 2006 | The Company set up a module production facility in Slovakia. |
| Jan. 2007 | The Company established Mobis Automotive Czech s.r.o. in the Czech Republic. |
| Feb. 2007 | The Company sold the entire 40.0 percent shareholding it had held in EcoPlastic of Korea. |
| Feb. 2007 | The Company absorbed KASCO, its automotive brake production subsidiary in Korea. |
| Jun. 2007 | The Company acquired 100 percent of the equity in IHL, a supplier of automotive lamps in Korea. |
| Jun. 2007 | The Company sold its propeller shaft business to KPS, which is headquartered in Korea. |
| Jul. 2007 | The Company established Mobis Georgia, LLC of the U.S.A. |
| Mar. 2008 | The Company established Mobis Module CIS in Russia. |
| Nov. 2008 | The Company acquired hybrid vehicle components business from Hyundai Rotem. |
| Jan. 2009 | Mobis Alabama LLC absorbed Mobis Alabama Instrument Panel, LLC. |
| Mar. 2009 | A new lamp plant in Gimcheon started mass production. |
| Apr. 2009 | The Company and Samsung LED signed a contract to develop jointly LED headlamps and modules. |
| Jun. 2009 | The Company absorbed Hyundai Autonet co., Ltd. |
| Jun. 2009 | The Company signed a strategic partnership with Continental Automotive of Germany. |
| Sep. 2009 | The Company set up a module production facility in Czech Republic. |
| Jan. 2010 | The Company established HL Green Power Co. as a joint venture with LG Chem Ltd. |
| Mar. 2010 | The Company set up a module production facility in Georgia, U.S.A. |
| Feb. 2012 | The Company established Mobis Automotive and Module Industry Trade Co - Joint Stock Company in Turkey. |
| Nov. 2012 | The Company completed a module production plant in Brazil. |
| Dec. 2012 | The Company completed a CBS (conventional brake system) plant in Slovakia. |
| Mar. 2013 | The Company completed Chungju Plant and started production. |
| May. 2013 | The Company established Mobis Parts Miami, LLC in the U.S. |
| Jul. 2014 | The Company established Mobis Parts Canada Corporation in Canada. |
| Sep. 2014 | The Company established Mobis Manufacturing de Mexico, S. de R.L. de C.V. (currently called Hyundai Mobis Mexico, S. de R.L. de C.V.) in Mexico. |
| Jan. 2015 | The Company established Mobis Automotive System Czech s.r.o. in the Czech Republic. |
| Mar. 2015 | The Company established Cangzhou Hyundai Mobis Automotive Parts Co.,Ltd. in Cangzhou, China. |
| Jun. 2015 | The Company established Chongqing Hyundai Mobis Automotive Parts Co., Ltd. in Chongqing, China. |
| Jul. 2015 | The Company absorbed Mobis Parts de Mexico, S. de R.L. de C.V. in Mexico. |
| Oct. 2016 | The Company completed construction of new module plant in Cangzhou, China. |
| Dec. 2017 | Established a production plant in India, Mobis India Module Private Limited |
| Nov. 2018 | The Company established Mobis Hungary Kft. in Hungary. |
| Jan. 2020 | The Company established Mobis US Alabama, LLC. |
| Dec. 2020 | The Company acquired semiconductor division of Hyundai Autoever Corp. |
| May 2021 | Acquired HL Green Power Co. |
| Oct. 2022 | Established MOTRAS and UNITUS, subsidiaries specializing in module and component production, respectively. |
Supplemental Information 1
The Hyundai Motor Group's Ratio of Shareholding

(

As of Dec. 31, 2022

)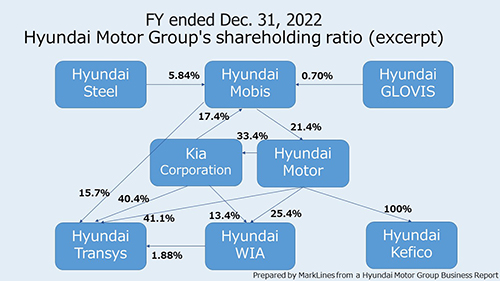 | | |
| --- | --- |
| The Hyundai Motor Group's Ratio of Shareholding in Automotive Companies | (As of Dec. 31, 2022) |
Name of group company

Company in which the company holds shares

Hyundai
Motor
Kia
Corporation
Hyundai
Mobis
Hyundai
Transys
Hyundai
WIA

Hyundai Kefico

Hyundai Motor
-
33.88%
-
41.13%
25.35%
100.00%
Kia Corporation
-
-
17.24%
40.43%
13.44%
-
Hyundai Mobis
21.43%
-
-
15.74%
-
-
Hyundai WIA
-
-
-
1.88%
-
-
Hyundai Steel
-
-
5.84%
-
-
-
Hyundai GLOVIS
-
-
0.70%
-
-
-
>>>Business Report FY2006
>>>Business Report FY2007
>>>Business Report FY2008
>>>Business Report FY2009
>>>Business Report FY2010
>>>Business Report FY2011
>>>Business Report FY2012
>>>Business Report FY2013
>>>Business Report FY2014
>>>Business Report FY2015
>>>Business Report FY2016
>>>Business Report FY2017
>>>Business Report FY2018
>>>Business Report FY2019
>>>Business Report FY2020
>>>Business Report FY2021

Archives of Past Exhibits

Note: A figure in brackets ( ) indicates a loss