Hirschvogel Automotive Group (Hirschvogel Holding GmbH) Business Report FY ended Dec. 2014
Hirschvogel Automotive Group (Hirschvogel Holding GmbH) Business Report FY ended Dec. 2014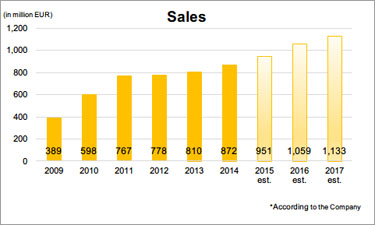 Financial Overview

-Sales in 2014 reached EUR 872 million, an increase of 7.7 percent year-on-year. Sales have continued to rise after 2009, when sales dropped to EUR 389 million due to the impact of the global financial crisis. The Company expects sales to keep growing to exceed EUR 1,000 million in 2016.


Contract

-The Company has received the first orders for its H2 steel called 16MnCr5mod, a material that was jointly developed with steel manufacturer GMH. Through an air cooling process, H2 steel has strength and toughness comparable to steels formed by quenching and tempering, while still maintaining a low cost. The orders for the H2 steel consist of common rails for a diesel engine, and diesel fuel injectors. (From a press release on October 6, 2014)


Awards

-In 2014, the Company received the General Motors Supplier Quality Excellence Award. (From a press release on October 6, 2014)

-In May 2014, the Company won the Regional Supplier Award from Denso as one of its best suppliers in Europe. The Company provides rails and injectors for Denso Hungary.

-On November 2013, ZF awarded the Company the Global Supplier Award 2013 for its performance as a strategic and global supplier to ZF.

-In June 2013, the Company was awarded the Continental Supplier Award for its performance in the area of powertrains. The Company manufactures components such as injectors, pump cylinders, shafts, and pump housings for Continental.
R&D Structure

-The Hirschvogel Die Shop has been a member of the Aachener Werkzeugbau Akademie (WBA) since 2011. The WBA provides targeted research and training for its members in the die shop industry. The WBA also researches production technologies and organization methods in tool- and diemaking. Besides the Company, members include Audi, BMW, Daimler, VW, and ZF.


Product Development

New types of steel for structural components
-The Company, along with steel manufacturer GMH, developed a new type of steel for use in structural components such as common rails and wheel hubs. The bainitic steel, designated as H2, provides the mechanical properties of heat-treatable steels while achieving low processing costs through the process of material cooling from forging heat. Another steel, called H50, was developed through a similar process for induction-heated parts, which achieves a grain structure with a strength value of 900 and 1,100 MPa. (From a press release on April 23, 2014)

Wheel hub developed through new production process
-In March 2014, the Company developed a new type of wheel hub that is produced using a warm forging process. The advantages of which include:
As a fine-grained structure is generated, the austenitizing process becomes shorter;
Due to the better tolerances of warm forging compared to hot forging, machining allowances may be reduced and machining designed in a more cost-efficient way;
Investment in Germany

-A new production hall is expected to begin operations at the end of 2014 for Hirschvogel Umformtechnik GmbH, the Company's headquarters in Denklingen. The new production hall is approximately 10,000 square meters in size and will enable increased production capacity and improved material flow.

-As of August 2014, Hirschvogel Aluminium GmbH, a subsidiary of the Company, is in the process of developing a new press line for aluminum forging as well as building a new storage hall.

-Hirschvogel Komponenten GmbH, a subsidiary of the Company in Schongau, recently completed an expansion to its production capacity in response to increased demand. (From the Company's August 2014 newsletter)

-Hirschvogel Eisenach GmbH, a subsidiary of the Company in Marksuhl, Germany, recently installed a new 35,000 kN hot forging press for steel parts. (From the Company's August 2014 newsletter)


Investment outside Germany


-As of August 2014, one of the Company's subsidiaries, Hirschvogel Incorporated in Columbus, Ohio, US, is setting up a new 25,000 kN warm forging press.


-The Company's subsidiary in Gliwice, Poland, Hirschvogel Automotive Components Poland Sp. z.o.o., has recently completed a set of expansions to its plant. These expansions include a new 4,000 kN warm forging press line, a new laboratory, and an area for final inspection and material flow optimizations. (From the Company's August 2014 newsletter)


-Hirschvogel Components India Pvt. Ltd., a subsidiary of the Company, has begun construction on its new facility in Sanaswadi, India. The new plant will span an area of approximately 42,000 square meters, 9,000 of which will be used for production. The Sanaswadi plant will produce forged and machined parts such as transmission shafts and constant-velocity joints. Operations at the Sanaswadi plant are scheduled to begin in December 2015. The new facility will replace the existing plant at Ranjangaon. (From a press release on July 17, 2014)


-The Company's Chinese subsidiary, Hirschvogel Automotive Components (Pinghu) Co., Ltd., has been undergoing a series of expansions in recent years to expand its production capacity. In 2013, the company completed construction on a new forging hall and installed several new production lines. These lines included a 4,000 kN warm forging press line and a 20,000 kN mechanical cold forging press line. In 2014, the Pinghu plant installed a 31,500 kN press line for aluminum wheel carriers and a 40,000 kN automated line for aluminum steering knuckles. At the end of 2014, the Company plans to hold a groundbreaking ceremony for the construction of a new 5,500-square-meter machining hall.
Data
| | | | |
| --- | --- | --- | --- |
| | Dec. 2014 | Dec. 2013 | Dec. 2012 |
| Germany | 3,142 | N/A | N/A |
| Poland | 107 | N/A | N/A |
| U.S. | 330 | N/A | N/A |
| India | 211 | N/A | N/A |
| China | 399 | N/A | N/A |
| Total | 4,189 | 4,000 | 3,500 |
| | | | |
| --- | --- | --- | --- |
| | FY ended Dec. 31, 2014 | FY ended Dec. 31, 2013 | FY ended Dec. 31, 2012 |
| Net Sales | 872 | 810 | 778 |
| | |
| --- | --- |
| Sales Ratio by Geographic Area | (%) |
FY ending Dec. 31, 2017
(Company's estimate)
FY ended Dec. 31, 2014
Europe
79
85
Asia
14
8
NAFTA
7
8
Total
100
100
| | |
| --- | --- |
| Sales Ratio by Product Line | (%) |
| | |
| --- | --- |
| | FY ended Dec. 31, 2014 |
| Transmission | 33 |
| Gas and Diesel injection | 23 |
| Powertrain | 19 |
| Chassis | 17 |
| Engine | 7 |
| Other | 1 |
| Total | 100 |