Arconic Inc. (Formerly Value-Add business units of Alcoa, Inc.) Business Report FY ended Dec. 2015
Arconic Inc. (Formerly Value-Add business units of Alcoa, Inc.) Business Report FY ended Dec. 2015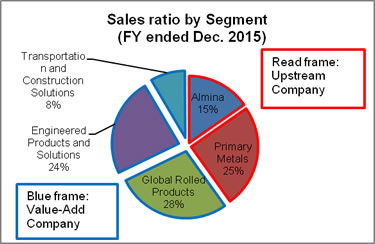 Restructuring
-The separation of Alcoa Inc. into two standalone companies, Arconic Inc. and Alcoa Corporation, took effect on November 1. Arconic Inc., trading on the New York Stock Exchange as "ARNC", has launched as a leader in multi-materials innovation, precision engineering and advanced manufacturing. In the split, Arconic retained a 19.9% interest in Alcoa Corporation. In 2015, the businesses that today comprise Arconic recorded revenues of approximately USD 12.5 billion. Of this, approximately 65% was derived from aerospace and automotive segments and the remaining 35% was from industrial and building products. In the North American automotive market, Arconic invented the aluminum bonding process in response to market demand for light-weighting. The company expects its North American automotive sheet revenues to grow six-fold, from USD 229 million in 2013 to USD 1.3 billion in 2018. In North America, 96% of the company's automotive revenues come from products where it is ranked first or second in its market. Within the aerospace segment, which accounts for approximately 40% of Arconic's total revenues, the company manufactures engineered products and solutions for airframe structures and aero engines. The company is a leader in structural parts for both metallic and carbon fiber reinforced plastic (CFRP) aircraft. (From press release on November 1, 2016)

-In September 2015, the Company has announced its plan to separate into two independent, publicly-traded companies. The Upstream Company will comprise five strong business units that today make up Global Primary Products - Bauxite, Alumina, Aluminum, Casting and Energy. The company's footprint will include 64 facilities worldwide, and approximately 17,000 employees. Revenues for the 12 months through June 30, 2015 totaled USD 13.2 billion. The Value-Add Company will include Global Rolled Products, Engineered Products and Solutions, and Transportation and Construction Solutions. The Value-Add Company will have 157 globally diverse operating locations and approximately 43,000 employees. Pro-forma revenues for the company for the 12 months through June 30, 2015 totaled USD 14.5 billion. The transaction is expected to be completed in the second half of 2016. (From a press release on September 28, 2015)


Business Partnership
-In September 2015, the Company and Ford Motor Company are collaborating to produce next-generation automotive aluminum alloys that are more formable and design-friendly. Ford will use Alcoa's Micromill material in multiple components on the 2016 "F-150" - becoming the first automaker to use the advanced automotive aluminum commercially. Ford will begin using Micromill material in 2016 "F-150" production in the fourth quarter of 2015, and plans to increase its use over the next several years on a range of vehicle components and future platforms. It is projected Ford's use of Micromill material on its vehicles will more than double from 2016 to 2017. (From a press release on September 14, 2015)
>>>Explanation of Manufacturing technology of aluminum sheet "Micromill"


Reduction of Smelting and Refining capacity

-In March 2015, the Company said over the next twelve months it will review 500,000 metric tons of smelting capacity and 2.8 million metric tons of refining capacity for possible curtailment or divestiture. The potential actions could affect 14% of the Company's global smelting capacity and 16% of its global refining capacity. Currently, the Company has 19%, or 665,000 metric tons, of smelting capacity and 7%, or 1.2 million metric tons, of its global refining capacity idle. In its Primary Metals business, the Company has curtailed, closed or sold 1.3 million metric tons, or 31%, of its global smelting capacity since 2007. (From a press release on March 6, 2015)

*Smelting = Process of taking out the metal by reduction of ore
*Refining = Process of removing impurities from smelted metal to enhance the purity

<Suriname, South America>
-In September 2015, the Company announced the curtailment of Suralco's remaining 887,000 metric tons per year of alumina refining capacity as discussions continue with the Government of Suriname on preserving the country's bauxite and refining industry. Discussions between the Company and the Government of Suriname began in October 2014 to reach a joint solution for Suralco that has faced expiring bauxite reserves and lacks a long-term energy solution. The refinery is scheduled to be idled by November 30, 2015. Suralco is part of the Alcoa World Alumina and Chemicals group of companies owned 60% by Alcoa Inc., and 40% by Alumina Limited. (From a press release on September 14, 2015)


-The Company announced that it will permanently close its Pocos de Caldas primary aluminum smelter in Brazil on June 30, 2015. The smelter has been curtailed since May 2014 and the underlying market conditions that led to the curtailment have not improved. Once the Pocos smelter is closed, the Company's total global smelting capacity will be reduced by 96,000 metric tons, to 3.4 million metric tons. The Pocos mine, refinery, aluminum powder plant and casthouse will continue normal operations. (From a press release on June 30, 2015)

-In March 2015, the Company announced that it will curtail the remaining 74,000 metric tons of smelting capacity at its Sao Luis (Alumar) facility in Brazil. This curtailment adds to the 85,000 metric tons of capacity idled at Sao Luis in May 2014 and the 12,000 metric tons curtailed in October 2014. The curtailment is expected to be complete by April 15, 2015. Once the Sao Luis facility is curtailed, the Comopany will have approximately 740,000 metric tons, or 21%, of its smelting capacity offline. (From a press release on March 30, 2015)


Contracts
-Ford "F-150" 2015 model adopts the Company's military-grade aluminum, and 700 pounds (ca. 318Kg) is shed.

-Tesla "Model S" launched in 2014 adopts the Company's aluminum-intensive design. Roughly 33% over steel, or more than 200 pounds (ca. 90.7Kg) is shed.

-Jaguar Land Rover "Range Rover" 2014 is the first all-aluminum SUV. It has 39% lighter body than steel.

-Chevrolet "Corvette Stingray" 2014 applies aluminum frame, and it's 100 pounds (ca. 45.4Kg) lighter than prior model while improving stiffness by 57%.
| | |
| --- | --- |
| R&D Expenditure | (in million USD) |
| | | | |
| --- | --- | --- | --- |
| | FY ended Dec. 31, 2015 | FY ended Dec. 31, 2014 | FY ended Dec. 31, 2013 |
| Total | 238 | 218 | 192 |

-The increase in 2015 as compared to 2014 was mainly driven by additional spending related to the upgrade of a Micromill in San Antonio, TX, U.S. which was completed during 2015 and began production of automotive sheet on a limited basis, for the Global Rolled Products segment and additive manufacturing for 3-D printing.


R&D Facilities

-The Company is expanding its R&D center in Pennsylvania, U.S. to accelerate the development of advanced 3D-printing materials and processes. The Company will produce materials designed specifically for a range of additive technologies to meet increasing demand for complex, high-performance 3D-printed parts for aerospace and other high-growth markets such as automotive, medical and building and construction. The USD 60 million expansion is under construction at the Alcoa Technical Center, the world's largest light metals research center near Pittsburgh, Pennsylvania. Construction of the new facility is expected to be completed in the first quarter of 2016. The project will create more than 100 full-time positions by 2017. The Company has unveiled its Ampliforge process, a technique combining advanced materials, designs and additive and traditional manufacturing processes. Using the Ampliforge process, the Company designs and 3D-prints a near complete part, then treats it using a traditional manufacturing process, such as forging. Alcoa is piloting the technique in Pittsburgh and Cleveland (Ohio). (From a press release on September 3, 2015)


Product Development
Manufacturing technology of aluminum sheet "Micromill"
-Alcoa's Micromill technology produces an aluminum alloy that is 40% more formable than today's automotive aluminum. The increased formability of Micromill aluminum makes it easier to shape into intricate forms, such as the inside panels of automobile doors and external fenders. Ford will use Alcoa's Micromill material in multiple components on the 2016 "F-150". (From a press release on September 14, 2015)

-The Micromill process dramatically changes the microstructure of the metal, allowing the production of an aluminum alloy for automotive applications that has 40% greater formability and 30% greater strength than the incumbent aluminum used today while meeting stringent automotive surface quality requirements. Additionally, automotive parts made with Micromill material will be twice as formable and at least 30% lighter than parts made from high strength steel. The Micromill alloy has formability characteristics comparable to mild steels. The Company has secured a strategic development customer, and from its pilot Micromill facility in San Antonio, Texas, USA, has also conducted successful customer trials. (From a press release on December 4, 2014)

Bonding system of aluminum
-In July 2014, the Company announced that R&D Magazine has named Alcoa 951 — an enabler for adhesive bonding of aluminum-intensive vehicles (AIVs) — an R&D 100 Award winner. The Alcoa 951 pretreatment bonding technology is up to nine times more durable than the competition. Today, the Compay's plant in Davenport, Iowa, has an automotive treatment line that applies Alcoa 951 to the aluminum sheet before it is shipped to customers. (From a press release on July 14, 2014)
| | |
| --- | --- |
| Capital Expenditure | (in million USD) |
| | | | |
| --- | --- | --- | --- |
| | FY ended Dec. 31, 2015 | FY ended Dec. 31, 2014 | FY ended Dec. 31, 2013 |
| Total | 1,180 | 1,219 | 1,193 |
Investments in USA
-In September 2015, the Company announced that it has completed an expansion at its Tennessee facility dedicated to supplying aluminum sheet to the automotive industry. The plant will provide aluminum sheet to automakers that include Ford Motor Company, Fiat Chrysler Automobiles and General Motors. The expansion created approximately 200 full-time jobs. The USD 300 million project in Tennessee - which began customer shipments earlier this month - is the Company's second major automotive expansion in North America backed by long-term customer contracts. The first, in Davenport, Iowa, reported record volume of automotive sheet shipments in the second quarter of 2015, up approximately 200% from the second quarter 2014. (From a press release on September 24, 2015)


Investments Outside USA

-In January 2015, the Company announced that it has opened its expanded wheels manufacturing plant in Hungary. The larger facility doubles the Company's capacity to produce its Dura-Bright EVO surface-treated wheels compared to 2014 production levels. The expansion will enable the Company to meet growing European demand for its lightweight, durable, low-maintenance aluminum truck wheels. Construction of the USD 13 million (HUF 2.8 Billion) expansion was completed on schedule and will create 35 new permanent jobs in Hungary once the facility reaches full capacity. Demonstrating its support for the project, the Hungarian Government agreed to contribute USD 4.4 million (HUF 1 billion) through its Regional Operative Program, a government-led economic development initiative. (From a press release on January 30, 2015)