Calsonic Kansei Corporation
Company Profile
Business Overview
-A Nissan-affiliated parts manufacturer. In the fiscal year that ended March 2016, 84.1% of the Company's sales are with the Nissan Group.
-The Company is mainly engaged in developing and manufacturing heat-exchangers, exhaust systems, climate-control systems, electronic/electric parts, interior parts, and modules.


Mid-term management plan
-In June 2011 the Company announced its mid-term management plan called CK GX4 T10. The plan, which is being implemented through fiscal year 2016, is based on four "Gs" and achieving three "T10s", which are objectives for strategic growth.
Four "Gs": Green・Growth・Global・Great Company
Achieving three "T10s"
1) Creating 10 new, world-leading, environmentally friendly products (As of FY2014, it had achieved creating and launching seven. Achieved two in FY2015. )
>>>Link to "Product Development" for details
2) Becoming one of the top 10 global companies (Achieving sales over JPY 1 trillion in FY 2016 → Achieved sales over JPY 1 trillion in FY2015)
3) Becoming one of the 10 most profitable companies in the world (Achieving a profit margin around 7% in FY2016)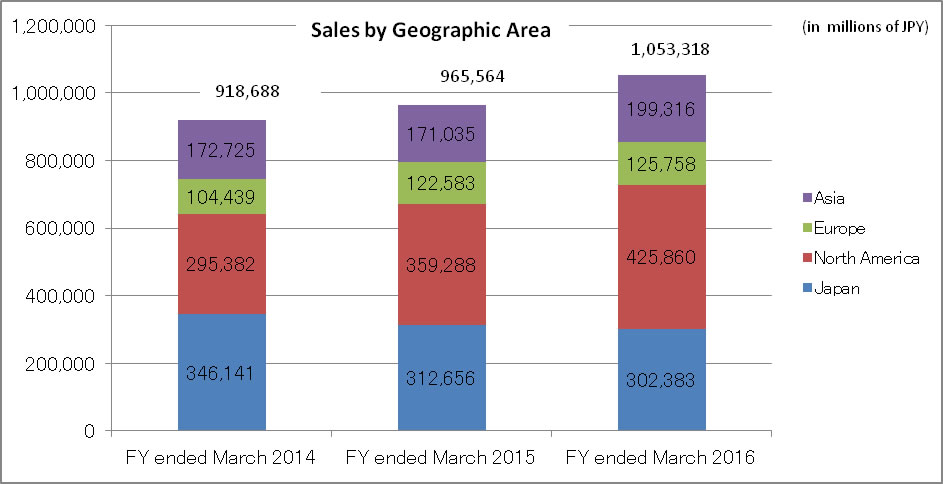 Business Highlights
-The Company's sales in the fiscal year ended March 2016 increased by JPY 87.7billin (9.1%) over the previous year to JPY 1,053.3 billion, due to gain from favorable currency translation and increasing of the production volume of the major customers.

-From FY2013 to FY2015, the Company updated for 3 consecutive years record high in sales and operating income.


Shareholders
| | |
| --- | --- |
| -Listed on the first section of the Tokyo Stock Exchange. | (As of Mar. 31, 2016) |
Name or company name
Investment ratio (%)
Nissan Motor Co., Ltd.
40.7
Japan Trustee Services Bank, Ltd. (Trust Account)
5.0
The Master Trust Bank of Japan, Ltd (Trust Account)
3.5
National Mutual Insurance Federation of Agricultural Cooperatives
2.7
Mizuho Trust & Banking Co., Ltd.
(Trust & Custody Services Bank Ltd.)
2.0
Nippon Life Insurance Company
2.0
Japan Trustee Services Bank, Ltd. (Trust Account 9)
1.8
BBH Boston Custodian for Japan Value Equity Concentrated Fund A Series of 620135
1.1
Chase Manhattan Bank GTS Clients Account Escrow
1.1
CBNY-Government of Norway
1.1
Total
61.1

-It has been learned that Nissan Motor Co., Ltd. is considering selling all the shares it holds in auto parts supplier Calsonic Kansei Corporation. On May 24, Nissan said, "Calsonic Kansei is one of the most important partners for the Renault Nissan alliance, and we are considering various options that would boost its competitiveness". Nissan is the largest shareholder of the Company with over 40% of shares, which are worth approximately JPY 100 billion (based on the closing stock price on May 23). Nissan is likely to allocate the funds from the transfer for its future strategic investment projects. (From an article in the Nikkan Jidosha Shimbun on May 25, 2016)
Products
Cockpit Modules / Interior Products
-Instrument clusters
-HVAC units
-Electronic components; centralized switches
-Instrument panels
-Body control modules (BCM)
-Main harnesses

Climate Control Systems
-Air conditioning units
-Intake blower units
-Compressors
-Condensers
-Receiver Driers
-Pipes

Compressors
-Variable displacement compressors
-Rotary compressor series

Heat Exchange Systems
-Radiators
-Condensers
-Motor fans
-Charge air coolers (Inter coolers)
-EGR coolers for gasoline engines
-Radiator core support
-Built-in oil coolers / warmers
-Engine fan shroud
-SLIM COOL (Single Layer Integrated Cooling Module)

Electronics Products
-Body Electronics
BCM (Body Control Module)
ADPS (Auto Driving Position System)
Keyless Entry
Airbag control units
Occupant Detection System
-Human Machine Interface Components
Meter clusters
I-CON; intelligent control display
Controls; integrated switches
-Power Electronics Components
LBC; Lithium Ion Battery Controller
Inverters for EVs
LIN communication motor actuators for HVAC
FCM (Fan control modules)
Blower motors for HVAC
Exhaust Systems
-HOT END
Exhaust manifold converters
Under floor converters
-COLD END
Flexible tubes
Mufflers
Control valves
-Others
Diesel Emission Control Device
History
| | |
| --- | --- |
| Aug. 1938 | Founded as Nippon Radiator Manufacturing Co., in Tameike, Akasaka, Minato-ku, Tokyo with capital of 20 thousand yen. |
| Dec. 1948 | Transferred headquarters to Minamidai, Nakano-ku, Tokyo. |
| Dec. 1952 | Renamed as Nippon Radiator Co., |
| Jun. 1954 | Became a sole supplier of radiators to Nissan Motor. |
| Feb. 1962 | Listed on the Tokyo Stock Exchange. |
| Jun. 1962 | Established the Oppama Plant in Natsushima-cho, Yokosuka, Kanagawa Pref. |
| Jun. 1966 | Established the Atsugi Plant in Aikawa-cho, Aikou-gun, Kanagawa Pref. (in the Kanagawa Pref. Inland Industrial Park) |
| Jul. 1969 | Established the Sano Plant in Sakae-cho, Sano, Tochigi Pref. (in the Sano Industrial Park) |
| Oct. 1972 | Opened a American representative office in Los Angeles, California. |
| May 1974 | Established the Gunma Plant in Oura-machi, Oura-gun, Gunma Pref. |
| Jun. 1976 | Established Calsonic Incorporated in Los Angeles, California (later renamed Calsonic Climate Control Corp in Jan. 1988) |
| Feb. 1977 | Established the Kyushu Plant in Nakatushi, Oita Pref. (currently the Kyushu Nakatushi Plant) |
| Apr. 1983 | Established Calsonic Manufacturing in Tennessee, US. |
| Apr. 1984 | Established NICHIRA International in Victoria, Australia (current company name is Calsonic Australia) |
| Sep. 1984 | Established TI-NIHON in the Netherlands (current company name is Calsonic Automotive Products (NL)). |
| Feb. 1986 | Established Calsonic International in Los Angeles, California as a regional headquarters for the Company's American subsidiaries. |
| Mar. 1986 | Established TI-NIHON UK (current company name is Calsonic Automotive Products) in the U.K. |
| May 1986 | Established Calsonic Harrison in Kiyohara Industrial Park, Utsunomiya-city, Tochigi Pref., as a joint venture with General Motors |
| Jul. 1988 | Established CEI in Tennessee, USA. |
| Aug. 1988 | Renamed as Calsonic Corporation |
| Jun. 1989 | Acquired Sranessry Radiator Group (located in UK), and established Calsonic International (UK) (current company name is Calsonic International (Europe)) as a regional headquarters for the Company's European subsidiaries. |
| Apr. 1991 | Established Crimatisadoress Calsonic in Spain and Calsonic Korea Inc. in Korea. |
| Jun. 1991 | Built a main building for development in Sakae-cho, Sano, Tochigi Pref. and renamed the former Air Conditioning Technology Center as the Technical Center. |
| Sep. 1991 | Established Calsonic Oita Co., Ltd. in Usashi, Oita Pref. |
| Oct. 1995 | Merged Calsonic Manufacturing and Calsonic Climate Control, and named the company North America Calsonic. |
| Jan. 1996 | Founded CESKOR Inc. in South Korea. |
| Oct. 1997 | All facilities obtained ISO9001 certificate simultaneously. In addition, QS9000, a quality standard set by a U.S. automobile manufacturer, is expected to be obtained by the entire organization. |
| Feb. 1996 | Constructed Biwako plant in Ishibe-cho, Koga-gun, Shiga Pref. |
| Oct. 1996 | Established Calsonic Products Inc. by merging Calsonic Twintee Corp., Calsonic Nitto Corp. and Calsonic Kowa Corp. |
| May 1997 | Founded Calsonic Mexicana S.A.de C.V. |
| Nov. 1999 | Signed a merger contract with Kansei Corp. (Date of merger: April 1, 2000) |
| Jan. 2000 | Opened a Paris office to respond orders from Renault. Reorganized the company's part-based sections into module-based sections. |
| Mar. 2000 | Closed its Bewako Plant and integrated exhaust products manufacturing sites at its Gunma Plant. Also reduced no. of production line from 4 to 2. |
| Apr. 2000 | Renamed as Calsonic Kansei after the merger with Kansei Corp. |
| Mar. 2001 | Established Calsonickansei North America in the U.S. as its North American headquarters, and Calsonic Mexicana S.A.de C.V. in Mexico as its Mexican headquarters. |
| Apr. 2001 | Established a wholly-owned subsidiary, Calsonic Kansei (Thailand) Co., Ltd. in Thailand. |
| Jul. 2002 | Handed over a portion of its wire harness business operations. |
| Jul. 2002 | The Kyushu Plant was first acquired by an existing company, Calsonic Oita Co., Ltd., which was then spun off and adopted the name CKK Corporation. |
| Jul. 2002 | Established Calsonic Kansei (Wuxi) Corporation in China. |
| Jul. 2003 | Established a joint venture, Calsonic Compressor in (Narashino City, Chiba Prefecture), with Seiko Instruments Inc. |
| Oct. 2003 | Spun off its Nihonmatsu plant and established CFK Corporation. |
| May 2004 | Made Tokyo Radiator MFG Co., Ltd. as its consolidated subsidiary by purchasing Tokyo Radiator's new shares allocated to a third party and increasing the shareholding ratio to 40.7%. |
| Jan. 2005 | Became Nissan Motor's consolidated subsidiary as Nissan purchased the Company's new shares allocated to a third party and increased the shareholding ratio to 41.9%. |
| Jul. 2005 | Established Calsonic Kansei (China) Holding Company in Shanghai as the group's headquarters in China. |
| Apr. 2006 | Calsonic North America, Inc. and Kantus Corporation merged, becoming Calsonic North America, Inc., the surviving entity. |
| Jun. 2006 | Established Calsonic Kansei Romania S.R.L. in Romania. |
| Jan. 2007 | Kantus Mexicana, Calsonic Mexico, and Calsonic Kansei Mexicana merged, becoming Calsonic Kansei Mexicana, S.A. de C.V. |
| Apr. 2007 | Calsonic Kansei North America, Inc. and Calsonic North America, Inc. merged, becoming Calsonic Kansei North America, Inc. |
| May 2007 | Constructed a new headquarters and a research and development center in Saitama City, Saitama prefecture and moved its headquarters and consolidated development and design departments there. |
| Jul. 2007 | Acquired additional shares of Magna Kansei Limited, making it a subsidiary of which its results are included in the Company's consolidated financial statements. The company is currently called Calsonic Kansei Sunderland Limited. |
| Dec. 2007 | Merged Calsonic Compressor Inc. |
| Sept. 2010 | Ceased production at the Tochigi Plant. |
| May 2012 | Established Calsonic Kansei do Brasil Industria e Comercio Ltda. in Brazil. |
| May 2012 | Established Calsonic Kansei RUS LLC in Russia. |
| Dec. 2013 | Acquired additional shares in Siam Calsonic Co., Ltd. in Thailand. (This company is included in the Company's consolidated financial statements.) |
Supplemental Information 1