Hitachi Astemo, Ltd. (Formerly Hitachi Automotive Systems, Ltd.)
Company Profile
Business Overview
- Formerly operated as Hitachi Automotive Systems that functioned as the automotive business of Hitachi, Ltd., it was established in January 2021 in a merger among Honda Group suppliers Keihin, Showa, and Nissin Kogyo 
The Company operates five business segments: powertrain & safety systems, chassis, motorcycle, software, and aftermarket.
| | |
| --- | --- |
| Featured report | |
| ReVision Connected Car & UX Summit 2022:Hitachi Presentations | (2022/11/21) |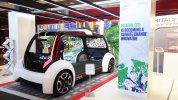 Shareholders
| | |
| --- | --- |
| -Unlisted Company | (As of Mar. 31, 2023) |
| | |
| --- | --- |
| Company name | Investment ratio (%) |
| Hitachi, Ltd. | 66.6 |
| Honda Motor Co., Ltd. | 33.4 |
Change in Capital Structure
-The Company announced that it will change its capital structure in September 2023. JICC-01 Limited Liability Partnership for Investment, which is under JIC Capital, will invest new capital. After the investment is made, Hitachi Ltd., Honda Motor Co., Ltd., and JICC-01 will own a 40%, 40%, and 20% shareholding, respectively. The purpose is for current shareholders to have an equal footing in terms of sharing in Hitachi Astemo's growth based on JICC's wealth of investment history and information network.
Products
Powertrain Systems
Powertrain systems (Electric)
-Motor for EV
-Inverter for EV
-Battery management system
Engine management systems
-Engine control unit for DI
-Engine control unit for PFI
-Control unit for CVT
-On mission control unit for CVT
-Control unit for four-speed automatic transmission
-Transmission control module)
Fuel systems
-High-pressure fuel pumps
-Injector for DI
-Injector for PFI
Intake / Exhaust systems
-Multi function mass air flow sensors
-Intake pressure control valve
-Airflow sensors
-Differential pressure sensors
-Hall effect type revolution sensors
-Pressure sensors
-Electronic throttle bodies
-Electronic throttle bodies for diesel engine
-Intake manifold
Engine components and subsystems
-Piston for DI
-Piston for PFI
-Cooling channel piston
-Valve timing control systems
-VTC solenoid valves
-Electromotive VTC
-Multi-waterways control valve
-Variable valve event and lift
-VCR Actuator
-Variable displacement vane pumps; front cover integrated type
-Variable displacement vane pump (Chain Drive Type)
-Water pump (single bearing type)
-Water pumps
-MCV (Multi-waterway control valve)
-Balancers
Oil pan & oil pump integrated type
VDVP integrated type
-Chain case modules; oil pump & water pump integrated type
-Water pumps with housing
Ignition systems
-Plug top coil
Electrical equipment systems
-Planetary gear reduction starters
-Twin axial gear reduction starters
Chassis Systems
Suspension systems
-Shock absorbers
-Suspension struts
-Suspension units
-Mono tube shock absorbers
-Aluminum shock absorbers
-Frequency reactive shock absorbers
-Frequency reactive dampers
-Hydraulic type height adjustment suspension systems
-Air suspension struts
-Semi-active suspension systems
-Hydraulic cylinder for controlling vehicle roll
-Self levelizers
-Air levelizers
-Air compressors for height adjustment
-Control unit for height adjustment
Steering systems
-Electric power steering system (belt drive rack assist type)
-Electric power steering system (pinion assist type)
-Manual steering gear for column assist EPS
-Rack & pinion power steering gear (speed sensitive type)
-Electric power steering control unit (control assist type)
-Power steering pumps (variable displacement type)
-Variable displacement power steering pumps for heavy-duty truck
-Multiuse EPS
Drive systems
-Impact absorbable CVJ type
ーDirect Connection Interface (DCI) Joint Type
-Rubber coupling lobro joint type
-CFRP tube type
ーAluminum Tube Type
-1piece type
-2,3 piece type
-Differential carrier assemblies
-Rubber coupling type
-Hypoid gear set
-Impact absorbable CVJ type (Propeller shaft)
-Differential assembly
-Pinion shaft
Brake systems
-Disc brake calipers
-Electric parking brakes; disc type
-APB-Di: Automated Parking Brake - Drum integrated
-Electric servo brake
-Brake master cylinders
-Front disc brake
-Rear disc brake
-Drum brake
-Aluminum knuckles
-Vacuum boosters
-Electrically-driven intelligent brakes; e-ACT
-Anti-lock brake systems
-Electronic stability controls
Control units for other purposes
-Electric 4WD control units
ADAS
-Stereo cameras
-Millimeter-wave radar (mid-range)
-Advanced driver assistance system control units
-AD ECU (prototype)
-Central gateway
-Map positioning unit
-OTA control unit
-Over-the Air (OTA) technology to update control software
History
1930
Began domestic production of electrical components for automobiles.
1936
Sample electrical components delivered to Nissan Motor Co., Ltd. and Toyota Motor Corporation
1938
Obtained stocks of Tokyo Gas Electric Engineering Co.,Ltd., and Tokico became the affiliated company.
1964
Automotive Device Business Division established.
1968
New plant (Sawa Plant) founded
1985
Hitachi Automotive Products (USA), Inc. automotive parts plant established in Kentucky, USA.
1986
Hitachi Farmington Hills Technical Center established in Michigan, USA
1991
Dedicated vehicle-mounted information systems manufacturer Xanavi Informatics Corporation established as a joint venture with Nissan Motor Co.
1994
Siam Hitachi Automotive Parts established in Thailand through a joint venture with Siam Auto Parts.
1995
Established Changsha Hitachi Automotive Products, Ltd. (automotive products manufacturing company) in Changsha, Hunan, China.
1997
Automotive parts production company Hitachi Automotive Products Europe established in Bolton, UK.
1999
Capitalized 16.7% stock of Unisia Jecs Corporation to solidify cooperation and collaborative development of ITS drive control technology.
The Automotive System Division was renamed the Automotive System Group.
2000
HCX established as joint venture with Clarion Co., Ltd. and Xanavi Informatics Corporation.
Made an additional investment in Xanavi Informatics Corporation, turning it into a subsidiary.
2002
Hitachi Automotive Products Suzhou Ltd. established in Suzhou, China.
Through additional investment in Unisia Jecs Co. turns it into subsidiary.
2003
Name changed to Automotive Systems Group
Hitachi Automotive Systems Europe GmbH established in Sachsen, Germany to handle mechatronics products.
Hitachi Automotive Systems GmbH establishes Sachsen plant in Sachsen, Germany.
Hitachi Automotive Products Shanghai Ltd. established in Shanghai, China.
2004
New company Hitachi Vehicle Energy Ltd. founded to market, develop, and manufacture lithium-ion batteries for hybrid cars and other applications, as a joint venture with Shin-Kobe Electric Machinery Co., Ltd. and Hitachi Maxell Ltd.
Hitachi Automotive Products, Europe Ltd., was renamed Hitachi Automotive Systems Europe, Ltd.
Joint venture between Hitachi Ltd., Hitachi Unisia Ltd., and Tokico Ltd.
Acquired 14.52% stock of Clarion Co., Ltd., resulting in Hitachi being its largest stockholder.
Commenced the operation of Guangzhou Hitachi Unisia Automotive Parts, Co., Ltd, in China.
Established Unisia Steering Systems, Inc., in Georgia, U.S.A.
2005
Concluded a comprehensive business ties agreement regarding CIS business with Clarion Co., Ltd.
Established CIS Division as a business department of in-vehicle information terminal.
Completed the construction of Hokkaido Tokachi test courses.
2006
Acquired 63.3% stock of Clarion Co., Ltd. through a takeover bid, making it a consolidated subsidiary.
Transferred the stock of Xanavi Informatics Corporation to Clarion Co., Ltd., resulting in being a wholly owned subsidiary of Clarion.
Unisia North America, Inc. was merged with Hitachi Automotive Products (USA), Inc.
2007
HCX Corporation was merged with Clarion Group as an effort to restructure and strengthen subsidiaries toward reinforcement the business of In-vehicle information systems.
Established JECS, Ltd.
2008
Unisia JKC Steering System Corporation and Niigata Technos Co., Ltd. were consolidated.
July, 2009
Hitachi Ltd. spun off Hitachi Automotive Systems, Ltd.
2011
Established Hitachi Automotive Systems (China) Ltd. as a regional headquarter for the Automotive Systems Business in China.
2012
Established Hitachi Highly Automotive Systems (Shanghai) Ltd. in Shanghai, China.
Established Hitachi Automotive Systems (Guangzhou) Ltd. in Guangzhou, China.
Established Hitachi Automotive Systems (India) Private Limited in India.
Established Hitachi Automotive Systems Queretaro, S.A. de C.V. in Queretaro, Mexico.
2014
Established PT Hitachi Automotive Systems Indonesia in the Republic of Indonesia.
2015
Hitachi Automotive Systems Queretaro, S.A. de C.V. was integrated into Hitachi Automotive Systems Mexico S.A. de C.V.
Merged Hitachi Automotive Systems Steering, Ltd. and Hitachi Automotive Systems Kyushu, Ltd.
2017
Established Hitachi Automotive Electric Motor Systems, Ltd. with Honda Motor Co., Ltd.
Established Hitachi Automotive Electric Motor Systems (Guangzhou), Ltd., in Guangzhou City, Guangdong Province, China.
Mar. 2019
Parent company Hitachi Ltd. sold its entire 63.8% equity shareholding in Clarion to Faurecia.

Oct. 2019
Acquired

Chassis Brakes International.

Apr. 2020
Acquired seneos GmbH, a systems-engineering company based in Germany.
Aug. 2020
Established Hitachi Automotive Electric Motor Systems America, Inc. to manufacture motors for electric vehicles.
Jan. 2021
Hitachi Astemo was formed from a merger of Hitachi Automotive Systems Co., Ltd.; Keihin Corp.; Showa Corp.; and Nisshin Kogyo Co., Ltd.
Supplemental Information 1