Company Profile
Business Overview
-On July 1, 2018, the Company will change its name from Asahi Glass Company, Limited, to AGC Inc.
-The Company is a general manufacturer, especially of glass. It adopts a company system operating in the following four in-house companies: Building & Industrial Glass, Automotive, Electronics and Chemicals. The building & Industrial Glass and Automotive segments are reported under Glass because they have common assets and liabilities.
-Reportable segments consist of the following three: Glass, Electronics and Chemicals. In FY2020, the sales of Automotive Glass accounted for 22.9% of total company sales.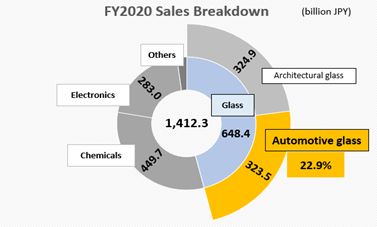 -Based on the Company's rough estimate made in 2017, it has the largest share of the automotive glass market worldwide.
Shareholders
| | |
| --- | --- |
| -Listed on the First section of the Tokyo Stock Exchange. | (As of Dec. 31, 2020) |
| | |
| --- | --- |
| Name or Company Name | Investment Ratio (%) |
| The Master Trust Bank of Japan, Ltd. (Trust Account) | 10.40 |
| Custody Bank of Japan, Ltd. (Trust Account) | 6.73 |
| Meiji Yasuda Life Insurance Co. | 4.34 |
| Barclays Securities Japan Limited | 2.74 |
| The Asahi Glass Foundation | 2.70 |
| Mitsubishi Estate Co., Ltd. | 2.05 |
| Asahi Glass Business Partner Shareholding Association | 2.03 |
| JPMorgan Securities Japan Co., Ltd. | 1.99 |
| SMBC Nikko Securities Inc. | 1.82 |
| Nippon Life Insurance Company | 1.66 |
| Total | 36.44 |
Products
Automotive glass
-Laminated glass
Laminated Acoustic Glass
Infra-red Cut Glass
Heated Wire Windshield
Heated Coated Windshield
Glass for head-up displays
Lightweight Glazing
Light Control Glass
-Tempered glass
99% UV Cut Glass in All Directions
Water Repellent Door Glass
-Integrated Glass Antennas
-Privacy glass
-Patterned Glazing
-Module assembly window
Encapsulation
Brightwork
Glass Applique
-Highly Insulating Glass
-Highly Resistant Glass Chemically Tempered
-Module Assembly Window
Glass Substrates for Displays
Electronic Materials
-High refractive index glass
-Antireflection coating
-Glass Frit, Glass Pastes and Low Temperature Hermetic Sealing Parts
-Polycarbonate sheet
-DOE/Diffuser
-Hollow polycarbonate
-Glass substrate for anodic bonding
-Glass Ceramics Substrate
-IR cut filter
-Aspherical Glass Lenses
-Aspherical Glass Molded Lenses (Chalcogenide Glass)
-Aspherical Glass Molded Lens
Chemicals
-Fuel cell related materials
-Refrigerant for automotive air conditioners
History
1907
Asahi Glass Co., Ltd. is established.
1909
Company started operation of Amagasaki Industries and started manufacturing of window glass.
1914
The Makiyama factory is set up.
1916
Starts manufacturing of fireproof brick.
1916
The Tsurumi factory is set up.
1917
Starts manufacturing soda ash.
1939
The Company acquired Showa Kagaku Kogyo Ltd., and set up the Ibo factory.
1942
The Company acquired Ohsaka Sarasiko Ltd., and set up the Yodogawa factory.
1944
The Company merged with Nihon Kasei Kogyo Ltd., and the Company name was changed to Mitsubishi Kasei Kogyo Ltd.
1950
Mitsubishi Kasei Kogyo Ltd. is divided into three companies due to the Law on Corporate Restructuring. The Company returns to its old name of ASAHI GLASS Co., Ltd. and restarts business.
The Company was listed on the Tokyo, Osaka, and Nagoya stock exchanges.
1954
The Company established Asahi Special Glass Ltd. to make glass valves for televisions.
1956
The Company jointly established the Asahi Fiber Glass Co., Ltd. with Owens Corning Fiber Glass Co. (US).
1956
The Company established Asahi Processing Glass Ltd. to make glass processing into a business.
1995
Agreed to purchase all the shares of Asahi Fiber Glass Co., Ltd. from Owens Fiberglass (US)
1997
Purchased shares of Asahi Ohrin Co., Ltd. from Ohrin (US) and made it into a wholly-owned subsidiary. Next year, the subsidiary's name will be changed to Asahi Urethane Co., Ltd.
1998
Agreed to merge with Iwaki Glass Company, Ltd. and Toshiba Glass Company, Ltd. Next year the name of the Company will be changed to Asahi Techno Glass, Ltd.
1998
Graverbel acquired PPG Co., a European plate glass company.
1999
Acquired South Korea Electric Glass Company, a manufacturer of color-cathode glass valves.
Acquired the fluoroplastics business from IC (UK).
2001
Set up a new research and development building in the Central Research Institute.
2002
The Ceramics business was transferred to Asahi Glass Ceramics Co.
Made Glaverbel S.A. into the Company's fully-owned subsidiary.
2004
Its ceramic-based exterior siding business was spun off to become a new joint-venture company, Asahi Tostem Exterior Wall Co., Ltd.
2005
Made Asahi Techno Glass, Ltd. into a fully owned subsidiary.
2006
Acquired Matsushima Optical Component Co., Ltd., and changed the name of the subsidiary company to AGC Micro Glass Co., Ltd. in 2007.
2007
Set up Osaka Office.
Spun off Asahi Fiber Glass Co., Ltd. and sold off all the shares it held in this subsidiary.
2008
The Company sold off all the shares it held in Optrex Corporation.
2009
The Kitakyushu Plant terminated production of automotive glass.
2011
The Company established AGC Glass Brazil in Brazil.
2012
Closed strategical agreement with Interpane Glas Industrie AG in Germany.
2014
The Company tapped into the Vietnamese market by acquiring shares in Phu My Plastics & Chemicals Co., Ltd., a local company that produces polyvinyl chloride.
2015
Acquired all the stock shares in NordGlass Sp. z o.o., a supplier based in Poland manufacturing automotive replacement glass.
2016

Acquired all shares of German company Biomeva (now AGC Biologics) and started contract manufacturing business of biopharmaceutical development and manufacture in that country

2017

Acquired all shares of CMC Biologics (now AGC Biologics), which has a development base in Denmark and the US, and started a biopharmaceutical development manufacturing contract business in that country

2017

Acquired majority share of Vinythai, a Thai chemical manufacturing and sales company, and secured a new production base for vinyl chloride resin

2018

Company name changed from Asahi Glass Co., Ltd. to AGC Co., Ltd.

2018

Acquired the electronics business of US Park Electronics Co., Ltd.

2019
Acquired

the Advanced Dielectric Division (ADD) and some of the Industrial Products Division of US-based Taconic Co., Ltd.

2020

Established a new R&D facility in the AGC Yokohama Technical Center (former Keihin Plant)
Supplemental Information 1