Company Profile
■URL
■Address
KS Bldg.7F, 1-11-5, Sakuragi-cho, Omiya-ku, Saitama-shi, Saitama-ken, 330-0854, Japan
Business Overview
-A Honda Group supplier of body frame components

-According to the Company's own study, the Company's vehicle content of frames to Honda is 50% per vehicle, which is the highest among suppliers.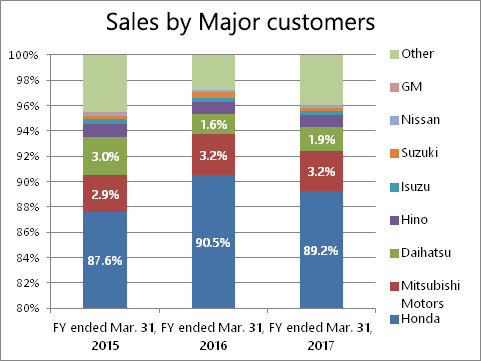 -The Company delivers most of its products to Honda. Following Honda, the Company delivers the next highest volumes to Mitsubishi Motors. Previously the second highest was Daihatsu.

-In March 2016, the Company announced that it has started production of fuel cell stack metal separators for use in the "Clarity Fuel Cell," Honda Motor's new fuel cell vehicle (FCV).


Shareholders
| | |
| --- | --- |
| -Listed on the First section of the Tokyo Stock Exchange | (As of Mar. 31, 2017) |
| | |
| --- | --- |
| Name or Company Name | Investment Ratio (%) |
| Honda Motor Co., Ltd | 21.33 |
| The Company's Employees Stockholding | 4.02 |
| Individual shareholder | 2.75 |
| Saitama Resona Bank | 2.75 |
| Individual shareholder | 2.73 |
| JFE shoji trade corporation | 2.56 |
| Individual shareholder | 2.56 |
| Japan Trustee Services Bank, Ltd. (Trust Account 4) | 2.54 |
| Individual shareholder | 2.27 |
| Barclays Capital Securities Limited | 1.65 |
| Total | 45.16 |
Products
Automotive frame parts
Front bulkheads
Front side frames
Front wheel houses
Front inside seals
Front floor frames
Front floor cross members
Front tunnel stiffeners
Middle floor cross members
Rear wheel houses
Rear frames
Rear floor cross-members
Pillars
Center pillars
Roof side rails
Door beams

Fuel cell stack metal separators
History
Apr. 1939
Established as Hirata Kogyo Co., Ltd. in Honjo-ku, Tokyo, to produce sheet metal stamping products
Nov. 1945
Moved headquarters to Adachi-ku, Tokyo (current site)
Aug. 1952
Started production of motor bike components for Honda
July, 1953

Changed the trade name to Hirata Press Kogyo Co., Ltd.

June, 1967
Received orders from Honda for doors, wheel arches, back plates, rear skirts, front bulkheads, instrument panels and so forth and started full scale production of 4 wheel vehicle components
May, 1984
Invested in a new joint venture, K.T.H. Parts Industries Incorporated in Ohio, USA, to produce and sell automotive components
Jan. 1990
Changed the trade name to Hirata Co., Ltd.
Sep. 1994
Listed shares over the counter at the Japan Securities Association
Sep. 1994
Invested in a new joint venture, Hirata Parts (Thailand) Company Limited (currently a consolidated subsidiary) in Ayutthaya, Thailand, to produce and sell automotive components
May, 1997
Invested in K.T.H. Shelburne Manufacturing Incorporated in Ontario, Canada to produce and sell automotive components
July, 1997
Established Technical Information Center in Yoshiga-gun, Tochigi
Feb. 1998
Established Stamping Technology Center in Maebashi City, Gunma
July, 2001
Invested in UYT Ltd. for the purpose of the manufacture and sales of automotive parts for Coventry, UK
Nov. 2001
Technical Information Center renamed Tochigi Research and Development Center and a new building was constructed in Yoshiga-gun, Tochigi Prefecture.
Jan. 2002
Invested in GH Auto Parts Industries Inc. for the purpose of the manufacture and sales of automotive parts in Guangdong, China.
Aug. 2004
Entered into a business alliance with Choknamchai (CNC) Group of Thailand.
Dec. 2004
Listed on JASDAQ securities exchange.
Feb. 2005
Invested in QH Auto Parts Industries Inc. for the purpose of manufacture and sale of automotive parts in Guangdong, China.
Feb. 2005
Invested in WH Auto Parts Industries Inc. for the purpose of manufacture and sale of automotive parts in Wuhan, China.
Apr. 2006
Company name was changed to H-One Co., Ltd.
Apr. 2006
Moved its headquarters to Saitama City, Saitama Prefecture.
Sep. 2010
The Company established H-One Parts Sriracha Co.,Ltd. in Chonburi, Thailand to manufacture and sell automotive components.
Mar. 2012
Established G-One Auto Parts De Mexico, S.A. De C.V. in Guanajuato, Mexico, as a joint venture with G-TEKT to manufacture and sell automotive parts.
July 2013

Listed on

JASDAQ standard

of the Tokyo

Stock Exchange

.

Oct. 2013
Established PT.H-One Kogi Prima Auto Technologies Indonesia.
May 2014
Established Konan Plant in Konan-shi, Siga pref., Japan.
Jun. 2015
All the stock of Hirata Yachiyo Leasing Limited (HYL) which was hold by the Company has been transferred to UYT Limited.
Mar. 2016
Closed the Toda Plant in Saitama Pref., Japan.
Jun. 2016
Changed stock listing to the Second Section of the Tokyo Stock Exchange.
Feb. 2017
PT. H-one Kogi Prima Auto Technologies Indonesia turned PT. RODA Prima Auto Technologies Indonesia into a subsidiary by acquiring stock shares.
Mar. 2017
Listed on the first section of the Tokyo Stock Exchange
Supplemental Information 1