Company Profile
Business Overview
-Has world's top market share of both brushless DC motors and motors for automotive power steering, according to the Company's data.
-Its products are in the following groups: precision small motors; products for automobiles, home appliances, commercial use, and industrial use; and parts for machine devices, electronics, and optics. Its automotive products include automotive motors (electric power-steering motors, brake motors) in-vehicle cameras, control valves, electric oil pumps.
-In the fiscal year that ended in March 2022, automotive products accounted for 21.8% of sales.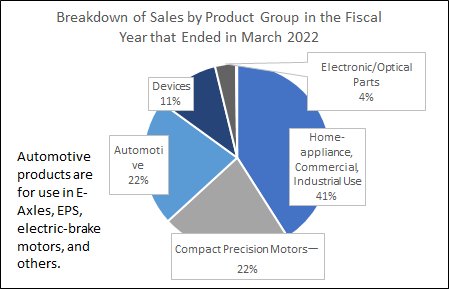 Shareholders
-

Moved to the Tokyo Stock Exchange Prime Market from April 2022

(As of Mar. 31, 2022)
Name or Company Name
Investment Ratio (%)
The Master Trust Bank of Japan, Ltd. (Trust Account)

13.61

Individual shareholder

8.51

Custody Bank of Japan, Ltd.

(Trust Account)

4.53

Bank of Kyoto, Ltd.

4.27

S.N. Kosan

3.48

SSBTC CLIENT OMNIBUS ACCOUNT

2.85

THE BANK OF NEW YORK MELLON 140042

2.57

The Bank of Tokyo-Mitsubishi UFJ, Ltd.

2.55

Nippon Life Insurance Company

2.26

Meiji Yasuda Life Insurance Company

2.20

Total

46.88
Products
Nidec
Motors
For electric power steering systems (EPS)
For engine cooling
For seat adjusters
For brakes (ESP/ABS)
For traction motors
Switched reluctance motor

DCT motors
E-Axle
-In-wheel motor
NIDEC Motors & Actuators (Germany) GmbH
Motors
Actuators
Nidec Tosok
-Control valves for CVTs and ATs
-Stepping motors
-Solenoid valves
-Spool valves
-Harness modules
-Electric oil-pumps

Nidec GPM
-Conventional water pumps
-Adjustable water pumps
-Electrical water pumps
-Conventional oil pumps
-Adjustable oil pumps
-Electrical oil pumps
-Modules
-Transmission oil pumps
-Electrical vacuum pumps

Nidec Sankyo
-Stepping motors
-Relays
-Ultra wide angle lens units
-Wide Angle Lenses
-Super-Wide Angle lenses
-Precision Plastic Parts
-Resin Molded Parts
-Surround view camera lens units
-Head-up display mirror drive unit
-Throttle actuator
-Suspension actuator


Nidec Elesys
-Electric power steering units (EPS)
-Vehicle stability assist systems (VSA)
-Electric parking brake units (EPB)
-Electric servo brake units (ESB)
-Antilock brake systems (ABS)
-Active dumper systems (ADS)
-Parking assist units (PA)
-Lane keep assist systems (LKAS)
-76GHz-band millimetric wave radar units
-Electric pre tensioner units
-Collision mitigation brake systems (CMBS)
-Occupant detection systems (ODS)
-New sensor fusion
-Traction inverter
Nidec Mobility
-3D-LiDAR
-Driver monitoring sensor
-Body control module (BCM)
-Power window switch (PWS) with an anti-pinching function
-Security entry products
-Electric power steering unit (EPS)
-DC/DC converter for the idling stop system (ISS)
-DC/DC converter for xEVs
-Push engine start system
-Power window switch
-Fuel pump control module
-Sunbeam autolight sensor with ECU
-Power seat switch and EPB switch
History
July 1973
Established Nippon Densan Corporation (currently Nidec Corporation) in Nishikyo-ku, Kyoto.
Aug. 1973
Started production and sales of small precision AC motors.
Oct. 1984
Established the Shiga Plant (currently Nidec Siga Technical Center).
Nov. 1988
Listed its stock on the second section of the Osaka Stock Exchange, and the Kyoto Stock Exchange.
Mar. 1997
Took a stake in Tosok Corp.
Dec. 1997
Established Nidec Tosok (Vietnam) Co., Ltd.
Sept. 1998
Listed the stock on the first section of the Tokyo Stock Exchange and the first section of the Osaka Stock Exchange.
Sept. 2001
Listed on the New York Stock Exchange.
May 2003
Relocated its Head Office and opened the Central Technical Laboratory.
Oct. 2003
Took a stake in Sankyo Seiki Mfg. Co., Ltd. (currently Nidec Sankyo Corporation)
Feb. 2006
Established Nidec Automobile Motor (Zhejiang) Corp., a locally-incorporated company in China.
Dec. 2006
Established Nidec Motors & Actuators by acquiring the motor and actuator business of Valeo S.A.
Nov. 2009
Opened Shiga Technical Center's new main building.
Sep. 2010
Established Nidec Motor Corporation by acquiring the Motors & Controls business of Emerson Electric Co., an American company. Established Nidec Motor Holdings Corporation as its holding company.
Dec. 2010
Established Nidec India Private Limited as its sales subsidiary in India.
Apr. 2012
Established the Nidec Research and Development Center, Singapore in Singapore.
June 2012
Established Nidec Research And Development Center.
Sept. 2012
Established the Nidec Research and Development Center, Taiwan in Taiwan.
Oct. 2012
Nidec Sankyo Corporation acquired Korean manufacturer SCD Co., Ltd.
Dec. 2012
Took a stake in Nidec Kaiyu Auto Electric (Jiangsu) Co., Ltd.
Apr. 2013
Nidec Corporation establishes Nidec Automotive Motors Americas Corporation in the US to integrate its automotive motor business in the country's market.
Jan. 2014
Nidec Sankyo Corporation purchases Mitsubishi Materials C.M.I. Corporation. (currently Nidec Sankyo CMI Corporation)
Nidec Research and Development Center, Japan opens its new building in Kawasaki, Kanagawa, Japan.
Mar. 2014
Purchased Honda Elesys Co., Ltd. (Currently Nidec Elesys Corporation)
Feb. 2015
Acquired Gerate-und Pumpenbau GmbH Dr. Eugen Schmidt based in Germany (currently Nidec GPM GmbH).
Jul. 2015
Acquired China Tex Mechanical & Electrical Engineering Ltd.'s SR motor drive business (Renamed the company to Nidec (Beijing) Drive Technologies Co., Ltd.)
Sep. 2015
Nidec Sankyo acquired PT. Nagata Opto Indonesia.
Oct. 2015
Opened "Nidec Institute for Industrial Science".
May 2016
Withdrew listing on the New York Stock Market.
Dec. 2016

Acquired Canton Elevator, Inc. based in the USA.

Jan. 2017

Acquired the motor-drive business of Emerson Electric Co. based in the USA; and the electric generator business from the current Nidec Leroy-Somer Holding and Nidec Control Techniques Limited.

Mar. 2017

Opened the Headquarters ANNEX Global R&D Center

Mar. 2017

Acquired Vamco International, Inc. based in the USA.

Mar. 2017

Unified the Group's corporate brand to Nidec

Jul. 2017

Acquired LGB Ellettropompe S.r.l based in Italy.

Jul. 2017
Acquired Germany-based Secop Group (currently Nidec Global Appliance Compressor Company)
Oct. 2017
Nidec Sankyo acquired the operations of Tokyo Maruzen Industry, Co., Ltd
Nov. 2017
Acquired DriveXpert GmbH, a company based in Germany
Feb. 2018
Opened a new production engineering wing in Seika, located in the Soraku area of Kyoto Prefecture.
Apr. 2018
Acquired Genmark Automation, Inc., a company based in the USA.
May. 2018
Established Nidec PSA emotors as a joint venture with PSA of France, to manufacture automotive traction motors.
Jul. 2018
Acquired CIMA S.p.A., a company

based in Italy.

Aug. 2018
Acquired MS-Graessner GmbH & Co. KG, a company

based in Germany.

Nov. 2018
Completion of tender offer for shares of Chaun-Choung Technology Corp., Taiwan
Feb. 2019
Acquired Systeme + Steuerungen GmbH, a company

based in Germany.

Mar. 2019
Acquired DESCH Antriebstechnik GmbH & Co. KG, a company based in Germany.

Jul. 2019

Acquired Embraco, the compressor business of Whirlpool of the USA.

Oct. 2019

Established

Guangzhou Nidec Automobile Drive System Co., Ltd.

in China, a joint venture with Guangzhou Automobile Group Co., Ltd., to manufacture automotive traction motors.

Oct. 2019

Acquired Omron Automotive Electronics, establishing it as Nidec Mobility Corporation.

Nov. 2019

Acquired Roboteq, Inc. of the USA

Jun. 2020

Acquired the Delta-type compressor business operations of Secop Austria GmbH

Aug. 2021

Took over Mitsubishi Heavy Industries' Machine Tool Co., Ltd., renaming it Nidec Machine Tool Co., Ltd.

Feb. 2022

Invested in OKK Co., Ltd.
Supplemental Information 1