Company Profile
Business Overview
-The Company is a global leader in drive systems for the automotive industry, focusing primarily on driveline systems, all-wheel drive systems and electric drive technologies.

-The Company is organized into two primary business divisions as follows:
Driveline: Focuses on providing products such as sideshafts, propshafts and constant velocity joints for a variety of propulsions
ePowertrain: Focuses on electric drive technologies and intelligent all-wheel drive systems

-In March 2018, Melrose Industries plc, a financial entity specializing in the acquisition and improvement of companies was successful in a takeover of the Company's parent company, GKN Ltd, for GBP 8 billion. Once the takeover was completed, Melrose Industries made a series of legally binding commitments to the future of GKN, ensuring specific investments in research and development as well as an assurance of the company remaining headquartered in the UK.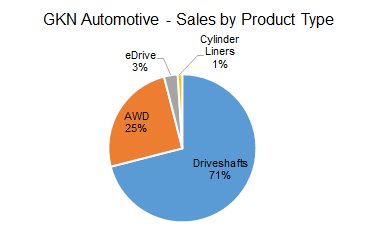 Competitors
-American Axle
-BorgWarner
-Bosch
-Dana
-Hitachi Astemo
-Hyundai WIA
-IFA Rotorion
-JTEKT
-Magna
-Neapco
-Nexteer
-NTN
-Schaeffler
-ZF

Shareholders
-The Company is a division and subsidiary of Melrose Industries plc.

-On March 29, 2018, Melrose Industries was successful in the takeover and acquisition of GKN Ltd., which included the Company. Upon its acquisition, GKN was decentralized into different divisions.
Products
Driveline
Sideshafts
-Sideshaft systems for hybrid and electric vehicles
-VL3 sideshaft for premium rear-wheel drive applications
-VLX rear sideshaft for off-road all-wheel drive applications
-UF-MTS-AAR sideshaft for small vehicle front-wheel drive applications
-Sideshaft systems for SUVs
-Sideshaft systems for low-cast rear-wheel drive applications

Propshafts
-Modular lightweight propshaft systems

CV joints
-Fixed joints
-Interconnecting shafts
-Ball plunging joints
-SIO joints
-Monobloc tubular shafts
-Countertrack joints
-Sealing systems
-Interfaces

ePowertrain
eDrive systems
-Single-speed eAxles
-Multi-speed eAxles
-Co-axial eAxles
-Modular eDrive system for compact cars
-Modular eDrive for mid-sized cars
-Modular eDrive system for large battery electric vehicles
-Multi-Mode dedicated hybrid transmission
-eTwinster torque vectoring system for electric drivelines

All-wheel and four-wheel-drive solutions
-ActiveConnect all-wheel drive systems
-ActiveConnect power transfer units
-Booster rear drive units
-Twin AWD rear drive units
-Twinster torque-vectoring rear drive units
-Intelligent all-wheel drive systems
-Power transfer units
-Electromagnetic control devices
-All-wheel drive coupling modules
-Electronic torque managers
-Final drive units
-Electronic differential locks
-Limited slip differentials


History
1900
Established in Great Britain in 1900 as Great Keen &Co. by merger of Guest & Co. and The Patent Nut & Bolt Co.
1902
Name changed to Guest, Keen &

Nettlefolds

, PLC upon acquisition in 1902 of the screw and wire manufacturing business founded by John Sutton

Nettlefold

. Present name adopted in June 1986.
Aug. 2001
The

demerger

of the Company's industrial services businesses to Brambles Industries

plc

and the combination (by way of a dual listed companies structure) of Brambles industries

plc

wi

th

Brambles Industries Limited.
Feb. 2005
Entered into an agreement to form a new company in China wi

th

Henan

Zhongyuan

Engine Fittings Stock Company Limited (ZYNP).
Completed the acquisition of the 51 % equity interest that it does not already own in

Velcon

S.A. de C.V. (

Velcon

), its Mexican constant velocity joint venture.
2006
Opened a manufacturing operation in China. The new business - GKN

Zhongyuan

Cylinder Liner Company Limited (GKNZ) - is a joint venture between the Company, which holds 59 % of the company and

Henan

Zhongyuan

Engine Fittings Stock Company Limited which holds 41 %.
Jan. 2007
Closed GKN

Sheepbridge

Stokes Ltd, the UK cylinder liner business.
Feb. 2008
Built a new production facility in

Oragadam

, India
Oct. 2008
GKN

Driveline

Torque Technology has started volume production of transmission differentials at its new facility in

Pudong

, Shanghai, China.
Sep. 2011
Acquired Getrag's Driveline Products Business (comprising Getrag Corporation based in U.S. and Getrag All Wheel Drive AB based in Sweden).
2012

Held a ground breaking ceremony for a new manufacturing facility for GKN Sinter Metals in Yizheng Ltd. in Jiangsu Province, China.

Apr. 2014

Acquired the entire issued share capital of Williams Hybrid Power Limited (WHP) from Williams Grand Prix Engineering Limited.

Jul. 2014
Divested remaining 50% share of Emitec (50/50 with Continental) to Continental.
Jul. 2015
Formed joint venture through the Company's GKN Powder Metallurgy division with Hongsheng Industrial Company Ltd. to produce ferrous powders.
Mar. 2018
Melrose Industries plc was successful in its takeover of GKN plc for GBP 8 billion.
Supplemental Information 1