Adient plc (Formerly Automotive seating business of Johnson Controls Inc.) Business Report FY ended Sep. 2017
Adient plc (Formerly Automotive seating business of Johnson Controls Inc.) Business Report FY ended Sep. 2017
| | |
| --- | --- |
| Financial Overview | (in million USD) |
FY ended Sep.
30, 2017
FY ended Sep. 30, 2016
Rate of change (%)
Factors
Net Sales
16,213
16,790
(3.4)
1)
Net Income
877
(1,546)
-
2)
Net Sales by Segment
Seating Segment
16,213
16,790
(3.4)
3)
Interior Segment
-
-
-
Factors
1) Net Sales
-The Company's sales in the fiscal year ended September 30, 2017 decreased by 3.4% to USD 16,213 million. The decrease in net sales was caused primarily by lower sales volumes in North America and compounded by negative foreign currency impacts of USD 97 million.

2) Net Income
-In the fiscal year ended September 30, 2017, the Company showed net income of USD 877 million compared to a USD 1,546 million loss in the previous fiscal year. The increase in net income was primarily due to lack of one-time tax charges related to the separation of the Company which occurred in the previous fiscal year.

3) Seating
-Net sales in the Company's seating segment for fiscal year ended September 30, 2017 decreased by 3.4% due to lower sales volumes and the unfavorable impact of foreign currency translation, which caused decreases of USD 544 million and USD 97 million, respectively. These losses were partially offset by the consolidation of a China affiliate which resulted in the gain of USD 64 million.
Chinese Business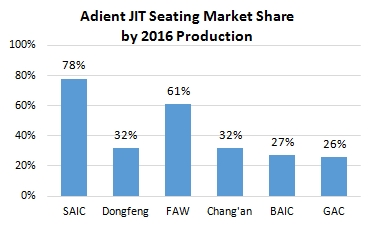 Source: Adient
-A key component in the Company's growth strategy is its position of leadership in China. Based on production volumes, the Company is the largest supplier of just-in-time seating in China. As market leader, the Company has a 45% market share of the seating business in China.

-The Company has formed joint ventures with all of the major Chinese automakers including SAIC, Dongfeng, FAW, Chang'an, BAIC, GAC and Brilliance Auto. These joint ventures have enabled the Company to hold significant market share with individual automakers.

-For the fiscal year ended in September 30, 2017, the Company's operations in China, including joint ventures, earned USD 8.1 billion in revenue. Its operations include the following:
19 joint ventures (Except YFAI)
4 technology centers
1,300 engineers
73 manufacturing plants across 32 cities
33,000 employees
-The Company has a 30.0% stake in Yanfeng Automotive Interiors Systems Co., Ltd. The Company retained control of the stake from Johnson Controls upon completion of the spin-off.
Recent Restructuring
Acquisition of Futuris Group
-On August 21, 2017, the Company announced it has signed a definitive agreement to acquire the Futuris Group. The purchase price is approximately USD 360 million including the assumption of approximately USD 18 million of net debt. Headquartered in Oak Park, Michigan, Futuris is a global designer and manufacturer of fully integrated automotive seating and interior systems with 15 facilities in North America and Asia. Futuris provides full seating systems, seat frames, seat trim, headrests, armrests and seat bolsters. The company's customers include Tesla, Ford, General Motors, Geely, Chery, Brilliance, and other automotive seating suppliers. The transaction is expected to close by September 30. (From a press release on August 21, 2017)

Spin-off of automotive seating business as Adient
-On October 31, 2016, the Company announced its debut as an independent, publicly traded corporation known as Adient and the completion of its separation from Johnson Controls International. The Company's shares begin trading on the New York Stock Exchange. The Company is one of the world's largest global automotive seating suppliers, supporting all major automakers in differentiating vehicles through superior quality, technology and performance. With 75,000 employees, the Company operates 230 manufacturing and assembly plants in 33 countries. In addition, the Company is well-positioned in the growing China market, where it has 17 seating joint ventures (JVs) operating 60 manufacturing locations in 32 cities. (From a press release on October 31, 2016)
Contracts
-The Company announced that its RECARO Automotive Seating product group has won a contract with MAN Truck & Bus AG to increase annual seat production at the Company's facility in Skarbimierz, Poland. Specifics of the supply contract were not disclosed. Starting in 2020, RECARO Automotive Seating will incrementally begin supplying high quality commercial vehicle seats for the entire range of MAN models TGL, TGM, TGS and TGX. The driver and passenger seat order will be for approximately 100,000 original MAN vehicles annually. The contract will result in a production increase of annual production there to 300,000 seats. The Polish facility will supply the MAN facilities in Munich and Steyr. (From a press release on January 12, 2017)
Awards
-The Company's Japanese subsidiary announced that it has received a Development Award, one of the certificates of appreciation issued by Honda Motor Co., Ltd. (Honda) for 2017. This is the first time that the Company has received a supplier award from Honda since the supplier was spun off from Johnson Controls Inc. in October 2016. The product that received the award is a retractable rear center arm rest fitted with a cup holder that is equipped in the 2017 Acura CDX C-SUV, a crossover rolled out by Honda in China. The rear center arm rest was recognized because it can be retracted with a single motion to create a center seat space for three-passenger seating, and features a design that combines both a high-quality, upscale feel and convenience. (From an article in the Nikkan Jidosha Shimbun on April 25, 2017)

-The Company was recognized recently with a Supplier Diversity Excellence award from Toyota Motor North America, Inc. at its annual Supplier Business Meeting in March. (From a press release on April 11, 2017)
Outlook
-The Company announced that it has set a revenue forecast of USD 17 billion for the fiscal year ending September 30, 2018.
| | |
| --- | --- |
| R&D Expenditures | (in million USD) |
| | | | |
| --- | --- | --- | --- |
| | FY ended Sep. 30, 2017 | FY ended Sep. 30, 2016 | FY ended Sep. 30, 2015 |
| Total | 488 | 460 | 599 |
R&D Facilities
-The Company has 11 core engineering development centers in the following locations:
Plymouth, Michigan, U.S.
Burscheid, Germany
Kaiserslautern, Germany
Solingen, Germany
Trencin, Slovakia
Shanghai, China
Changchun, China
Chongqing, China
Yokohama, Japan
Ansan, Korea
Pune, India

-The Company's Japanese subsidiary will strengthen its research and development structure. The Company will make improvements to its testing equipment that will include installing an experimental facility that creates a simulation of the vibrations produced when a vehicle is traveling with six degrees of freedom at the Japan Technical Center, its research and development base. Autonomous vehicles that are being developed by automakers will change the way how passengers spend time in the vehicle cabins. The Company will enhance its competitiveness by developing automotive seats that offer increased riding comfort and produce less noise and vibration. (From an article in the Nikkan Jidosha Shimbun on September 12, 2017)
Product Development
New far-side system seat for autonomous driving vehicles
-Autoliv, Inc and the Company announce that they are collaborating to address vehicle seating challenges presented by designs for the future car and the incorporation of autonomous driving. The cooperation between Autoliv and the Company will initially be focused on optimal integration of Autoliv's safety components into the non-traditional seating arrangements of the future car and on enhancing existing seat-mounted airbag systems and new far-side systems for Euro NCAP. The customer target offering for these solutions will be the second half of 2018. Future plans include the co-development of highly integrated solutions for enhanced safety, comfort and convenience for future mobility. Both companies are also interested in investigating the potential value in expanding to non-automotive applications if necessary to keep people safe however and wherever they travel or commute. (From a press release on September 12, 2017)


New seat for autonomous vehicles
-The Company will develop a new seat for autonomous vehicles. Following the development of its AI17 concept seating system for luxury autonomous vehicles, the Company will develop a new automated driving seating system incorporating a new concept and exhibit it at the 2017 Frankfurt Motor Show in September. The AI17 seating system offers rotatable seats, an increased seat reclining angle, and other functions for enhanced comfort that will be emphasized in the autonomous driving age. The AI17 seating system also features a lightweight structure. The Company's Japanese subsidiary of Adient will make suggestions to automakers using the AI17 demonstrator and translate the needs of customers into future development of products. (From an article in the Nikkan Jidosha Shimbun on July 21, 2017)

Vision Seat concept
-The Company unveiled new Vision Seat concept at the 2017 North American International Auto Show (NAIAS). Benefits of the new seat include: a high quality, thinner and lighter seat profile; better occupant kinematics; and easier seat adjustment. The starting point for the Vision Seat design team was considering the human side of design, studying and reacting to how people's bodies move when they are sitting in a vehicle. The result is a unique concept of interdependent sub-components that cannot be broken apart. The Company will apply the principles it developed while designing the Vision Seat to future production seats for customers. The Company also unveiled AI17 automated driving seating system at the NAIAS. The AI17 showcases innovative solutions for level 3 and level 4 autonomous vehicles to forecast how enjoyable future interiors will be. (From a press release on January 9, 2017)
| | |
| --- | --- |
| Capital Expenditure | (in million USD) |
| | | | |
| --- | --- | --- | --- |
| | FY ended Sep. 30, 2017 | FY ended Sep. 30, 2016 | FY ended Sep. 30, 2015 |
| Total | 577 | 437 | 478 |