Company Profile
Business Overview
-A major manufacturer of engine components. Its major products are fuel-pump modules, throttle bodies, and canisters.
-Incorporated as a carburetor manufacturer, the Company switched to producing electronically controlled fuel injection (EFI) systems in the 1980's.
Business Highlights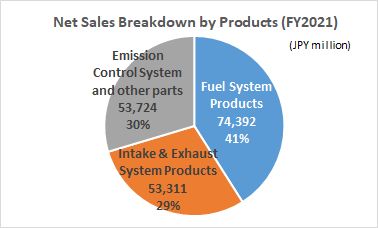 -According to information released by the Company, sales by product line for the fiscal year that ended in March 2021 are as follows:
Fuel products: 41% (fuel-pump modules 38%)
Exhaust products: 29% (throttle bodies 19%)
-The Company focused on product strategies of hydrogen injectors for fuel-cell vehicles (FCVs) and fuel systems for CNS/LPG.
Shareholders
| | |
| --- | --- |
| -Listed on the first section of the Tokyo Stock Exchange and the Nagoya Stock Exchange. | (As of Mar. 31, 2021) |
| | |
| --- | --- |
| Name or Company Name | Investment Ratio (%) |
| Toyota Motor Corp. | 28.74 |
| Denso Corporation | 8.73 |
| Toyota Industries Corporation | 7.56 |
| Custody Bank of Japan, Ltd. | 5.50 |
| The Master Trust Bank of Japan, Ltd. (Trust Account) | 3.94 |
| Employees' Stock Ownership Association | 2.53 |
| Sumitomo Mitsui Banking Corp. | 2.50 |
| DFA INTERNATIONAL SMALL CAP VALUE PORTFOLIO | 1.38 |
| RE FUND 107-CLIENT AC | 1.27 |
| Mitsui Sumitomo Insurance Co., Ltd. | 1.02 |
| Total | 63.22 |
Products
Fuel System Products
Fuel pump modules
-Fuel pumps
-Fuel pressure regulators
-Fuel gauge sender units
Power saving fuel pump modules
Fuel injectors

Intake & Exhaust System Products
Throttle body
-Electronic control throttle body
-Resin throttle body
Exhaust gas recirculation products
-EGR valves
-EGR cooler bypass valves
Intake manifolds
-Resin intake manifolds
-Intake air control valves
Positive crankcase ventilation valves

Emission Control System Products
Charcoal canisters
Air filters

Valve Train System Products
Engine valves
Titanium alloy engine valves

Products for Green Vehicle
Products for fuel cell vehicles
-Hydrogen supply unit
-Air valves for FCV
Products for electric vehicles
-Electric water pumps
Gas fuel systems for CNG/LPG
-CNG injectors
-CNG fuel rail assembly and high pressure regulators
-LPG fuel rail assembly and fuel pumps
History
| | |
| --- | --- |
| Dec. 1938 | Company established in Mizuho-ku, Nagoya City with capital of 500,000 yen to manufacture war supplies. |
| Oct. 1945 | Started production of automotive parts including carburetors. |
| Nov. 1957 | Head office and plant moved to its present location in Obu City. |
| Aug. 1960 | Started production of engine valves. |
| Jul. 1964 | Set up Tokyo Liaison Office (now the Tokyo Office). |
| Feb. 1966 | Invested in Teikei Kikai and made it into a subsidiary. |
| Mar. 1971 | Anjo Plant began operation. |
| Jul. 1972 | Set up Osaka Representative Office (now the Osaka Sales Office). |
| Aug. 1972 | Completed construction of Main Office. |
| Dec. 1995 | Established a joint venture, Tianjin Aisan Automobile Parts Co., Ltd., in China. |
| Jan. 1997 | Established a joint venture, P.T. Aisan Nasmoco Industri, Indonesia. |
| Mar. 1997 | Bought into Hyun Dan Industries (Korea) |
| Apr. 1998 | Participated in establishment of Toyota Turbine and System. |
| Mar. 2001 | Listed on the first section of the Tokyo Stock Exchange and the first section of the Nagoya Stock Exchange. |
| Feb. 2002 | Production for injectors reached an accumulative total of 100 million units. |
| Mar. 2002 | Hyun Dan Industries Co., Ltd., Korea, was made into a subsidiary. |
| May 2002 | Opened its office in Shanghai. |
| Jan. 2003 | Opened its office in Brussels. |
| Jun. 2003 | Moved its European office to Paris and changed the name to Paris Office. |
| Jun. 2003 | Established Sanai Precision in Kyungju, Korea. |
| Jul. 2003 | Established Aisan (Tianjin) Auto Parts Co., Ltd. in Tianjin China. |
| Mar. 2004 | Established Aisan Corporation Europe S.A. in Belgium. |
| Apr. 2004 | Established Hyontan America in South Carolina, USA. |
| May 2004 | Established Aisan (Foshan) Auto Parts Co., Ltd. in Foshan, China. |
| Aug. 2005 | Established TK Tongyong Carburetor (Ningbo) Co., Ltd. in Ningbo, China. |
| May 2006 | Established Hyundam Slovakia s.r.o in Slovakia |
| Aug. 2006 | Established Aisan Corporation Guangzhou Co., Ltd. in Guangzhou, China. |
| Nov. 2007 | Acquired equity capital in D&H in Asan, Korea, and its subsidiaries and business partners, making them its subsidiaries. |
| Jul. 2008 | Established Aisan Kumamoto in Japan. |
| Aug. 2011 | Established Auto Parts India Pvt., Ltd. in Andhra Pradesh. |
| Dec. 2011 | Established Aisan Corporation Asia Pacific Limited in Bangkok, Thailand. |
| Feb. 2013 | Established Aisan Auto Parts Mexico in San Luis Potosi. |
| Mar. 2016 | Established Hyundam (Zhangjiagang) Automobile Parts Co., Ltd. |
| Apr. 2018 | Established Aisan Sales India Pvt. Ltd. in India. |
| Jun. 2018 | Established Aisan Fiem Automotives India Pvt. Ltd., a joint venture with Fiem Industries Ltd.; in India. |
Supplemental Information 1