Tesla Model 3 Teardown and Benchmarking Report Available for Purchase
In October 2018, Bloomberg held an interview with Mr. Sandy Munro, CEO of Munro & Associates. The video is now available at the link below:
(Source: Bloomberg)
https://www.bloomberg.com/news/videos/2018-10-17/what-engineers-found-when-they-tore-apart-telsa-s-model-3-video
Report Overview
The Tesla Model 3 analyzed is the highest option version available. This version is equipped with the Premium Package of options with Autopilot capability ($10,000 worth of upgrades over the base model).
Product list:
Teardown and Benchmarking Report

Prospective customers are invited to visit the Munro Benchmarking Information Center (BIC) in Auburn Hills, Michigan for a tour of the facility.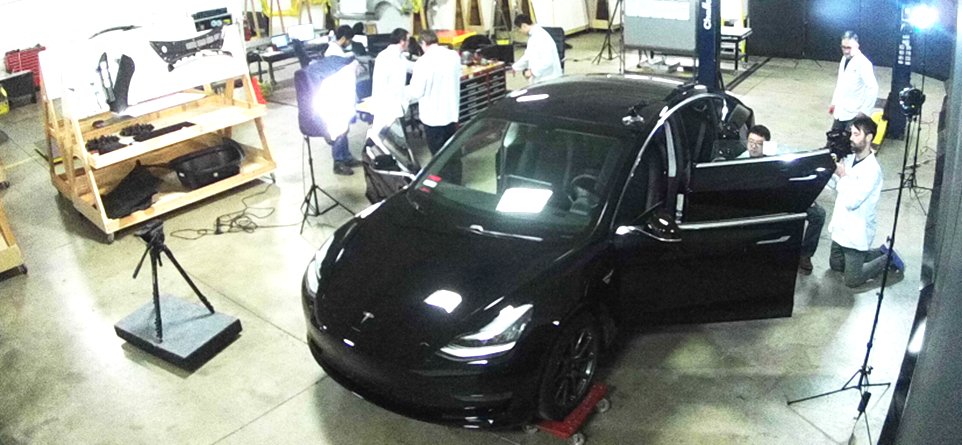 Teardown and Benchmarking Report
Overview
All components are disassembled down to the detailed level of nuts, bolts, sensors, and circuit boards.
The weight, dimensions, and materials (with a few exceptions) of each part are examined.
The supplier names (for some parts) are identified.
In addition to estimating the cost of each part (Refer to the calculation method below), the detailed explanations provided include photos and diagrams.
The report includes a BOM* summary (*Bill Of Materials)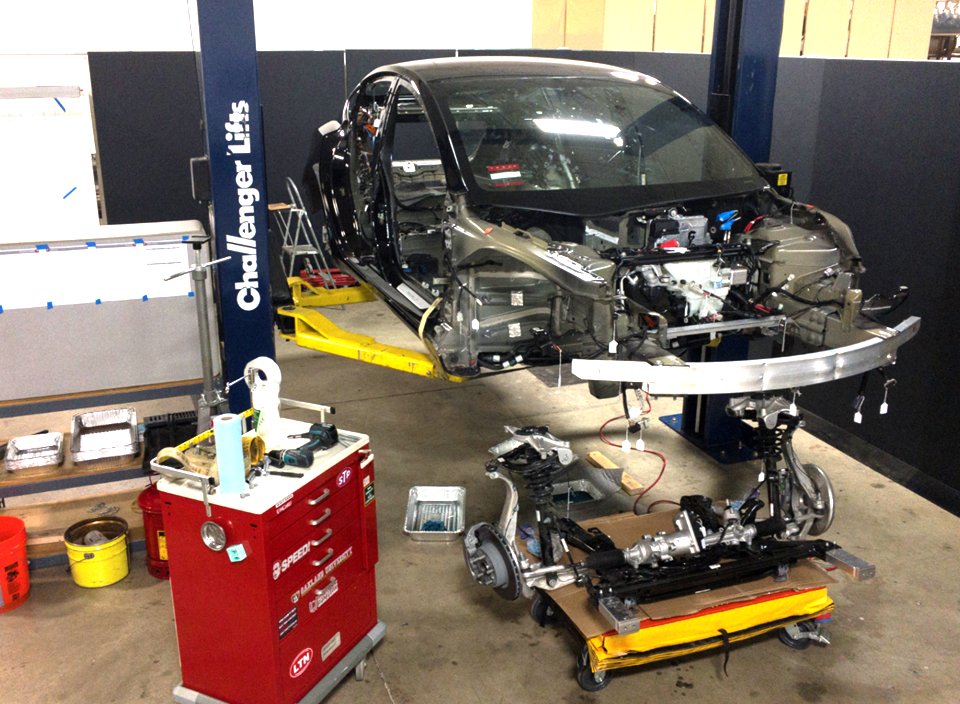 Hyperlinks are used for items in the table of contents to make it easier to access and search for related content.
The reports include a content navigator, including links to relevant public information (e.g. articles, videos).
Cost Calculation Method
The cost information contained in the analysis study uses the Munro Quick Cost Estimates system, a proprietary methodology of Munro & Associates. The Quick Cost estimate has an accuracy of +/- 8%.
Costs are evaluated and analyzed at Munro's costing center in Michigan, USA.
Component costs are calculated, for each OEM and supplier, based on a breakdown of cost criteria such as materials, fabrication process flow, labor costs, plant and building costs, quality responsiveness costs, taxes, and SG&A (Selling, General and Administrative) expenses.
The Munro teardown analysis cost estimates reflect the theoretically accurate (should be) costs, rather than the actual costs (pricing) that may be determined by negotiations between an OEM's purchasing department and a parts supplier.
Vehicle Zones
Zone 1:Body and Chassis
Body, exterior parts, fixed glass, door and hood closures, latches and peripheral parts, seals, adhesives, suspension, brakes, power steering, Tires, etc.
Zone 2: Controlling Electronics
Electronic systems including ECU, actuator, sensors, ADAS, infotainment, fuse boxes, low voltage wire harnesses, etc.
Zone 3: Interiors and Safety
Interior parts, seating, airbag system, cross car beam, consoles, door trim, trunk and hood trim, pedal boxes, steering wheel, HVAC, etc.
Zone 4: Powertrain and Battery Pack
Battery pack, motor, inverter/converter, high voltage cables, gear box, half shafts, etc.
Pricing
Full-Version of Teardown and Benchmarking Report : $60,000 USD
| | |
| --- | --- |
| Individual Zone Reports: | Price per Zone Report: |
| Zone 1: Body and Chassis | $21,600 USD |
| Zone 2: Controlling Electronics | $25,800 USD |
| Zone 3: Interiors and Safety | $21,600 USD |
| Zone 4: Powertrain and Battery Pack | $30,000 USD |
* The above prices are subject to change without notice *
FFQ* (Finish and Quality of Appearance Evaluation) Report: Included with the Teardown and Benchmarking Report.
The FFQ report thoroughly evaluates the mating areas (flushness) of all part surfaces, as well as operating forces, weights, and all gap dimensions.
The purpose of the FFQ report is to analytically document a new buyer, "first time" experience, including what they see, hear, feel, and their overall impression of the vehicle.
Although the FFQ evaluation is based on a thorough investigation of an actual Telsa Model 3 vehicle, the assessment was conducted offline, and not on the actual Tesla assembly line.
The FFQ report is a comprehensive 241 page report of detailed information.
 *FFQ: Fit, Finish, and Quality
Calibrated Ride & Drive Report: Included with the Teardown and Benchmarking Report.
NVH assessments are conducted by Seimens, a partner of Munro. Siemens is a global expert in conducting NVH assessments, reporting NVH performance on rough and smooth road surfaces for the following items:
Sound pressure and acceleration attribute
Sound pressure frequency content
(Reference: Munro is also collaborating with Siemens to provide a more detailed analysis report. )
Report Options:
(1) Side-by-Side Analysis Report: Model 3 vs. BMW i3 vs. Chevrolet Bolt $25,000 USD
The following items are compared for the latest 3 EVs:
| | |
| --- | --- |
| Part comparison tables (cost, weight, number, etc.) | Fig. 1, 2 |
| Radar charts (vehicle characteristics and specifications, etc.) | Fig. 3 |
| Quantitative classification of materials (material proportion histograms) | Fig. 4 |
(These items are available for sale only to those customers who buy the Full-Version of the Teardown and Benchmarking Report.)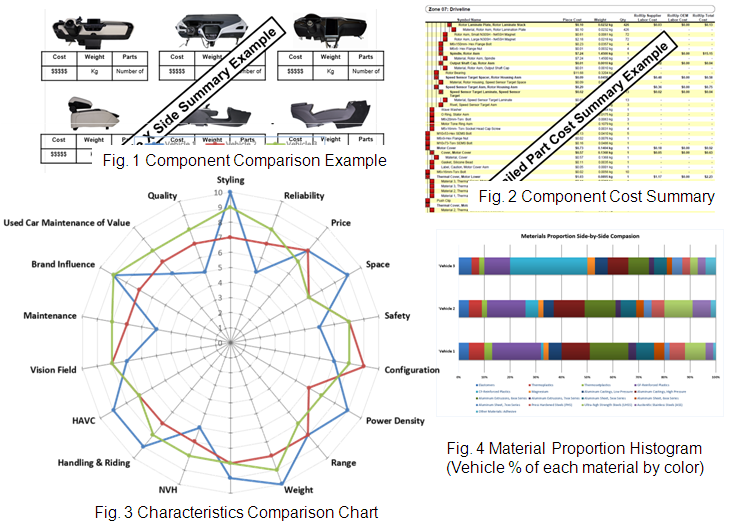 (2)-a) NVH Dynamic Characterization $8,000 USD
- Sound pressure levels at occupant ear
- Sound quality indices – Articulation index, loudness, etc.
- Tactile response at steering wheel and seat track


(2)-b) Body with & without Battery: Modal & Stiffness $5,000 USD
White body characterization with & without battery
- Global modal frequencies and mode shapes
- Global static stiffness – Torsion and vertical bending
- Body attachment point stiffness


LEGAL DISCLAIMERS & SALES CONDITION (FAQ reference Terms & Conditions)
Q1 Can I see a sample report before purchasing?
A1 Please contact a MarkLines representative, so that Marklines may provide you with sample information in digital .PDF format, or to answer any other questions that you may have regarding the report.
(Note: critical data will be hidden in the sample.)

Q2 After purchasing this report, am I authorized to photograph, distribute, copy, or fax all or portions of the reports?
A2 It is permissibly to distribute copies of this report only internally within your company only. If you intend to distribute the information outside of your company's organization by hard copies or fax, please contact MarkLines before doing so. MarkLines will then negotiate with Munro & Associates Inc. to receive their written permission on your behave as these reports are protected by law. Distribution without express written permission is legally prohibited.
For further details, please contact:
MarkLines Co., Ltd., Consulting Services Department
Person in charge: Mr. Miyaura
TEL: +81-3-4241-3906
e-mail:benchmark@marklines.com