Company Profile
Business Overview
-A lamp manufacturer under the Valeo Group.
-The Company conducts its business in three operating segments.
| | |
| --- | --- |
| Segment | Overview |
| Automotive Products | Productions and sales of lighting and mirror products for automakers |
| Other Parts Business | Productions and sales of automotive valves, wipers and other components mainly for aftermarket |
| Other Business | Productions and sales of automotive light bulbs |

-Net sales by segments and regions in FY2020 are following: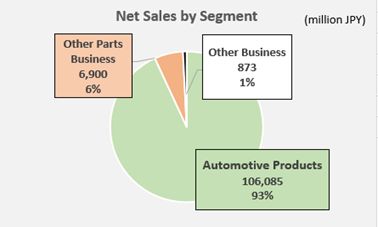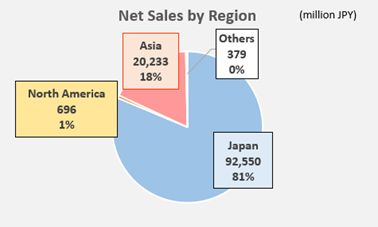 Shareholders
| | |
| --- | --- |
| -Listed on the First Section of the Tokyo Stock Exchange. | (As of Dec. 31, 2020) |
Name or Company Name
Investment ratio (%)
Valeo Bayen

61.16

Custody Bank of Japan, Ltd.

5.51

Mizuho Bank, Ltd.

4.96

The Master Trust Bank of Japan, Ltd.

4.15

Daihatsu Motor Co., Ltd.

2.82

BNP PARIBAS SECURITIES SERVICES LUXEMBOURG/JASDEC/
ABERDEEN STANDARD SICAV I CLIENT ASSETS

1.77

Nippon Life Insurance Co.

1.08

BBH (LUX) FOR FIDELITY FUNDS PACIFIC FUND

0.98

JP MORGAN CHASE BANK 385151

0.77

BNYM SA/NV FOR BNYM FOR BNY GCM CLIENT ACCOUNTS M LSCB RD

0.77

Total

84.00
Products
Lamps
All-in-one standard LED light source - MonoLED

Front lamps
-LED headlamp systems
LED highbeams/low beams
LED position lamps
LED turn signal lamps
-AFS: Adaptive Frontlighting Systems
Bi-function HID projectors
LED bending lamps
LED daytime running lamps
Light-guide-clearance lamps
Forward stereo CCD
-Front turn signal lamps
-Fog lamps
-Headlamp cleaner
-Adaptive Driving Beam (Matrix Beam System)

Rear lamps
-LED rear combination lamps
LED tail lamps
LED stop lamps
LED turn signal lamps
LED rear fog lamps
-ARS: Advanced Rearlighting Systems
Night Vision
Rearward stereo CCD
-High mount stop lamps

Other lamps
-Map lamps
-LED console lamps
-LED spot lamps
-Side flasher lamps
-License lamps
-Room lamps
-Indicator lamps

Mirrors
-Multi-functional side mirrors
Aspherical mirrors
LED side turn signal lamps
LED puddle lamps
Side blind detection systems
CCD cameras
-Outside mirrors
-Inside mirrors
-Auto-dimming room mirrors
-Camera Monitor System (CMS)

Others
-Various types of automotive sealed beam electric bulbs
-Sealed beam electric bulbs for special use
-Wiper blades/arms; high speed blade, winter blades
History
Jun. 1903
Hakkosha started business as a manufacturer specializing in white wax oils, signal lamps, etc. Started to supply products to the Ministry of International Trade and Industry.
Apr. 1916
Ichikawa Seisakusyo started business as an automotive parts manufacturer.
Jun. 1934
Ichikawa Seisakusyo incorporated.
Dec. 1939
Hakkosha Co., Ltd. was established.
Jul. 1962
Ichikawa Seisakusyo built Isehara Plant in Isehara City, Kanagawa Pref.
May 1964
Hakkosha built Nakatsugawa Plant in Nakatsugawa City, Gunma Pref.
Jan. 1965
Ichikawa Seisakusyo built No.1 Fujioka Plant in Fujioka city, Gunma Pref.
May 1967
Hakkosha Industries and Ichikawa Manufacturing entered into a business partnership.
Oct. 1968
The two companies were merged into Ichikoh Industries, Ltd. with capitalization of 1.4 billion yen.
Apr. 1969
Built No.2 Fujioka Plant.
Aug. 1971
Listed on the First Section of the Tokyo Stock Exchange.
Nov. 1990
Established a subsidiary Ichikoh Malaysia SDN. BHD in Malaysia.
Mar. 1997
Established PT. Ichikoh Indonesia in the suburb of Jakarta, Indonesia.
Jan. 2000
Built a new plant for Kenkoh Industries in Taiwan.
Jul. 2000
Formed a comprehensive alliance with Valeo in the area of lighting devices.
Dec. 2000
Isehara Plant QS9000 certified.
2001
Developed jointly with Harrison Toshiba Lighting the world's first next-generation "mercury-free HID head lamp system." Commercialization is planned for 2003.
Jul. 2003
Established Wuxi Koh Sean Technology Co., Ltd. (China).
Mar. 2006
Established Foshan Ichikoh Valeo Auto Lighting Systems Co., Ltd. in China.
Dec. 2006
Established Ichikoh Mitsuba Inc. (IMIC) in Kentucky, USA
Feb. 2007
Dissolved Ichikoh Manufacturing, Inc. (IMI), its subsidiary in Kentucky, USA
Aug. 2008
Established Ichikoh Industries (Thailand) Co., Ltd., its subsidiary in Thailand
Sep. 2009
Closed the Nakatsugawa Plant as part of the initiatives to reorganize the production structure.
Dec. 2009
Closed the Oizumi Plant as part of the initiatives to reorganize the production structure.
Oct. 2010
Located home office to its currently location.
Aug. 2011
Liquidated Ichikoh Mitsuba, Inc., a subsidiary that was located in Kentucky, U.S.A.
Aug. 2012
Established Valeo Ichikoh Holding, Ltd. in Ireland.
Dec. 2012
Transferred all of its shareholdings in Foshan Ichikoh Valeo Auto Lighting Systems Co., Ltd. to Valeo Ichikoh Holding Ltd.
Acquired 15% of the shares that Valeo S.A. held in Hubei Valeo Auto Lighting Co., Ltd.
Dec. 2014
Acquired an additional 50% stake in Ichikoh (Wuxi) Automotive Parts Co., Ltd. and converted it into its wholly owned subsidiary.
Nov. 2015
Sold off some of the operations of the Customer Parts Sales Section of the Automotive After Market Department under the Sales Division.
Jan. 2017
Valeo Bayen turned the Company into a consolidated subsidiary as a result of Valeo's buying up the Company's shares in a public tender offer.
Jun. 2019
Completed the construction of Atsugi plant.
Supplemental Information 1