Company Profile
Business Overview
-A leading German supplier of seals, NVH components, industrial fibers and filters. Products are mainly supplied to the automotive and plant engineering sectors, among others.
-The following is a description of each business unit and its operations.
Business area
Business group
Activities
For the automotive market
Seals and vibration control technology business area
Freudenberg Sealing Technologies
-Sealing products and technologies for automotive and general industry applications.
-Under the Corteco brand, it manufactures automotive aftermarket products, and under the XALT Energy brand, it produces lithium-ion batteries, modules and systems for buses, ships and other industries.
●
Freudenberg Oil & Gas Technologies
-Sealing products and connectors for oil, gas, renewable energy and other markets.
EagleBurgmann
-Industrial seals for pumps, compressors, agitators and special equipment.
Vibracoustic
-NVH products for automotive applications.
●
Technical textiles and filtation business area


Freudenberg Performance Materials
-Textiles for automotive, construction, apparel, energy, healthcare, and other applications.
●
Freudenberg Filtration Technologies
-Filtration technology for automotive, transport, energy, healthcare, construction, and other applications.
●
Japan Vilene Company
-Non-woven products for automotive, medical, electrical and industrial applications.
●
Cleaning technologies and products business area
Freudenberg Home and Cleaning Solutions
-Cleaning and laundry care products offered under various brands.
Specialties business area
Freudenberg Chemical Specialities
-Specialty lubricants, mould release agents for the manufacture of articles, surface treatment chemicals and products for repair and maintenance.
Freudenberg Medical
-Design, develop and manufacture medical devices.
-In FY2021, the highest share of the company's sales were to automotive OEMs, accounting for 39% of total company sales.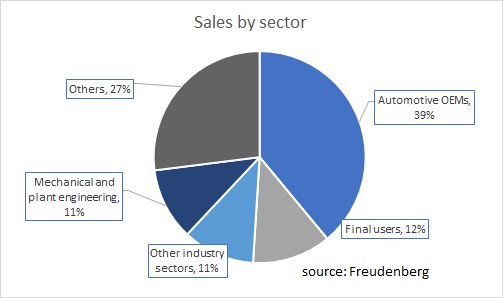 Shareholders
-The Company is a family company owned by the approximately 350 heirs of the founder, Carl Johann Freudenberg.
Products
Freudenberg Sealing Technologies
-Absolute encoders
-Advanced connectors with integrated functionality
-Actuator diaphragms
-Battery cell seals
-Battery cooling ports
-Bellows
-Bonded piston seals
-Boots
-Breathable caps
-Cartridge seals
-Cassette seals
-Connectors
-Cooling connectors
-Cooling cycle tubes
-Covers
-Curve gaskets
-Damper and steering seals
-Diaphragm accumulators
-DIAvent and DIAvent Light pressure management solutions
-eCON electrically conductive non-wovens
-Edge-bonded gaskets
-Elastomeric gaskets for battery housings
-EMI shielding materials
-Encoders
-Energy Saving Seals (ESS)
-Flexible coolers
-Frame gaskets for pouch cells
-Gaskets
-Heat shields
-Housings with integrated seals
-Hydraulic accumulators
-In-cell gap fillers
-Large-scale gaskets
-Leakage absorber mats
-Levitex gas lubricated seals
-Low friction simmerrings
-Multipole encoders
-O-rings
-Offset seals
-Overmolded bus bars
-Overpressure valves
-Plastic carrier gaskets
-Plastic cooling jackets with integrated sealing
-Plug and Seal plug-in connectors
-Plug and Seal connectors with sensors
-Plug seals
-Pop seals
-Port seals
-Pouch cell frames
-Power module cooling seals
-PTFE seals for rotary joints
-Pump housings
-Radial shaft seals
-Recirculation diaphragm
-Seals for electronic modules
-Sealing caps
-Sealing covers
-Sealing disks
-Sealing mats
-Sealing plugs
-Shock absorber seals
-Simmerring radial shaft seals
-Static seals
-3D-formed all-plastic pipes
-Thermally conductive elastomer materials
-Thermoplastic materials
-Thrust washers
-Topographic 3D Thermal Interface Materials (TIM)
-Valve stem seals with back-pressure sealing lips
-VCT seal rings
-Waste gate diaphragm
-Water pump seals and gaskets

Freudenberg Chemical Specialities
-Lubricants and release agents for the following:
Brake systems
Steering systems
Chassis systems
Constant Velocity (CV) joints
Drive trains
Seats
Tires
Gearboxes
Clutches
-Corrosion protection coatings
-Decorative finishing of metal and plastic parts
-Modular cleaners for cylinder production

Freudenberg Filtration Technologies
-Cabin air filters
micronAir particle filter
micronAir combination filter with activated carbon layer
micronAir proTect line with added allergen protection
-Engine intake air filters
-micronAir fuel cell filters
-micronAir fuel cell humidifiers

Freudenberg Performance Materials
-Acoustic composities
-Acoustic nonwovens
-Backing materials for throw-in mats
-Backing materials for automotive carpets
-Evolon microfilament material for sound absorption
-Friction inserts
-Moldings
-Multi-layer composite for underbodies and wheel liners
-Nonwovens for automotive headliners
-Nonwovens as battery separators
-Nonwovens for cargo screens
-Nonwovens for fuel cells
-Nonwoven composites for molded underbody panels and wheel liners
-Automotive carpets for sound deadening and surface design
-Technical packaging for sensitive surfaces
-Battery separators for hybrid and electric vehicles
-Headliner facings
-Tuft backings for automotive carpets

Vibracoustic
-Centering devices, isolators and dampers
Center bearing supports
Center sleeves
Drive shaft dampers
Spherical center sleeves
Flexible propshaft couplings
Flexible rubber couplings
Propshaft dampers
Tube-in-tube torsional isolators
-Motor mounts
Hydro engine mounts
Switchable hydro motor mounts
Vacuum switchable hydro motor mounts
Quiettype motor mounts
Transmission mounts
Torque rods
Gearbox mounts
Engine mounts with heat shields
-Torsional vibration dampers
Damper isolator pulleys
Overrunning damper isolator pulleys
Vulcanized torsional vibration dampers
High torque pressed torsional vibration dampers
-Air springs
Axial sleeves
Cross-ply bellows
Switchable three-chamber air springs
ZAX bellows
-Chassis mounts
DualRubber bushings
Hydro-bushings
Subframe bushes
Top mounts
Lightweight plastic top mounts
Cooler mounts
Mud stay assemblers
Reaction rod bushes
Bolster springs
Steering column bushings
Leaf spring bushings
Stabilizer bar link bushings
-Chassis isolators and dampers
Exhaust mounts
Brake tuned absorbers
Covertible dampers
Mass dampers
Seat dampers
Rear differential unit dampers
-Microcellular urethane components
Jounce bumpers
Spring aids
Body mounts
Spring isolators
MCU top mounts
-Cab mounts
Cabin mount - tilting bearings
Cabin mount with decouple stiffness rate and tilting functions
Cabin mount – comfort bearings
Japan Vilene Company
-Headliner materials
-Interior materials
-Automobile filters
-Insulator materials
-Automatic transmission fluid strainers
-Floor mats
-Trunk mats
-Opening trim
History
1929
Manufacture of leather seals (

Simmerring

), a radial shaft sealing ring, was developed of

Freudenberg

.
1936
Use of synthetic rubber for seals.
1957
Acquired license for production of rubber-to metal-elements.
Starting of vibration control technology.
1960
Acquired holdings in the Japanese company NOK (owned 25%).
1989
Established the

Freudenberg

-NOK joint venture in the USA.
1991
Acquired Woodland Molded Plastic Corp., YOM of France and Carl

Bartsch

GmbH

& Co. KG.
Sold Wheaton Health Care Products and Pharma Tech GP
1992
Acquired

Freudenberg

Dichtungs

und

Schwingungstechnik

GmbH

and

Formenbau

und

Kunststofftechnik

from the East German state-owned VEB

Gumminwerke

(

Polymant

GmbH

).
1993
Acquired the three seal manufacturers:

Procal

and PU S.A. in France, and Precision Rubber

Sealings

in Italy Owned a minority holding in German seal manufacture

ElringKlinger

GmbH

.
1998

Freudenberg

formed a partnership with Phoenix AG and French gasket manufacture

Meillor

SA.


Freudenberg

terminated its partnership with Elring

Kinger

GmbH

.
Jan. 1998

Freudenberg

started a plant to produce shock absorber seals for Central and Eastern European vehicle manufactures in Hungary, with DM 10 million investment.
May 1998

Freudenberg

sold 37.2% share in

ElringKlinger

GmbH

.
Jul. 1998

Freudenberg

acquired the O-ring manufacturer International Seal Corp in USA.
Dec. 1998

Freudenberg

acquired a minority holding in and agreed to cooperation with

Meillor

SA, which is a French automotive gasket manufacture to meet the demand for complete sealing systems.
With NOK acquired a minority holding in Korea company Pyung Hwa Industrial Co., Ltd.
Jan. 1999

Freudenberg

Vliesstoffe

KG and Japanese

Vilene

Company acquired Korean non-woven products manufacturer, the

Xetex

Corporation (owned 45%).
Mar. 1999

Freudenberg

started a 3 year program of refurbishment at its brake hoses plant in Saint-Andre-Le-

Puy

, France.
Freudenberg invested FF 28 million at Andrezieux-Boutheon plant, France.
Jul. 1999
Freudenberg-NOK acquired a subsidiary of Meillor or SA, Farnam Meillor(USA) that produces gaskets. For systemization with transmission sealing gaskets.
2000

Freudenberg

acquired a majority holding in Handles

und

Verwaltungsgesellshaft

Erich Wagner & Co.
Jan. 2000
European Commission authorized a 50:50 joint-venture between

Freudenberg

and Phoenix AG.
Jul. 2003

Freudenberg

Nonwovens

opened new plant for

micronAir

cabin air filters in

Kaiserslautern

.
Mar. 2004
Freudenberg & Co. acquired large sections of automotive business of Burgmann Dichtungswerke in Wolfratshausen.
Jan. 2005
Sigma

Freudenberg

NOK joint venture opened a new production plant for seals in

Mohali

, Northern India.
May 2005
The

Freudenberg

Group and its Japanese partners NOK and JVC acquired

Nantong

Hymo

.
Jun. 2006

Freudenberg

NOK

Mechatronics

bought the production plant for large flexible printed circuits and a large share of the associated business from Delphi

Deutschland

GmbH

.
Aug. 2007

Freudenberg

&

Vilene

Filter Thailand (FVFT), a new joint venture established in Amata

Nakon

Industrial Estate.
Oct. 2007

Freudenberg

-NOK General Partnership acquired the assets of Precision Industries Corporation of

Germantown

, Wisconsin.
Dec. 2007
Mitsubishi Corporation and

Freudenberg

signed a contract for the sale of the European and US

Flexitech

companies.
Jan. 2008

Freudenberg

Nonwovens

took over the operations of the

Spasciani

Air Filter

SpA

in Milan.
2010

Vibracoustic

took over all shares of the joint venture partner

Anvis

Group, making it the sole owner of

Vibracoustic

do

Brasil

headquartered in

Taubate

, Brazil.

Freudenberg

Filtration Technologies acquired a majority share in Micro Fresh Filters (

Aust

.)

Pty

. Ltd.,

Braeside

, Australia.
Jan. 2011
The Company handed over its OEM cylinder head and exhaust gasket business to

ElringKlinger

AG with effect from January 1, 2011.
Mar. 2012
Freudenberg Filtration Technologies, acquired Pyramid Filters Pvt. Ltd.
Jun. 2012
Sold precision molded brake parts business to ContiTech Vibration Control GmbH.
Jul. 2012
Completed the joint venture between Freudenberg Vibracoustic Business Group and Trelleborg AB to form TrelleborgVibracoustic.
Oct. 2012
Freudenberg Sealing Technologies acquired 50% of the Schneegans group.
2013
Freudenberg Sealing Technologies acquired Beta Seals Sizdirmazlik Elemanlari Sanayi ve Ticaret Anonim Srketi, a manufacturer of bearing seals for automotive applications.
Freudenberg Sealing Technologies acquired 90% of PTFE Compounds Germany GmbH, a supplier of high-quality PTFE compounds.
Jun. 2013
Formed a joint venture, Vibracoustic CV Air Springs GmbH, from the Company's TrelleborgVibracoustic segment with HSS Otomotiv to produce air springs for commercial vehicles.
Dec. 2013
TrelleborgVibracoustic acquired its former joint venture, Sigma Vibracoustic India, a producer of automotive anti-vibration solutions.
Jan. 2014
Freudenberg NOK Mechatronics was renamed as enmech.
NOK-Freudenberg Group China was integrated into the Freudenberg Sealing Technologies Business Group.
Jan. 2015
Freudenberg Performance Materials began operation combining Freudenberg Nonwovens and Freudenberg Politex Nonwovens.
Aug. 2015
Acquired Japan Vilene Co., Ltd. via a takeover bid through FT Holdings, a joint venture between the Company and Toray Industries, Inc.
Apr. 2016
Acquired and gained control of Japan Vilene Company, a manufacturer and developer specializing in nonwovens. The Company owns 75% of Japan Vilene Company, while Toray owns the remaining 25%.
Jul. 2016
Acquired remaining 50% stake of Vibracoustic GmbH, a joint venture with Trelleborg AB specializing in vibration control technology, from Trelleborg AB for approximately SEK 6.8 billion.
Feb. 2019
Increased shareholding in XALT Energy, a developer and manufacturer of lithium-ion technologies for energy storage solutions for the commercial vehicle industry headquartered in Midland, MI, U.S., from 31.8% to 50.1%.
Mar. 2019
Acquired 75% stake in Apollo Air-Cleaner Co., Ltd., a developer and manufacturer of air and water filtration solutions in Foshan, China.
Sep. 2019
Acquired Low & Bonar PLC, a manufacturer of technical textiles headquartered in London, England.
Oct. 2019
Acquired FRICTins GmbH, a startup based in Wolnzach, Germany which develops technologies for friction enhanced surfaces.
Jan. 2020
Acquired TRAXIT International GmbH, one of the largest wire drawing lubricant manufacturers in the world, through its subsidiary Kluber Lubrication Munchen SE & Co. KG.
Acquired 100% of the shares of Filc Group, a manufacturer of needle punch nonwoven textiles and laminated materials for the automotive and construction industries.
May 2020
Acquired 100% of the shares of Low & Bonar PLC, a manufacturer of technical textiles across multiple industries, including the automotive industry.
Supplemental Information 1