Autoneum Holding Ltd. (Formerly Rieter Automotive) Business Report FY ended Dec. 2014
Autoneum Holding Ltd. (Formerly Rieter Automotive) Business Report FY ended Dec. 2014
| | |
| --- | --- |
| Financial Overview | (in million CHF) |
FY ended Dec. 31, 2014
FY ended Dec. 31, 2013
Rate of change (%)
Factors
Net Sales
1,954.7
2,053.3
(4.8)
1)
EBITDA
201.6
184.3
9.4
2)
Net Profit
102.8
36.2
184.0

Factors
1) Net Sales
-FY ended Dec. 2014, the Company's net sales decreased by 4.8% year-on-year. However, it increased in local currency by 1.9% year-on-year. Major factor of decreased sales in Europe was lack of sales from the sold Italian subsidiary. Three business groups except Europe (North America, Asia, SAMEA) increased sales in local currency.

2) Profit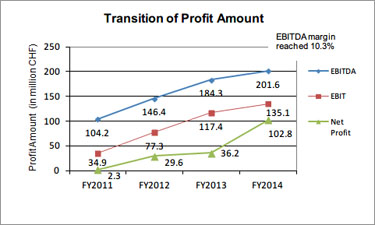 -EBITDA of FY ended Dec. 2014 was CHF 201.6 million including a rise by CHF 17.3 million over FY 2013. It showed a record high EBITDA margin of 10.3%.
-Net profit of FY2014 was CHF 102.8 million multiplied from CHF 36.2 million for FY2013.
-Factors of profit increase were the successfully implemented capacity adjustments and associated enhancement of capacity utilization at the existing plants in Europe, the expansion of vertical integration through the in-house production of basic materials and higher production volumes in Asia.


Business Development

From Luxury class to Medium class
-The Company is expanding its range of high-quality carpeting for vehicles and now offers the premium carpet quality of the luxury class in the compact and medium class. The new Clean-Tuft technology provides considerable added value in terms of cleanability and durability compared to the non-woven carpets usually found in these vehicle classes. (From a press release on January 12, 2015)

From European market to North American market
-The Company will begin producing its specifically designed fiber technology Ultra-Silent for the North American market in the United States from 2015 onwards. This technology is currently utilized at the Company's sites in Europe only and is deployed for underfloor and under engine shields with German premium car manufacturers, among others. With Ultra-Silent, the Company is offering the lightest and most powerful underbody systems for vehicles: in comparison with conventional plastic solutions, they are up to 50% lighter. At the same time, they absorb sound, thereby reducing the interior and exterior noise of vehicles. (From a press release on March 5, 2014)

Increase "Vertical" range of manufacture through the production of basic materials
-In 2014, the Company invested in additional carpet and felt production lines in Europe and China, facilities for the production of damping materials in South America and new facilities for the manufacturing of tailor-made felt blanks for bulkhead and floor components at North American and Asian locations. This will enable the basic material for components and products to be manufactured with a high share of proprietary value creation.

From Switzerland to North America
-ERP system introduced in Swiss locations in 2013, this was also implemented at all North American locations (US, Canada and Mexico) in 2014. The cross-divisional standardized business processes form the basis for future efficiency improvements.


Joint Ventures
-The Company announced that it has set up the new company Autoneum Korea Ltd. to ensure that Korean automobile manufacturers have access to its range of high-performance acoustics and thermal management solutions in future. Autoneum Korea was jointly established by Autoneum and the Korean automobile supplier SH Global (SHG) as minority shareholder. Korean manufacturers can benefit from Autoneum's expertise and comprehensive product range - which includes engine covers, underbody shields, heatshields and carpet systems - right from the vehicle development and prototype stage. The serial production of the components will take place at the facilities of the Korean partner SHG in Incheon and Daegu. (From a press release on June 17, 2014)


Awards

Car maker


Awarded Facility

Name of Awards

GM
Katowice (Poland), Bloomburg (USA), London (UK), Canada
"GM Supplier Quality Excellence Award"
PSA
Katowice (Poland)
"Best Plants of 2013"
Ford
Valldoreix (Spain)
"Ford Q1"
Volvo


Genk (Belgium), Chocen (Czech Republic)
"Quality Excellence Award"
Katowice (Poland)
"Environmental and Social sustainability"
Sevelen (Swiss)
"Innovative Ultra-Silent Technology"
Outlook for FY ending Dec. 2015

Net Sales: 4 - 5% increase (year-on-year, in local currency)
Further increase of Operating margin
Europe: Innovation roll-out, Market share grains
North America: Participation in Mexican growth, Roll-out underbody systems
Asia: New customers, Roll-out underbody & carpet systems
South America: Prepare for next growth phase, Operational excellence at new relocated Brazil plant.
Target in 2020
Net Sales: CHF 2,600 million
Emerging markets share in Sales: more than 20%
EBITDA margin: 12%
| | |
| --- | --- |
| R&D Expenditure | (in million CHF) |
| | | | |
| --- | --- | --- | --- |
| | FY ended Dec. 31, 2014 | FY ended Dec. 31, 2013 | FY ended Dec. 31, 2012 |
| Overall | 57.1 | 64.4 | 66.4 |

-Research and development expenditures in 2014 and 2013 focused on the development of acoustic solutions, underbody components and carpets for new models and customer specific requests from automobile manufacturers in Europe, America and Asia.


R&D Structure
-List of R&D facilities
Switzerland
Winterthur (HQ)
-Acoustics Center
-Center of Excellence
Sevelen
-Development Center
France
Aubergenville
-Acoustics Center
-Development Center
Germany
Rossdorf-Gundernhausen
-Acoustics Center
Poland
Katowice
-Development Center
USA
Farmington Hills, Michigan
-Acoustics Center
-Development Center
Chicago Heights, Illinois
-Development Center
Tinley Park, Illinois
-Acoustics Center
-Development Center
Brazil
Sao Bernardo do Campo
-Acoustics Center
-Development Center
China
Shanghai
-Acoustics Center
-Development Center
Chongqing
-Development Center
Japan
Kita-ku, Tokyo (Nittoku)
-Acoustics Center
Shizuoka (Nittoku)
-Acoustics Center
Product Development
Heat shield with Sound absorption capability
-The Company is expanding its range of lightweight and multifunctional heatshields. Using aluminum heatshields, which are based on RIMIC technology, the Company has developed a special perforation of the aluminum, which absorbs vehicle noise effectively. Using in-house production processes, these perforations are applied specifically only at predefined areas to ensure optimal heat protection and durability. The acoustic performance is thus controlled by the number of perforations. Furthermore, high-frequency sounds can now also be absorbed by combining them with a sound absorber developed by the Company, too. The REMIC based heatshields are currently being used in vehicle models by European and Japanese automobile manufacturers. (From a press release on April 29, 2014)

Needle punch carpet "Di-Light"
-Carpet systems made on Di-Light not only weigh less than standard needlepunch carpets but are considerably more durable and therefore offer enhanced haptics and optics. The material, produced of recycled PET bottles, will enter serial production for needlepunch carpets in European and American car models from 2015.


| | |
| --- | --- |
| Capital Expenditure | (in million CHF) |
| | | | |
| --- | --- | --- | --- |
| | FY ended Dec. 31, 2014 | FY ended Dec. 31, 2013 | FY ended Dec. 31, 2012 |
| Overall | 101.9 | 80.7 | 75.3 |
Investment Outside Switzerland
<U.S.>
-The production locations completed in 2014 in the USA - the Company's plant in Jeffersonville, Indiana, and the plant of the Company's subsidiary UGN (share holder Uni-NTF, Inc.; a subsidiary of Nippon Tokushu Toryo, Co., Ltd. : 50%, Autoneum North America, Inc. 50%) in Monroe, Ohio - have already received orders for interior components and are preparing for serial production.

-In 2014, the Company launched the textile underbody technology Ultra-Silent in the North American market. The Company simultaneously laid the foundation for future sales growth with light-weight and multifunctional underbody shields for globally active car manufacturers.