Changchun Faway Automobile Components Co., Ltd.
Company Profile
■URL
■Address
No.1399, Dongfeng South Street, Changchun Automobile Industry Development Zone, Changchun, Jilin 130011, China
Business Overview
-The Company has four kinds of the automotive products, including interior and exterior components, electronics, and wheels.

-The Company is the main supplier of the FAW Group, including FAW-VW, FAW car, FAW Jiefang, FAW Toyota, etc.

-In partnership with foreign companies, the Company operates multiple joint ventures to manufacture automotive products such as seats, interior components, mirrors, filters and plastic components.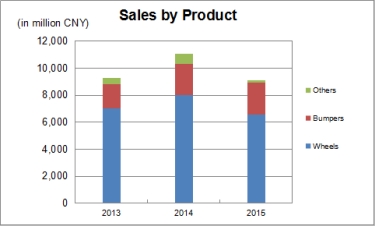 -In 2015, the sales of the products decreased by 17.50%, down to 9,117.57 million yuan.Among them, the wheel product sales fell 18.11% compared to last year,down to 6,578.75 million yuan, accounting for the largest, 72.15%.
Shareholders
(as of Dec. 31, 2015)
| | |
| --- | --- |
| Shareholders | Shareholding Ratio (%) |
| China FAW Group | 20.14 |
| Changchun FAWSN Group Co., Ltd. | 4.72 |
| Deng Qunchang | 1.21 |
| Chengdu South Real Estate Development Co., Ltd. | 0.93 |
| Yu Xuejuan | 0.81 |
| Others | 72.19 |
| Total | 100 |
Products
Wheels
-Steel wheels
-Aluminum wheels

Interior products
-Seats
-Seat frames
-Seat adjusters
-Seat parts
-Instrument panels
-Console boxes
-Door trims
-Roof trims
-Carpets
-Floor insulators
-Dash insulators
-Reinforcement plates
-Pedal plates

Exterior products
-Outside mirrors
-Mirror parts
-Bumpers
-Radiator grilles
-Lamps

Electronic and electric products
-Meters
-Digital clocks
-Dry ignition coils
-Relays
-BCM (Body Control Modules)
-TPMS (Tire Pressure Monitoring Systems)

Filters
-Air filters
-Oil filters
-Fuel filters
-Filter elements
-Manifolds

Others
-Tool boxes
History
| | |
| --- | --- |
| April 1993 | The Company was established through a joint investment by China FAW Group Corporation, FAW Labor Service Company (Now FAW Sihuan Enterprise Corporation), and Auto-refitting Plant,China National Automotive Industry Corp. |
| Aug. 1996 | Listed on the Shanghai Stock Exchange (Total number of shares issued : 60.5 million). Issued additional 15.50 million shares in the same month. |
| Jan. 2001 | Acquired Fawer Automotive Parts Co., Ltd. Wheel Branch Company and changed its name to Changchun FAW Sihuan Automobile Co., Ltd. Wheel Branch Company. |
| April. 2002 | Acquired Changchun Fawer-Johnson Controls Automotive Systems Co., Ltd. and added the new subsidiary to its reporting statements. |
| Dec. 2002 | The Company and MANN+HUMMEL, a German based automotive parts manufacturer, jointly established Changchun Mann + Hummel Fawer Filter Co., Ltd. |
| Jan. 2003 | The Company, together with Taiwan Tong Yang Industry Group, established Changchun Fawer Tong Yang Plastics Products Co., Ltd.as a joint venture. |
| April 2003 | The Company established Tianjin Intex Auto Parts Co., Ltd. together with three Japanese manufacturers: Araco; Takanichi Co., Ltd.; and Toyoda Boshoku Corporation. |
| Oct. 2003 | The Company established Changchun Mekra Lang Vehicle Mirror Co., Ltd. together with the German-based Mekra Lang GmbH & Co. KG. |
| Jul. 2004 | The subsidiary, Changchun Fawer-Johnson Controls Automotive Systems Co., Ltd. acquired a 48% stake in Tianjin Kahou Auto Trimming Co., Ltd., an automotive seat and interior parts supplier, which is owned by Tianjin FAW Xiali, thus becoming its largest shareholder. |
| Dec. 2004 | Changchun Fawer-Johnson Controls Automotive Systems Co., Ltd., a subsidiary of the Company, established Changchun Xuyang Fawer-Jonson Automobile Seat Frame Co., Ltd., a joint venture with Changchun Xuyang Industry Group for production of seat frames for use in automobiles. |
| Oct. 2008 | The Company adopted a new corporate name, Changchun Faway Automobile Components Co., Ltd. |
| Dec. 2009 | The Company, together with Yanfeng Plastic Omnium Automotive Exterior Systems Co., Ltd. established Chengdu Faway Yanfeng Plastic Omnium Automotive Exterior Systems Co., Ltd. as a joint venture. |
| Jan. 2010 | The Company, together with Changchun Gaoxin Automotive Accessories Co., Ltd. established Changchun Faway Gaoxin Automotive Accessories Co., Ltd. as a joint venture. |
| Jan. 2010 | The Company, together with Yanfeng Plastic Omnium Automotive Exterior Systems Co., Ltd. established Chongqing Yanfeng Plastic Omnium Faway Automotive Exterior Systems Co., Ltd. as a joint venture. |
| Jan. 2010 | The Company established Chengdu Faway Wheel Company. |
| Feb. 2010 | The Company, together with Johnson Controls Asia Holding established Changchun Faway Johnson Controls Automotive Electronics Co., Ltd. as a joint venture. |
| July 2010 | The Company, together with Toyota Boshoku (China) Co., Ltd., established Changchun Faway Toyota Boshoku Auto Parts Co.,Ltd. |
| Nov. 2011 | Planned to establish Changchun Faway Hella Automotive Lamps Co.,Ltd. with Hella Shanghai Electronics Co., Ltd. |
| 2012 | Chengdu Faway Hella Automotive Lamps Co., Ltd. was established. |
Supplemental Information 1