Fawer Automotive Parts Limited Company
Company Profile
■URL
■Address
No.777, South Dongfeng Street, Changchun Economic & Technological Development Zone, Changchun, Jilin 130062, China
Business Overview
-The Company is an automotive parts supplier and a member of the China FAW Group. The Company is operating more than 20 subsidiaries and joint ventures.

-The Company's product line includes environmental system, chassis system, brake and transmission system, steering and safety system, electronic system and engine parts system.

-The Company supplies products to various domestic automakers. However, its primary customer is the FAW Group.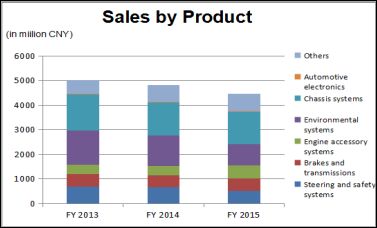 -The Company's sales in 2015 declined due to sales of commercial vehicles production volumn declined. Compared with sales by products in 2014, the Company's 2015 sales kept stable except steering and safety systems and environmental systems.
Shareholders
| | |
| --- | --- |
| -Listed on the Shenzhen Stock Exchange | (as of Dec.31, 2015) |
| | |
| --- | --- |
| Shareholder | Shareholding Ratio |
| China FAW | 24.41% |
| Jilin Tianyi Investment Co., Ltd. | 15.34% |
| Ningbo Huaxiang Electric Co., Ltd. | 13.95% |
| Jilin Yadong Investment Management Co.,Ltd. | 9.76% |
| Shenzhen Zhongjiu Asset Management Co., Ltd. | 3.49% |
| Others | 33.05% |
| Total | 100% |
Products
Climate control and engine cooling systems
HVAC
Air conditioners
Condensers
Air conditioner evaporators
Heaters
Radiators
Oil coolers
Supercharger intercoolers
Expansion tanks

Steering / drivetrain products
Power steerings
Electric power steerings
Steering gears
Steering knuckles
Steering columns
Power steering pumps
Steering wheels
Drive shafts
Differentials
Differential locks
Clutches
Clutch master cylinders
Clutch slave cylinders

Engine products
Fuel pumps
Carburetors
Oil pumps
Water pumps
Throttle bodies
EGR valves
Turbo chargers
Air pumps
Oil filter brackets

Chassis products
Engine support beams
Sub-brackets
Auxiliary frames
Control arms
Front frames

Suspension products
Control arms
Leaf springs
Coil springs
Torsion bars
Stabilizers
Torque rods
Sub frames
Shock absorbers
Front steering knuckles with strut
Front suspension corner module for passenger vehicles
Front axle module for passenger vehicles
Rear axle modules for passenger vehicles

Brake products
Brake cylinders
Brake valves
Air compressors
Parking brakes
Brakes
Brake drums
Brake discs
Brake calipers
Wheel hubs

Other products
Airbags
Fasteners
Wire harness
History
| | |
| --- | --- |
| Sep. 1998 | Established as an auto parts supplier group through an integration of China FAW's major automotive components divisions, comprising 9 wholly-owned subsidiaries and 8 foreign affiliated joint ventures. |
| Jan. 2001 | Fawer Automotive Parts Co., Ltd. Wheel Branch Company was acquired by Changchun FAW Sihuan Automobile Co., Ltd., and the company name was changed to Changchun FAW Sihuan Automobile Co., Ltd. Wheel Branch Company. |
| July 2001 | Established a 50-50 joint venture with Johnson Controls (USA) to produce automotive interior parts. The new entity was set up as a successor of a company's subsidiary, Fawer Automotive Parts Co., Ltd. Interior Trim Branch Company, and was renamed as 'Changchun Fawer-Johnson Controls Automotive Systems Co.,Ltd.' |
| Sep. 2001 | Moved to Changchun Economy & Technology Development Zone from China FAW's plant area. |
| Apr. 2002 | Sold a 50% stake of its share in Changchun Fawer-Johnson Controls Automotive Systems Co., Ltd. to Chang-Chun FAW-Sihuan Automobile Co.,Ltd. |
| 2002 | Established Mudanjiang Foton Automotive Air Conditioner Co., Ltd. in Mudanjiang city, Heilongjiang Province to manufacture automotive air-conditioner compressors and related products. |
| Oct. 2003 | Established Tianjin Chuhatsu Fawer Spring Co., Ltd., to manufacture cold-coiled springs in Tianjin city. |
| Oct. 2003 | Established Tianjin Fawer Denso Air-Conditioner Co., Ltd., which is a joint venture, to manufacture automotive air conditioners in Tianjin city. |
| Nov. 2003 | Established Tianjin Fawer Logistics Co., Ltd., a logistics subsidiary in Tianjing city. |
| Dec. 2003 | Established ZF Fawer Chassis Technology (Changchun) Co., Ltd., a joint venture to manufacture chassis components and chassis systems in Tianjing city. |
| Dec. 2003 | Established ThyssenKrupp Presta Fawer (Changchun) Co., Ltd. which is a joint venture to manufacture steering columns for passenger vehicles and trucks. The new company is located in Changchun city and takes over FAWER's steering column production activities in the region. |
| Jan. 2004 | Established Changchun FAWER-IHI Turbo Co., Ltd., which is a joint venture with Ishikawajima-Harima Heavy Industries Co., Ltd. (IHI), Ishikawajima Mass-Produced Machinery Co.,Ltd., and others. The new company is located in Changchun city. |
| Feb. 2004 | Changed the company name of FAW-Kelsey-Hayes Automobile Chassis System Co., Ltd. to TRW Fawer Automobile Safety Systems (Changchun) Co., Ltd. |
| Mar. 2004 | Established TRW Fawer Commercial Vehicle Steering (Changchun) Co., Ltd., a joint venture with TRW Automotive J.V. LLC. to manufacture steering gears in Changchun, positioning Fawer Automotive Parts Co., Ltd Driveline Branch Company as the core business. |
| May 2004 | Established Fawer Automotive Parts Co., Ltd. Driveline Branch Company positioning the truck drive shaft division of Fawer Automotive Parts Co., Ltd. Driveline Branch Company as the core business, following the steering division. |
| July 2004 | Established Volkswagen FAW Platform Co., Ltd. through a joint-venture project with Volkswagen (China) Investment. |
| Mar. 2005 | Established Changchun Fawer Tongmuo Powder Metallurgy Co., Ltd., a joint venture with Ningbo Tongmuo New Material Co., Ltd., positioning the powder metallurgy parts plant of Fawer Automotive Parts Co., Ltd. Radiator Branch Company as the core operation for this business. |
| Apr. 2005 | Established Valeo Fawer Compressor (Changchun) Co., Ltd., a joint venture with Zexel Valeo Climate Control (ZVCC) based in Tokyo. |
| Apr. 2005 | Established Changchun Iskra Automotive Electrical Equipment Co., Ltd., a three-party joint venture with Iskra Avtoelektrika, d.d., a Slovenian auto parts supplier; and Top Merchant Limited, a trade and investment company in Hong Kong |
| June 2006 | Fawer Y-Tec Chassis (Changchun) Parts Co., Ltd., a joint venture with Y-TEC and Sumitomo Corp. was established in October 2005 and officially began |
| Dec. 2006 | TRW Fawer Automobile Safety Systems (Changchun) Co., Ltd. established a chassis module plant in Beijing. |
| Jan. 2008 | Ningbo Huaxiang Electric Co., Ltd. invested in the company in order to acquire the largest share of ownership, 49 percent. |
| Mar. 2009 | Changed the company name of FAW-ZEXEL Climate Control System Co., Ltd. to Faw-Valeo Climate Control Systems Co., Ltd. |
| May.2011 | Changchun Tower Golden Ring Automotive Products Co., Ltd., a joint-venture company between the Company and Tower International, Inc. of the U.S.A., is establishing a new plant in Changchun. |
| June 2011 | Fawer Liaoning Automotive Spring Co., Ltd. held an opening ceremony for its Penglai Branch. |
| June 2011 | Changchun Tower Golden Ring Automotive Products Co., Ltd., a joint-venture company between the Company and Tower International, Inc. of the U.S.A., is establishing a new plant in Changchun. |
| Apr. 2012 | FAWER Visteon Climate Control System (Changchun) Co., Ltd. (FVCC), opened a plant in Chengdu, Sichuan |
| Dec. 2012 | FAWER received approval from the China Securities Regulatory Commission to be publicly listed. |
| Mar. 2013 | The Company was listed. |
| Nov. 2013 | Chengdu ThyssenKrupp Fawer Spring Co., Ltd., a joint venture between the Company and ThyssenKrupp Fawer Spring Co., Ltd., started operating. |
| Jun. 2014 | The Company announced that it had signed an agreement with Chuo Spring Co., Ltd. and Tianjin Spring Manufacturing Co., Ltd. to transfer a 15.55% stake to Chuo Spring for CNY 8,441,700 and a 8.45% stake to Tianjin Spring Manufacturing for CNY 4,587,300. |
| Apr. 2015 | The Company announced that it had officially decided to established a joint-venture called Fawer VIE Control System (Changchun) Co., Ltd. with Zhejiang VIE Science & Technology Co., Ltd. in Changchun, Jilin Province. Fawer Automotive Parts will own 40% shares and Zhejiang VIE will own 60% shares. |
Supplemental Information 1