Teardown Analysis of Inverters for Major Electric Vehicles
Overview
Teardown survey data showing detailed analyses including external dimensions, internal structure, electronic circuit boards, components' costs, and weight of inverters of major electric vehicles. In this second round, we have added the Jaguar I-PACE. With the Tesla Model 3 and the Nissan Leaf, we are now offering for sale teardown analyses of three inverters.

In the future, we plan to add analysis data of three more inverters of two vehicles.
Data contents
Executive summary
Side by Side Summary
Inverter views, dimensions, mounting approach, cooling strategy
PCB circuit diagrams, schematics and block diagrams
PCB bill of material
Costed Bill of Material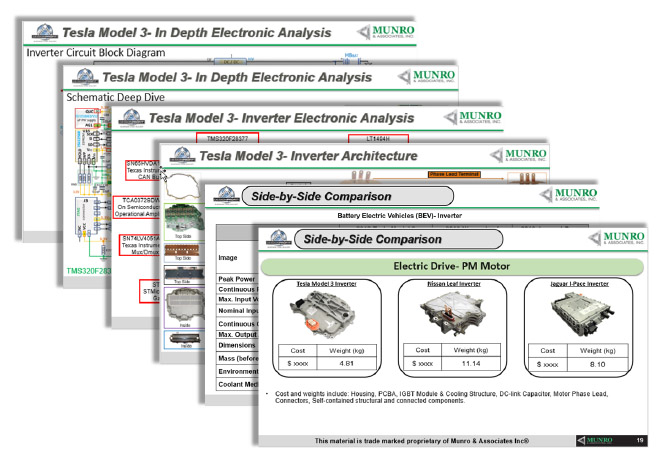 Key features
The Inverter Side-by-Side Analysis does a breakdown of each inverter from the vehicle system in which it is equipped and elucidates the architecture, component configuration, electronic circuit board, and cost. Therefore, it is possible to compare the differences of each inverter from various viewpoints.
Especially for the electronic circuit boards, from a block diagram and circuit diagram for each block to a description of the function of the installed devices, the design concepts will be understood in a single stroke.
Cost calculation method
Theoretical cost ("should-cost") is calculated using analytical software developed by Munro over 15 years. The costs are calculated with a breakdown of material, process flow, labor cost, plant/building cost, quality handling cost, taxes, selling expenses, general administrative expenses, etc. A description of the cost calculation method is included in the report.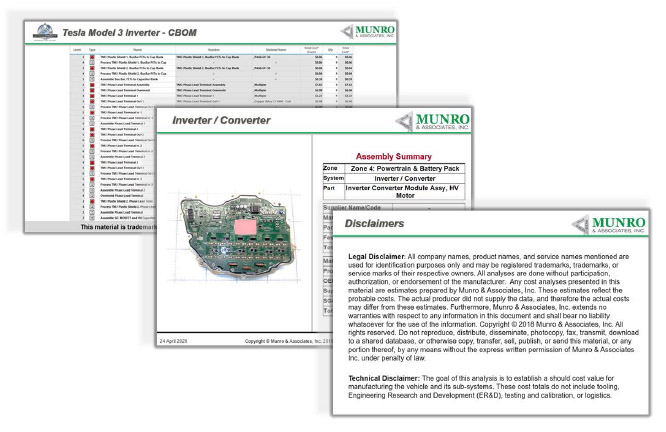 Price
Teardown Analysis of Inverters
Tesla Model 3, Nissan Leaf and Jaguar I-PACE $36,000 USD
Tesla Model 3 (only) $12,500 USD
Nissan Leaf (only) $12,500 USD
Jaguar I-PACE (only) $12,500 USD
LEGAL DISCLAIMERS & SALES CONDITION
(Disclaimer and FAQ regarding Terms & Conditions)
Q1 Can I see a sample report before purchasing?
A1 Please contact a MarkLines representative, so that Marklines may provide you with sample information in digital .PDF format, or to answer any other questions that you may have regarding the report. (Note: critical data will be hidden in the sample.)
Q2 After purchasing this report, am I authorized to photograph, distribute, copy, or fax all or portions of the report?
A2 It is permissible to distribute copies of this report internally within your company only. If you intend to distribute the information outside of your company's organization by copy or fax, please contact MarkLines before doing so. MarkLines will then negotiate with Munro & Associates Inc. to receive their written permission on your behalf as these reports are protected by law. Distribution without express written permission is legally prohibited.
For further details, please contact:
MarkLines Co., Ltd., Consulting Services Department
Person in charge: S. Saito

TEL:(03) 4241-3906
FAX:(03) 4241-3900
e-mail:benchmark@marklines.com