Comparison Data of 12 Traction Motors of Major Electric Vehicles
Overview
Teardown survey data showing detailed comparisons of the specifications, cost, weight and size of the traction motors of major electric vehicles.
Two drive motors have been newly added to the previous ten.
2020 Tesla Model Y front motor (new addition)
2020 Tesla Model Y rear motor (new addition)
2019 Nissan Leaf
2019 Audi e-tron front motor
2019 Audi e-tron rear motor
2019 Jaguar I-Pace
2018 Tesla Model 3 AWD front motor
2017 Tesla Model 3 RWD rear motor
2017 Chevrolet Bolt EV
2014 BMW i3 Extended Range
2016 Chevrolet Volt PHEV
2016 Toyota Prius HEV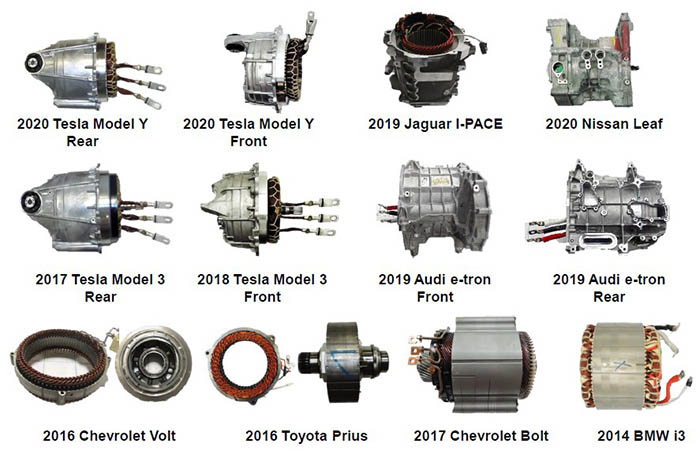 Data Contents
Side by side comparisons of motor type, torque, power ratings, main specifications of stator and rotor, part count, cost, and weight
Detailed data

overall dimensions and weight
specs of main components (for example, coil winding method, type, type of electrical steel sheet, cooling method, etc.)
type of magnet, gauss values
pole count, etc.

Detailed cost analysis

stator, rotor, shaft, resolver target wheel, etc.

Costed Bill of Material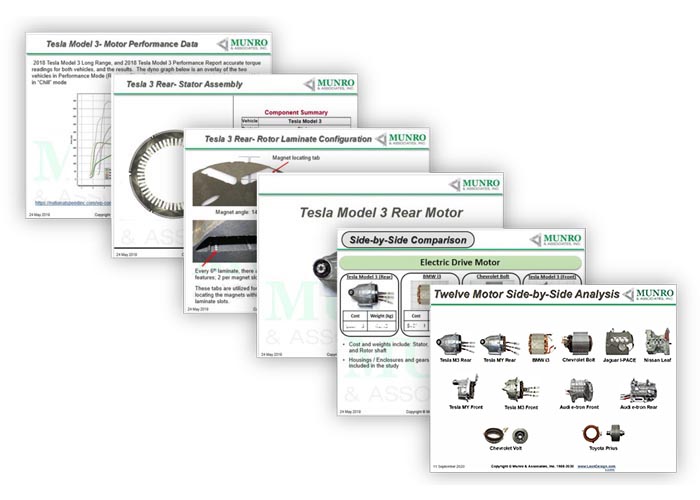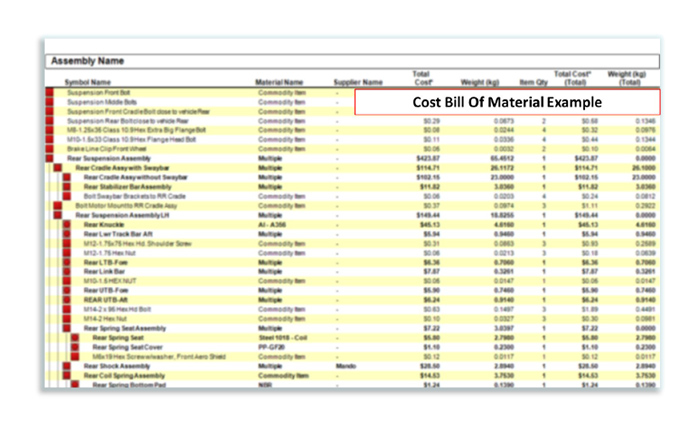 Cost calculation method
Theoretical cost ("should cost") is calculated using analytical software developed by Munro over 15 years. The costs are calculated with a breakdown of material, process flow, labor cost, plant/building cost, quality handling cost, taxes, selling expenses, general administrative expenses, etc. A description of the cost calculation method is included in the report.
Pricing
$46,000 USD
(It is also possible to purchase by model part.)
LEGAL DISCLAIMERS & SALES CONDITION
(FAQ reference Terms & Conditions)
Q1 Can I see a sample report before purchasing?
A1 Please contact a MarkLines representative, so that Marklines may provide you with sample information in digital .PDF format, or to answer any other questions that you may have regarding the report.
(Note: critical data will be hidden in the sample.)
Q2 After purchasing this report, am I authorized to photograph, distribute, copy, or fax all or portions of the reports?
A2 It is permissibly to distribute copies of this report internally within your company only. If you intend to distribute the information outside of your company's organization by copy or fax, please contact MarkLines before doing so. MarkLines will then negotiate with Munro & Associates Inc. to receive their written permission on your behalf as these reports are protected by law. Distribution without express written permission is legally prohibited.
For further details, please contact:
MarkLines Co., Ltd., Consulting Services Department
Person in charge: Mr. Miyaura

TEL: +81-3-4241-3906
FAX: +81-3-4241-3900
e-mail:benchmark@marklines.com