Gear Measuring Instruments
Outline
Osaka Seimitsu Kikai CO., LTD. (OSK) developed the gear tester by electro- generative method ahead of the world. OSK technology has brought the progress for precise machining and quality control of gears, and OSK products are used for wide range of precise gear measurement foe automobile transmission as well as large power machinery, OA device and precise equipment.
OSK manufactures and makes distribution the CLP series, which has the record of more than 1000 units of delivery, the Hypoid Gear Measuring Instrument, HyB series, etc.
And OSK is offering excellent customer service.
HP URL: http://www.osk-corp.co.jp/en/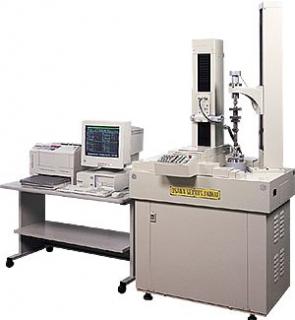 Feature
OSK products which are specialized for measurement of involute gears are simple, durable and sustained for long time. For these reasons, OSK products are favorable during customers.
Moreover manual process called "Scraping work" makes it possible for us to pursue the necessary accuracy of the sliding surface of products until ±0.001mm.
In after-service, OSK can make more swift response and it will be further satisfactory.

On the other hand, The Gear Measuring Center (GMC), as a calibration service provider that satisfies the requirements of ISO/IEC 17025, is accredited by JAB (Japan Accreditation Board of Conformity Assessment) and JCSS (Japan Calibration Service System). Being an "International MRA corresponding calibration laboratory", the "Calibration Certificate" issued by GMC is internationally accepted through MRA (mutual recognition) of ILAC/APLAC. Therefore, the traceability system chart is not required when ISO 9000 and similar type of quality management system is in use.
Use・Results
◆用途
Measurement of gears for driving parts like transmission, and tools for manufacturing of gears

◆実績
Most of automobile and motorcycle companies and gear suppliers for them are using our products.
Accurate measurement reduces deviation in shape on gear flank, a cause of noise and vibration. By bringing higher precision to the measurement of gear for automobiles, OSK products contribute to make more silent and downsize car.
Company information
Company name
Osaka Seimitsu Kikai Co., Ltd.
Company URL