Satin Plated Mark Plate
Outline
Chrome plated satin, semi-gloss finish, that is achieved by chemical finishing, also known as velour or satilite plating. Markplates can be coated through a masking process.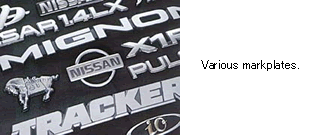 Feature
【Design】 Marui is capable of meeting various design requests from all carmakers.
【Performance】 Product quality can be guaranteed through durability testing.
【Application】 Emblems are attached to the car body via adhesive tape,clips or one-touch methods.
【Appearance】 Satin semi-gloss finish.
【Color Variation】 Painting allows for color variation of satin chrome plating and painted color.  
Use・Results
◆実績
All foreign and domestic carmakers have installed many of these products.
Company information
Company name
Marui Industrial Co., Ltd.
Company URL