Connect to the Global Automotive Industry

A members only information service that saves companies money and time by providing essential information about automotive production from countries around the world.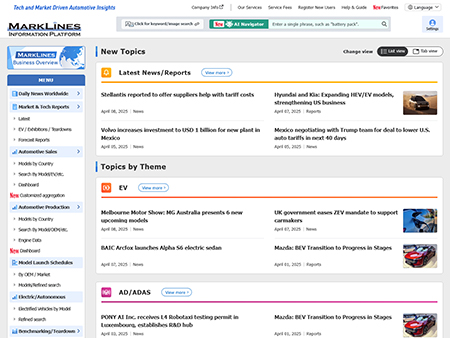 Available Information Menus
Vehicle Statistics
Engine data by country (31 countries), maker, or model (provided annually)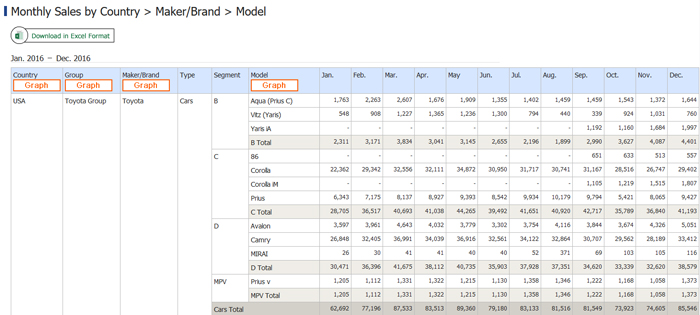 Market Forecast
MarkLines provides forecast reports of the automotive market and the industry every month.
The report incorporates data from LMC Automotive Ltd., and is released throughout the year.
E-mobility / Autonomous Vehicles
The target of publication is to update the data for every full model change and minor model change for major HV, PHV, EV, and FCV models.
Regulations
Information on the regulation trends of major countries for emissions and fuel efficiency from Ricardo EMLEG.
Summaries of revisions to UN regulations and the U.S. FMVSS
News
News from the automotive industry around the world (OEMs, parts suppliers, government policies for automobiles, regulations.)
Summaries of articles from the Nikkan Jidosha Shimbun Newspaper (Japanese automotive industry daily)
An article search feature is included.
Annual Service Fees
Country / Region
Currency
Number of Users
Unlimited
Up to 10
Up to 4
Up to 2

North America:

USA, Canada, Mexico


South America:

Brazil


Asia/Oceania:

Korea, Taiwan, Hong Kong, Thailand, India, Indonesia, Singapore, Malaysia, Vietnam, Philippines, Australia


Middle East:

Turkey, Israel, UAE


Africa:

South Africa

US$

12,600

9,000

6,300

5,100


Europe:

Germany, France, Italy, Belgium, Switzerland, Netherlands, Austria, Sweden, Spain, Czech, Poland, Denmark, Russia, Finland, Hungary, Norway, Portugal

Euro

10,800

7,500

5,400

4,200


UK

Pound

9,000

6,300

4,500

3,600


China

RMB

86,400

63,600

45,000

36,000


Japan

Yen

1,200,000

840,000

600,000

480,000

Effective from July 1, 2021

A promotional B2B hub used to market products and services towards targeted audiences at Japanese automakers and tier 1 suppliers.