2014 Global production volume by Japanese OEMs (Preliminary)
2014 global production volume by Japanese OEMs (Preliminary)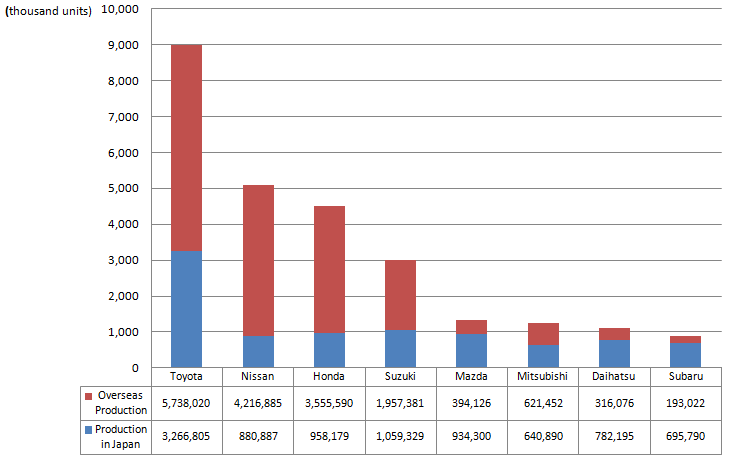 Global
Production
Production in Japan
Overseas
Production
Total
Pct.chg.
Total
Pct.chg.
PCs
CVs
Total
Pct.chg.
Toyota

*

9,004,825
1.3%
3,266,805

-2.7%

2,915,185
351,620
5,738,020
3.7%
Nissan
5,097,772
3.0%
880,887

-8.7%

764,230
116,657
4,216,885
5.8%
Honda
4,513,769
5.0%
958,179
14.0%
-
-
3,555,590
2.8%
Suzuki
3,016,710
6.0%
1,059,329
8.6%
-
-
1,957,381
4.6%
Mazda
1,328,426
5.0%
934,300

-3.3%

918,502
15,798
394,126
32.2%
Mitsubishi
1,262,342
1.8%
640,890
8.3%
637,897
2,993
621,452

-4.0%

Daihatsu
1,098,271
5.0%
782,195
0.9%
597,043
185,152
316,076
16.6%
Subaru
888,812
9.9%
695,790
8.8%
-
-
193,022
14.1%
Total
26,210,927
3.4%
9,218,375
1.2%
-
-
16,992,552
4.7%
Note:
- Mark "-" in the table denotes "No production" or "No detailed information available."
- The year-over-year ratio of the 8 automakers' total production volume was calculated by MarkLines using the total 2013 figure obtained from each automaker's press releases.

*Toyota Group: 10,285,546 units, including Daihatsu: 1,098,271 units and Hino: 182,450 units)
Source: Compiled from domestic and overseas production figures published in press releases by each automaker.
(As of Jan. 28, 2015)