Press Release
April 1, 2015
MarkLines Expands Southeast Asian Vehicle Sales Volume Database
MarkLines Co., Ltd.
・MarkLines Co., Ltd. (President and CEO: Makoto Sakai) has added by-model information on Myanmar and Laos to its Southeast Asian vehicle sales volume data. In addition, sales volume data by model are now available for the Philippines and Malaysia (Previously, only sales data by maker/brand were available.)
・Countries in Southeast Asia have increased their pace of motorization, due to an increase in their average income. Myanmar and Laos in the Greater Mekong Subregion are expected to grow further, following countries such as Malaysia, Thailand, and Indonesia.
・MarkLines established MarkLines (Thailand) Co., Ltd. in Thailand in July 2013 and is striving to increase its information on Southeast Asia.
・The sales volume data for Myanmar, Laos, the Philippines and Malaysia will be updated every month.
・Please refer to the link below for sales volume data in Southeast Asia.
http://www.marklines.com/en/vehicle_sales/

(Please register as a free or corporate member to see the detailed information.)
(Note):
If you register as a free member, you will have access to all MarkLines' content free of charge for 24 hours.
For free member registration, please click here.
For inquiries on corporate member registration and website usage, please contact:
MarkLines Customer Support
Tel: +81-3-5785-1387 (9:00-17:30 (JST) Mon.-Fri. [except national holidays])
E-mail: support@marklines.com
New Light Vehicle Sales by Brand in Myanmar (Top 10 brands as of Jan. 2015)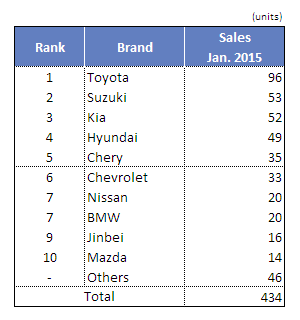 New Light Vehicle Sales by Brand in Laos (Top 10 brands as of Jan. 2015)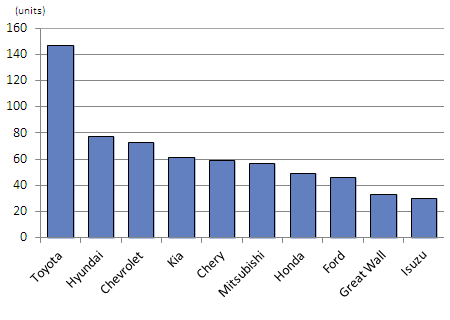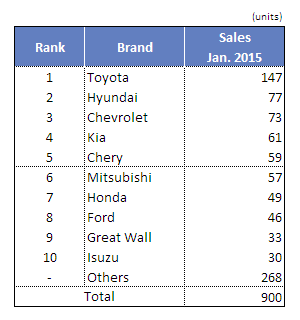 Corporate Profile
[Headquarters]
Aoyama Tower Place 2F, 8-4-14 Akasaka Minato-ku, Tokyo 107-0052 Japan
[Date of Establishment]
January 4, 2001
[Employees]
87 (on consolidated basis), 67 (on unconsolidated basis)
(As of the end of December 2014. The figures include part-time workers.)
[President & CEO]
Makoto Sakai
[URL]
http://www.marklines.com/en/
[Business Activities]
Operations of MarkLines Automotive Industry Portal

Automotive Industry Portal
MarkLines Automotive Industry Portal is a one-stop B2B online information service for the automotive industry. The portal provides two kinds of services: research tools and marketing tools.
Research Tools:
MarkLines provides information about the global automotive market, which is useful to all companies working in the industry. This allows companies to save time and money by using MarkLines instead of conducting independent research.
Marketing Tools:
MarkLines has tools which promote a customer's products, technologies and services to over 90,000 MarkLines' members. MarkLines' members include various OEMs and parts suppliers around the world.
By providing services with these research tools and marketing tools, MarkLines supports its customers' procurement and marketing activities.