Press Release
February 3, 2015
MarkLines Releases 2014 Vehicle Sales Statistics for 60 Countries
MarkLines Co., Ltd.
・ MarkLines Co., Ltd. compiled 2014 new vehicle sales data for 60 major countries (excluding medium and heavy-duty commercial vehicle sales; including preliminary figures and estimates). According to the data, in 2014, vehicle sales in 60 major countries totaled 82.24 million units, up 3.6 percent year-on-year (y/y) and reaching a record high. This marks the fifth consecutive year of growth since 2010.
・ By country, China (excluding imports) posted a 7.6 percent y/y increase of 1,584,000 units to 22,336,000 units, recording the largest growth among 60 nations for the second consecutive year. This was followed by the U.S. recording a 5.9 percent y/y increase of 920,000 units to 16,521,000 units, backed by steady recovery from the decline subsequent to the 2008 financial crisis. As the first and second largest automotive markets in the world, China and the U.S. have led the growth of global vehicle sales.
・ Meanwhile, emerging countries excluding China suffered from market contractions. In the face of various challenges including deteriorating political and economic conditions as well as the discontinuation of subsidies for new car buyers, countries that had enjoyed buoyant sales recorded significant decreases in 2014. Thailand recorded a decline of 421,000 units; Russia decreased by 286,000 units; Argentina by 264,000 units; and Brazil by 247,000 units.
・Total global vehicle sales in 2014, covering approximately 200 countries (excluding middle and heavy-duty commercial vehicles), are estimated to be between 86.5 million and 87.2 million units.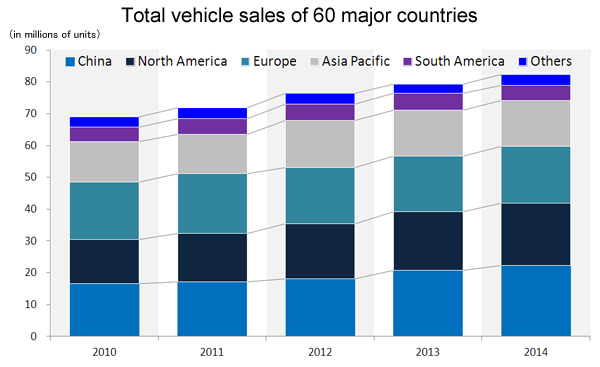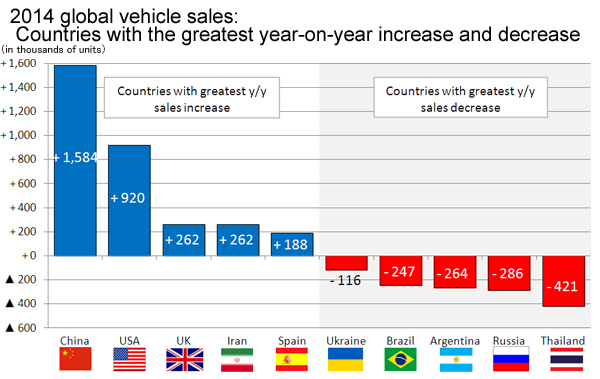 Notes
◆Total vehicle sales of 60 major countries
・Data does not include sales of mid-size and large-size commercial vehicles, with a few exceptions.
・Data of specific countries includes estimated figures.
North America: Canada, Mexico, the U.S.
Europe: Ireland, Italy, Ukraine, Uzbekistan, Austria, the Netherlands, Kazakhstan, Greece, Croatia, Switzerland, Sweden, Spain, Slovakia, Slovenia, Czech Republic, Denmark, Germany, Turkey, Norway, Hungary, Finland, France, Bulgaria, Belarus, Belgium, Poland, Portugal, Romania, Luxembourg, Russia, UK
Asia Pacific: India, Indonesia, Australia, Singapore, Thailand, New Zealand, Pakistan, the Philippines, Vietnam, Malaysia, Korea, Taiwan
South America: Argentina, Uruguay, Colombia, Chile, Brazil, Venezuela,
Others: UAE, Israel, Iran, Egypt, Saudi Arabia, South Africa
◆ 2014 global vehicle sales: Countries with the greatest year-on-year increase and decrease
・Data does not include sales of mid-size and large-size commercial vehicles. Data includes some estimated figures.
・The ranking covers 60 major countries.
Corporate Profile

[Headquarters]
Aoyama Tower Place 2F, 8-4-14 Akasaka Minato-ku, Tokyo 107-0052 Japan
[Date of Establishment]
January 4, 2001
[Employees]
87 (on consolidated basis), 67 (on unconsolidated basis)
(As of the end of December 2014. The figures include part-time workers.)
[President & CEO]
Makoto Sakai
[URL]
http://www.marklines.com/en/
[Business Activities]
Operations of MarkLines Automotive Industry Portal
Automotive Industry Portal
MarkLines Automotive Industry Portal is a one-stop B2B online information service for the automotive industry. The portal provides two kinds of services: research tools and marketing tools.
Research Tools:
MarkLines provides information about the global automotive market, which is useful to all companies working in the industry. This allows companies to save time and money by using MarkLines instead of conducting independent research.
Marketing Tools:
MarkLines has tools which promote a customer's products, technologies and services to over 90,000 MarkLines' members. MarkLines' members include various OEMs and parts suppliers around the world.
By providing services with these research tools and marketing tools, MarkLines supports its customers' procurement and marketing activities.